Drew Barrymore Swears This $28 Hair Product Fixed Her Damaged, Dyed Hair
Just 10 minutes to get the glossiest hair of your life.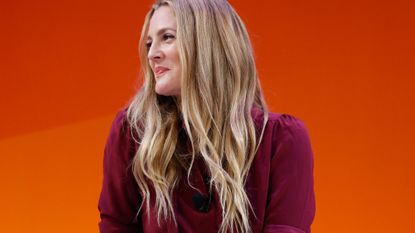 (Image credit: Getty Images)
Raise your hand if you've ever bleached you hair? Now, keep it raised if your bleached hair has become as dry as the Sahara desert thanks to your dye days. Yeah, that's pretty much all of us. Welp, you're not alone, because Drew Barrymore not only feels your pain, but she's got a solution that'll change your hair game.
RELATED STORIES
Barrymore posted a shot on Instagram today of her hair looking extremely dry and coarse—i.e. not her normal red-carpet look—before detailing the trick behind her ultra-smooth and glossy waves: Olapex. Olaplex is a professional-level hair treatment that's specifically designed to strengthen your hair by rebuilding its keratin bonds (i.e. the stuff that's required for a lifetime of good hair days).
Of course, we are not Drew Barrymore, which means very few of us have access to a professional hairstylist who can Olaplex our hair every time it's feeling a little rough. I mean, if you're your own hairstylist and can afford to drop a whopping $250 for the whole set on Amazon, don't let me stop you. But if you just want some quick, legit results, you can try using just the third step of the three-step system, Olaplex No. 3 Hair Perfector, which is actually meant for at-home use. (Yes, it's still $28, but this stuff is seriously worth it).
The mask-like treatment has an active ingredient of active bis-aminopropyl diglycol dimaleate—a tongue-twisting ingredient that's responsible for repairing the broken disulfide bonds in your hair (i.e. the very important, very necessary bonds that give your hair shaft elasticity, strength, and shine). Bleaching and coloring your hair destroys these bonds, but Olaplex helps repair them by gluing them back together.
Though the three-step system—which is best done by professionals—will overhaul even the driest, deadest of hair types, you can still get legit benefits from using just the Olaplex No. 3 Hair Perfector that Barrymore recommends. Just smooth it over clean, damp hair for 10 minutes once a week, then rinse out and shampoo and condition as usual.
I know it sounds like bullshit, but it actually works, as you can see in Barrymore's before and after pics:
In the first photo, her before photo, she detailed her current hair issues, writing, "THE BEFORE...OK when you get older, bleach is hard on the hair! I wanted to lighten up! But what happened was my hair just didn't respond well this time."
She then posted an after photo, writing, "Within 3 weeks @olaplex saves me! 20 minutes on clean wet hair! And so quickly my hair is remarkably and clearly better. It's curling and actually bouncing and looking like hair rather than coughed up bird feathers. Thank you @traceycunningham1 for always showing me the way."
Other Instagram users seem to love this product, too, commenting, "Olaplex has saved my hair from many home bleach/coloring sessions. Nothing can help my fried hair like it does," and "Olaplex is the only thing that has saved my hair."
As far as I know, Drew isn't currently sponsored by Olaplex or being forced to write these rave reviews. But even if she were, I wouldn't care, because Olaplex really, truly does work. So if you're dealing with dye-destroyed hair, maybe take Drew's advice and test out this treatment to get the shiniest hair of your dreams.
I'm currently working at Dotdash Meredith as the Celeb & Entertainment E-Commerce Lead contributing affiliate content for People.com and InStyle.com. I'm basically like your personal shopper, from writing about that cozy loungewear set you didn't know you needed to keeping tabs on the best sales and deals on the internet. I'm also a pro at finding affordable dupes for celebrity looks and I love to dig into the data to strategize content opportunities.