The 5 Truly Excellent Beauty Products I'm Loving This Week
My real, no-bullshit reviews of new products you'll actually want to buy.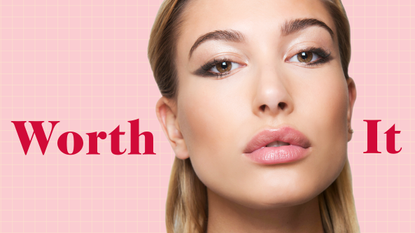 (Image credit: Design by Morgan McMullen)
Hi, hello, and welcome back to Worth It, my bi-weekly breakdown of the newest beauty products I'm completely head-over-heels obsessed with right now. No, I'm not getting a kickback to write about these products; I merely fell in love with them for one simple reason: They're really freaking excellent.
So please, read on to find out the five products that are actually worth your cash, and catch up on the latest Worth It breakdown, here.
1. Paul & Joe Limited Editor Stick Highlighter
Paul & Joe Limited Editon Stick Highlighter, $30
WHY I LOVE IT:
Aside from the fact that it's freaking adorable (I mean, COME ON), it's also ridiculously creamy and natural looking on your skin.
MORE DEETS:
Most highlighters leave you looking like you just stepped out of a Studio 54 after-party, but this darling, Instagram-worthy, cutie McCuteCute kitty highlighter (IT HAS A TOP HAT AND A BOWTIE) is surprisingly subtle, despite its flashy shape. The formula blends on as sheer, slightly iridescent champagne—absolutely zero silver or milky hues—and it quite literally melts into your skin as soon as you blend it on, thanks to its jojoba oil base.
2. Peach & Lily Glass Skin Refining Serum
Peach & Lily Glass Skin Refining Serum, $40
WHY I LOVE IT:
It makes your face really, really, really bright and dewy, like you just slept for 1,000 days in a cloud.
MORE DEETS:
This year has been all about glass skin (i.e. skin that looks as smooth, bright, and reflective as a piece of glass), which is a trend that is reasonable for only one percent of people with preternaturally perfect complexions. For everyone else, like moi, there's this serum.
The lightweight, non-sticky formula is packed with plumping hyaluronic acid, brightening niacinamide, and anti-inflammatory madecassoside, all of which work together to make your skin look like a glowing little dew drop as soon as you massage it on. To use, smooth it on over clean, dry skin morning and night before commencing with the rest of your skincare routine.
3. Nars Climax Mascara
Nars Climax Mascara, $24
WHY I LOVE IT:
It makes my tiny baby lashes look hella long, and it can be piled on without resulting in clumps or spider legs.
MORE DEETS:
From the same makers who brought you Orgasm blush and G-Spot color sticks comes this killer mascara with another PG-13 name. I'm incredibly picky with mascaras—I require them to both lengthen and volumize my lashes until I have a va-va-voom finish, which means I'm almost always disappointed.
But this creamy formula adds noticeable length and thickness after one coat, and after three buildable coats (don't worry; it truly never clumps), it leaves your lashes looking like a set of falsies.
4. Pacifica Underarm Deodorant Wipes
Pacifica Underarm Deodorant Wipes, $9
WHY I LOVE IT:
They refresh my sweaty, smelly pits better than a swipe of deodorant. Hey, you asked! (...Kind of.)
MORE DEETS:
I am a sweaty, angry, smelly wildebeest during summer, and no matter how much prescription-strength deodorant I layer on, I still end up with a very au naturale scent by the end of the day. Enter: these armpit wipes. Unlike when I add another coat of deodorant on a sweaty day (which always feels like a futile attempt at masking the scent), these natural wipes truly neutralize the B.O., as if I just showered with excellent-smelling body wash.
And, as someone who has crazy-sensitive skin, I'm happy to report that these have never once irritated or burned my pits. I now keep a pack of them at my desk and in my gym bag so I can smell like a tropical human being at all times.
5. BeautyBlender Bounce Liquid Whip Foundation
BeautyBlender Bounce Liquid Whip Foundation, $40
WHY I LOVE IT:
It's incredibly full-coverage—like, it will neutralize every scar and zit on your face—without feeling like a heavy mask.
MORE DEETS:
I'll be honest: I'm not usually a fan of full-coverage foundations. I have dry, tight skin, and my lifelong goal is to look like ethereal glowing angel, so I'm not one to choose a thick formula over a tinted moisturizer. But sometimes, you just need a little—or a lotta—extra coverage.
And although this foundation is completely matte, it's also shockingly blendable and comfortable, so you don't feel like you're wearing a chalky mask. You can blend a few dots over your skin for a medium-coverage finish, or, do as I prefer: mix two drops in with your face lotion or tinted moisturizer for better coverage.
RELATED STORY
Celebrity news, beauty, fashion advice, and fascinating features, delivered straight to your inbox!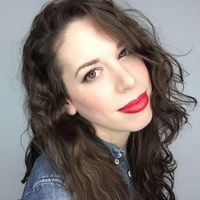 Chloe Metzger is the deputy beauty director at Cosmopolitan, overseeing the editorial content and growth strategy of the hair, makeup, and skin space on digital, while also obsessively writing about the best hair products for every hair type (curly girl here; whattup), and the skincare routines that really, truly work (follow her on Instagram to see behind-the-scenes pics of that magazine life). She brings nearly a decade of writing and editing expertise, and her work has appeared in Allure, Health, Fitness, Marie Claire, StyleCaster, and Parents. She also has an unhealthy adoration for Tom Hanks and would like to please meet him one day, if you could arrange that. Thanks.