The 5 Truly Excellent Beauty Products I'm Loving This Week
My real, no-bullshit reviews of new products you'll actually want to buy.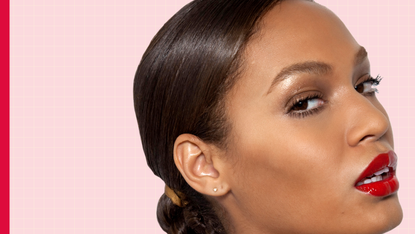 (Image credit: Design by Morgan McMullen)

Hi, hello, and welcome back to Worth It, my bi-weekly breakdown of the newest beauty products I'm completely head-over-heels obsessed with right now. No, I'm not getting a kickback to write about these products; I merely fell in love with them for one simple reason: They're really freaking excellent.

So please, read on to find out the five products that are actually worth your cash, and catch up on the latest Worth It breakdown, here.
1. Cover FX Power Play Concealer
Cover FX Power Play Concealer, $30
WHY I LOVE IT:
It covers zits, scars, dark circles, and spots without creasing, sliding, or looking heavy. Yes, it's that good.
MORE DEETS:
As Flannery O'Connor famously wrote, a good concealer is hard to find. Uh, more or less. But hey—it doesn't make the statement any less true. A good concealer really is hard to find, because it's usually either too dry, too thick, too sheer, or too crease-y.
But this formula is none of those things. It's longwear (without being waterproof), full-coverage (without feeling or looking heavy), and, most importantly, comes in a range of 30 shades and undertones to flatter virtually all skin tones. Dot it over your face and blend with a brush or your clean fingers for a thicker, more opaque finish, or a damp Beautyblender for a subtler one.
2. Stacked Skincare Ice Roller
Stacked Skincare Ice Roller, $28
WHY I LOVE IT:
It soothes my rosacea flare ups and de-puffs inflamed, swollen skin.
MORE DEETS:
As I frequently and proudly declare, I'm a huge skeptic, which means I'm not normally into skincare rollers that claim to "detoxify" or "purify" your skin (lookin' at you, jade rollers). But this ice roller isn't claiming to magically give you perfect skin—it's claiming to fight inflammation and swelling in minutes, which is exactly what it did one morning when my face suddenly got especially hot, red, and itchy (yay for sensitive skin!).
I just took the roller out of the freezer and gently rolled it up and down my clean, dry face and neck. Within a few minutes, my skin was visibly calmer and brighter, and my itching was gone. Granted, there's no surprise in that—ice works to constrict blood vessels and neutralize itching, which means an ice cube would have had the same effect.
Unlike an ice cube, which can lightly burn your face and leave it redder if you're not careful, the stainless-steel barrel on this roller is filled with gel and water, meaning it gets ice-pack cold, rather than ice-cube freezing, so it's totally safe to use on even sensitive skin. Plus, there's zero mess.
3. Lune & Aster SuperStellar Extreme Volume Mascara
Lune & Aster SuperStellar Extreme Volume Mascara, $24
WHY I LOVE IT:
It gives me thick, bold, voluminous lashes with just a few swipes.
MORE DEETS:
I love a mascara that's full-coverage and wet to apply, like this one, because it means I can layer on a ton before it gets clumpy or looks spidery. So, if you're looking for a formula that gives you minimal, natural-looking lashes, this is not your mascara.
No, this is the mascara that quite literally coats your lashes with an opaque, paint-like level of formula with one swipe, creating a genuine falsie-level finish. This is the mascara that makes people say, "Woah, your lashes look so long today," and makes your eyes look like a Disney princess. This is the mascara I am now in love with.
4. Nars Hot Tryst Cheek Palette
Nars Hot Tryst Cheek Palette, $59
WHY I LOVE IT:
It's insanely gorgeous, and all of the blush and highlighter shades give your skin a natural-looking flush, despite their bright hues.
MORE DEETS:
Okay, yes, I'm definitely being swayed by the beautiful, Instagram-worthy packaging (I mean, just look at it—the lid and the powders are all jagged and jewel-shaped), but even without the glitz, this palette would speak for itself.
Each shade is softly iridescent, rather than gaudy glittery, and also silky-sheer, meaning even the palest of skin tones can swipe on the deep berry hue without looking like a clown. You can also build each color to a richer, more opaque shade (perfect for darker skin tones) by blending a few layers on top of one another. And, unlike some powder blushes that seem to fade by noon, these will stay visible on your cheeks until you wash 'em off at night.
5. DpHue Apple Cider Vinegar Hair Masque
DpHue Apple Cider Vinegar Hair Masque, $42
WHY I LOVE IT :
It made my curly hair smoother, softer, and noticeably shinier after just one use.
MORE DEETS:
Unpopular opinion: All hair masks kind of feel the same to me. To my curls, they're essentially just hyped-up conditioners that, yes, hydrate my hair, but are rarely anything to write home about. Except this one from DpHue.
Like most masks, the formula is filled with intense moisturizes, like coconut, rosehip, and avocado oils, all of which would usually leave my fine hair lank and greasy. But, unlike most masks, this one also has a dose of clarifying apple cider vinegar in the formula (which works to gently dissolve gunk and buildup while leaving strands extra shiny), so it keeps oils from weighing down my hair. After one use, my curls felt perfectly hydrated and bouncy, sans greasy residue.
RELATED STORY
Celebrity news, beauty, fashion advice, and fascinating features, delivered straight to your inbox!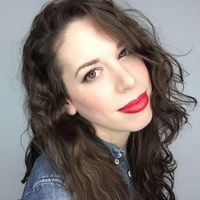 Chloe Metzger is the deputy beauty director at Cosmopolitan, overseeing the editorial content and growth strategy of the hair, makeup, and skin space on digital, while also obsessively writing about the best hair products for every hair type (curly girl here; whattup), and the skincare routines that really, truly work (follow her on Instagram to see behind-the-scenes pics of that magazine life). She brings nearly a decade of writing and editing expertise, and her work has appeared in Allure, Health, Fitness, Marie Claire, StyleCaster, and Parents. She also has an unhealthy adoration for Tom Hanks and would like to please meet him one day, if you could arrange that. Thanks.