The 5 Truly Excellent Beauty Products I'm Loving This Week
My real, no-bullshit reviews of new products you'll actually want to buy.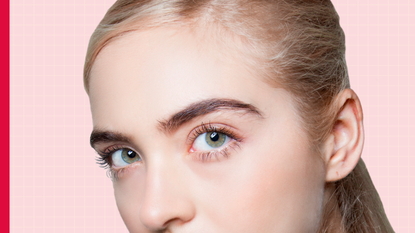 (Image credit: Design by Morgan McMullen)
Marie Claire Newsletter
Celebrity news, beauty, fashion advice, and fascinating features, delivered straight to your inbox!
Thank you for signing up to Marie Claire. You will receive a verification email shortly.
There was a problem. Please refresh the page and try again.
Hi, hello, and welcome back to Worth It, my bi-weekly breakdown of the newest beauty products I'm completely head-over-heels obsessed with right now. No, I'm not getting a kickback to write about these products; I merely fell in love with them for one simple reason: They're really freaking excellent.

So please, read on to find out the five products that are actually worth your cash, and catch up on the latest Worth It breakdown, here.
1. NYX HD Finishing Powder in Mint Green
NYX HD Finishing Powder in Mint Green, $10
WHY I LOVE IT:
It subtly reduces the redness in my skin without looking like a powdery mask
MORE DEETS:
.
I have naturally blotchy, red skin—thanks to a cute little mix of rosacea and Germanic genes—which means I've been deeply familiar with green color-correcting products since junior high. Still, I've never really found one I love, since the majority of redness-reducing creams, powders, and concealers tend to leave skin looking chalky. But this mint-hued setting powder is so sheer and blendable, it subtly tones down redness while still looking invisible on your skin.
To apply it, I swirl a large, puffy brush over the pressed powder, tap off the excess, then lightly blend it over my T-zone in concentric circles. And don't be freaked about looking too powdery; if you do end up over-doing it, just tap a bit of face lotion over your cheekbones, along your Cupid's bow, and on the inner corners of your eyes. It seems minimal, but it adds just enough moisture to give your skin a natural finish when you turn your head.
2. Kevyn Aucoin Molten Liquid Lipstick in Julia
Kevyn Aucoin Molten Liquid Lipstick in Julia, $30
WHY I LOVE IT:
It's one of the few matte, ultra-opaque lipsticks that leave my lips feeling moisturized, not tight and dry.
MORE DEETS:
I know, I know—it seems like every month, I have a new favorite liquid lipstick (and, honestly, I kind of do. There are too many great ones! It's not my fault!). But my recent obsession is this pure, creamy, liquid gold from Kevyn Aucoin, which is one of the very, very few matte lipsticks that is also shockingly hydrating.
Not kidding; my lips felt like they had a light balm on them, even though they were covered in an opaque layer of lipstick. And when it began to wear off five hours later, it faded evenly, with zero patches or flakes. I am truly in love with this formula, and would like to marry it, please.
3. SkinBetter AlphaRet Overnight Cream
SkinBetter AlphaRet Overnight Cream, $110
WHY I LOVE IT:
It's the first and only retinoid that hasn't irritated my dry, sensitive, reactive, rash-prone face.
MORE DEETS:
Despite how often I sing retinol's praises (e.g. it smooths fine lines, kills acne, fades scars and dark marks, and brightens skin), I don't actually use it on myself. I mean, I've tried—I've tested virtually every sensitive-skin retinoid on the market, and I've only been able to tolerate a few, and only once or twice a week. But I've been using this cream every other night for a month now, and I have yet to experience any intense irritation or dryness—something I truly never thought was possible for my face.
As a refresher, most wrinkle creams are filled with your classic retinol or tretinoin, two of the strongest (and potentially irritating) topical retinoids. But this lightweight formula contains something called ethyl lactyl retinoate, a proprietary blend of lactic acid and retinoids, that works to slowly, gently, and effectively smooth skin and fade discoloration with continued use. To mitigate any additional irritation, I apply mine 20 mins after applying my moisturizer (to give the lotion time to sink in) as the final step of my nighttime routine.
4. Neutrogena Hydro Boost Hand Gel Cream
Neutrogena Hydro Boost Hand Gel Cream, $5
WHY I LOVE IT:
It's hydrating but really lightweight, so it doesn't leave your hands (or cell phone, coffee mug, computer mouse, etc.) feeling sticky or greasy.
MORE DEETS:
You know what to expect from most hand creams: A cloying scent, a thick, rich formula, and 30 mins of slightly oily skin that'll leave a print on everything you touch. Which is why I'm currently obsessed with this new gel-cream from Neutrogena.
Rather than relying on traditional butters and oils, the formula is filled with ultra-hydrating hyaluronic acid that locks in moisture and plumps skin...and dries within a minute of being massaged into your hands. So you can rub your fingers all over your phone screen without worrying about leaving a greasy smudge behind.
5. Nudestix Magnetic Luminous Eye Color in Twilight
Nudestix Magnetic Luminous Eye Color in Twilight, $24
WHY I LOVE IT:
It's a creamy, easy-to-apply eyeshadow crayon that really, truly doesn't crease or smudge.
MORE DEETS:
Truth time: I've never met a cream eyeshadow I've really liked (sorry, other cream shadows). Usually, they're just creasy, shimmery smudges waiting to happen—or, they're so "waterproof" and "long-lasting" that they're impossible to blend once you apply them. But this little stick is kind of an anomaly: It's creamy and smooth as you swipe it on (meaning zero tugging or skipping), and it stays blendable for a good 20 seconds, giving you time to smudge it out or layer more on before it sets to a completely crease-proof, transfer-proof finish.
And, if you're someone who usually gets mascara marks on your eyelids (which I definitely do, thanks to my new mascara trick that every human should try), this stick will change your makeup life. Because the shade Twilight is so sheer and barely shimmery, you can use it to remove mascara marks without messing up your eyeshadow—or, on the flip side, without making it look like you're wearing eyeshadow at all. Just run the stick over the marks, and then gently tap the cream with your finger. The emollients in the stick work to break up the dried mascara so it can be easily rubbed away. Yes, this is game-changing.
RELATED STORY
Celebrity news, beauty, fashion advice, and fascinating features, delivered straight to your inbox!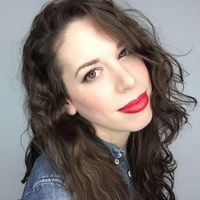 Chloe Metzger is the deputy beauty director at Cosmopolitan, overseeing the editorial content and growth strategy of the hair, makeup, and skin space on digital, while also obsessively writing about the best hair products for every hair type (curly girl here; whattup), and the skincare routines that really, truly work (follow her on Instagram to see behind-the-scenes pics of that magazine life). She brings nearly a decade of writing and editing expertise, and her work has appeared in Allure, Health, Fitness, Marie Claire, StyleCaster, and Parents. She also has an unhealthy adoration for Tom Hanks and would like to please meet him one day, if you could arrange that. Thanks.