Why Essie Gel Couture Nail Polish Is Worth It
An at-home gel manicure in two ridiculously easy steps.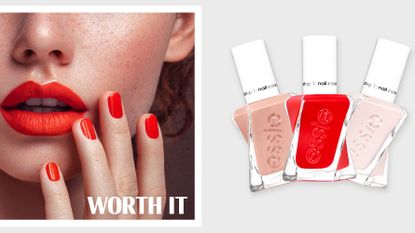 (Image credit: Design by Amy Armani)
Obviously you want a shiny, long-lasting manicure—especially during the holiday season. But consider what you're putting your nails through in the process.
The lights that manicurists use to set gel polish are basically mini tanning beds, exposing the tops of your hands to damaging rays (opens in new tab) that can cause wrinkles and dark spots and even increase the risk of skin cancer. Meanwhile, dip powder manicures can be extremely unsanitary. Since the process often involves literally "dipping" each finger into the same pot of powder (instead of dusting it on), you're picking up germs from any fingers that might have been dipped before you.

Basically, both options eat away your time and money (as well as the integrity of your nails)—which is why I've officially made the switch to this game-changing, at-home solution: Essie Gel Couture Nail Polish.
If you've never heard of Essie's Gel Couture line, allow me to introduce you to your new favorite polish. It's essentially a gel manicure you can do at home—no UV lamps, no bulky equipment, and very minimal drying time. It's a two-step application process: Start by swiping on two coats of your favorite Gel Couture shade (we're obsessed with the three below for winter). Once that dries, just add one coat of Gel Couture Top Coat. Et voila! The result is the same look, feel, and durability of gels you'd get from the salon.
Shop Our Favorite Essie Gel Couture Shades
Consider Rock The Runway your new classic red, Of Corset the perfect pinky nude, and Pre-Show Jitters a crisp, off-white hue to pop against a statement dress (or holiday-themed coffee cup). Pro tip: You can still create nail art with Gel Couture. Paint pinstripes, negative space polka dots, or anything your heart desires—just let your design dry completely before you set and protect with the Gel Couture Top Coat. Once you're ready to try another shade, you can take it off at home with your regular polish remover—no foil-covered acetone soaks, picking, or scraping required!
If you ask me, it's totally worth it.