Actress Zoey Deutch Gets Her Eye Cream from La Mer and Her Shampoo from Costco
The Politician actress shares her high-low beauty routine and number-one skincare secret.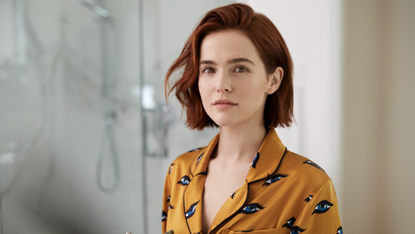 (Image credit: Courtesy of La Mer)
Marie Claire Newsletter
Celebrity news, beauty, fashion advice, and fascinating features, delivered straight to your inbox!
Thank you for signing up to Marie Claire. You will receive a verification email shortly.
There was a problem. Please refresh the page and try again.
Zoey Deutch made a name for herself as quirky Infinity Jackson in last fall's campy The Politician. But chances are you already knew her for her roles in major feature films like Vampire Academy or Zombieland: Double Tap. Or, maybe, you took it all the way back to her debut on Disney's The Suite Life on Deck. It also could be that you're aware of her star-studded family: Deutch is the daughter of two Hollywood icons, film and television director Howard Deutch is her father and actress Lea Thompson is her mother.
But now it's time to get to the know the actress as a beauty ambassador. The 25-year-old is La Mer's latest campaign star, lending her charisma to The Eye Concentrate, a best-selling eye cream that's been reimagined in a new-and-improved formula. She and I spent more than a half hour talking about her undying love of Costco's shampoo and conditioner, the ups and downs of hormonal acne, and why she owns about 10 Neosporin lip balms. To say she knows beauty is an understatement—she certainly talks the talk and can walk the walk.
Get the inside scoop on Deutch's beauty arsenal and her refreshing thoughts on beauty beyond the surface, below.
On the Skincare Products She's Obsessed With:
"La Mer The Eye Concentrate is my skincare's secret weapon because it makes me look and feel better. There's a reason why most makeup artists and fellow skincare devotees I know say this eye cream is their all-time favorite, above all else. It reduces the dark circles under my eyes, and it feels super luxurious, soothing, and hydrating to apply in such a fragile area. It also comes with a fancy little applicator that I love—I'm a sucker for tools. It gives me smoother, brighter, and healthier-looking eyes.
iS Clinical Cream Cleanser really helps me maintain clear skin and controls my acne breakouts and I also love using their Warming Honey Cleanser once a week because it has good ingredients like glycerin, honey, green tea extracts, and papaya enzymes.
I'm obsessed with using La Mer The Moisturizing Soft Cream moisturizer, especially on my forehead, cheeks, and neck. It's super hydrating and gives me a dewier completion. Anyone who has used it can attest to the fact that it definitely makes your skin more vibrant and healthy without including any parabens or sulfates. I use this very specific moisturizer—EltaMD Moisturizer—for the rest of the skin on my face. It's waterless and great for extremely sensitive skin like mine, especially on my chin area.
I found Neosporin Lip Balm at CVS when I was at the Sundance Film Festival. Park City, Utah, has a really high altitude and my lips were super dry, cracking, and in pain. No amount of my previous chapstick was working. This has a combination of antioxidants and essential lipids and there are no parabens or other preservatives. It's been five years and I haven't stopped wearing it. I have like 10 of them: one in my car, purse, house, bed—I cannot live without it. I'm putting it on right now."
Shop Deutch's Skincare Products
On Tackling Her Hormonal Acne From the Inside-Out:
"Besides using my go-to skincare products, a really huge element is acknowledging that hormonal acne is coming from within. I can't just use products, I have to figure out what's going on inside. What everyone's mother says about beauty coming from within is very applicable. I use Wellness Formula, which has been a game-changer for me. I take a lot of vitamins, herbs, antioxidants, oil of oregano, and minerals that are formulated to boost your immune system and help my skin—I take six a day. I also firmly believe in a very strong probiotic, which I take once a day from a brand called 100 Billion."
On Her Perception of Perfection:
"I've had hormonal acne since I was 15 and have had to come to terms with my lack of control of it all. After thinking I'll never figure it out, in the last eight months I've relinquished control and actually did figure it out with this round-up of products that actually work for me and maintain my skin. There's something freeing about not being able to control your skin or a flare-up. I don't put the expectation on myself that I should be perfect and I hope other people don't. If they do, it's none of my business.
Ultimately as an actor, my job is to be relatable. I'm not a model and I'm not supposed to be. I'm okay with not being perfect. I'm okay with having problems. I've just come to a zen place about it. I still have moments that feel frustrating because hormonal skin stuff usually doesn't only last for two days, more like an entire month. But I finally figured out what works for me."
On Her Makeup Must-Haves:
"I love makeup just as much as skincare. A foundation I found that's become my ride-or-die is Suqqu Extra Rich Glow Cream Foundation, it's a Japanese brand and I use it with a BeautyBlender. I'm also in love with Koh Gen Do's Face Powder. For mascara, I use MAC Extended Play Gigablack Lash Mascara, and when it comes to eyeshadow, I love mixing the Maybelline Chai Latte Eyeshadow Palette—which is now discontinued so I bought one from every drugstore in Los Angeles—with the Dior Backstage Eyeshadow Palette in Cool Neutrals. For blush, I love using Chanel Blush in Golden Sun, which I also sometimes wear on my lids. For my lips, I'm obsessed with all Charlotte Tilbury colors, especially Pillow Talk and Dolly Bird, which feels like a stain so I occasionally put a little dot on my nose and on my cheekbones then blend that out."
Shop the Makeup Products Deutch Loves
On Her Beauty Muses:
"Catherine Hepburn really paved her way in the industry. She dripped class while also straddling a line of what is conventionally accepted as American beauty and fashion standards. She epitomizes beauty and strength and I'm still on the hunt for the perfect red lip that she wore. Also, Blake Lively, who always looks incredible and has the world's best hair. I use beauty references of her when I'm getting ready for events and when I'm done I'm like, Shit, I'm not the same as Blake Lively! How come I'm not Blake Lively!"
On Her Costco-Anchored Hair Regimen:
"I've been using the Kirkland shampoo and conditioner from Costco for years. I'm a creature of habit and who doesn't love Costco? ...And the samples? My colorist, Tracey Cunningham, is the greatest and put me on to this Olaplex Hydrating Mask, which I also use sometimes. I am a fan of Oribe's Dry Texturizing Spray. Oh, and since I'm less equipped with hair, I've got, like, two tools: a GHD Flat Iron and a T3 Curling Iron."
Shop Deutch's Hair Shelf
On Red Carpet Beauty Looks:
"It's so funny because no matter how hard I work or how how much effort my glam team puts into my look, I still look at pictures and I'm like, Wait, did I have something in my tooth? Or, Oh God, I have a weird hair sticking out right there! My fave look I've done is the Golden Globes this year because I felt like I had ownership over my look, which made me really confident. I got to work with a designer at Fendi and create a custom jumpsuit and had a wonderful hairstylist and makeup artist.
On Comparing Yourself:
"I sincerely believe that real beauty comes from within and the beauty of a person is reflected in their soul. Sure, it sounds cheesy but it's true. Ultimately, no one feels all the way confident. The most beautiful people I've ever met in the entire world are some of the most insecure people I've ever met. It's helpful for me to remember that nobody is perfect and everyone naturally compares their outsides to other people's outsides. We just have to do our best to live a healthy sustainable lifestyle."
For more stories like this, including celebrity news, beauty and fashion advice, savvy political commentary, and fascinating features, sign up for the Marie Claire newsletter.
Celebrity news, beauty, fashion advice, and fascinating features, delivered straight to your inbox!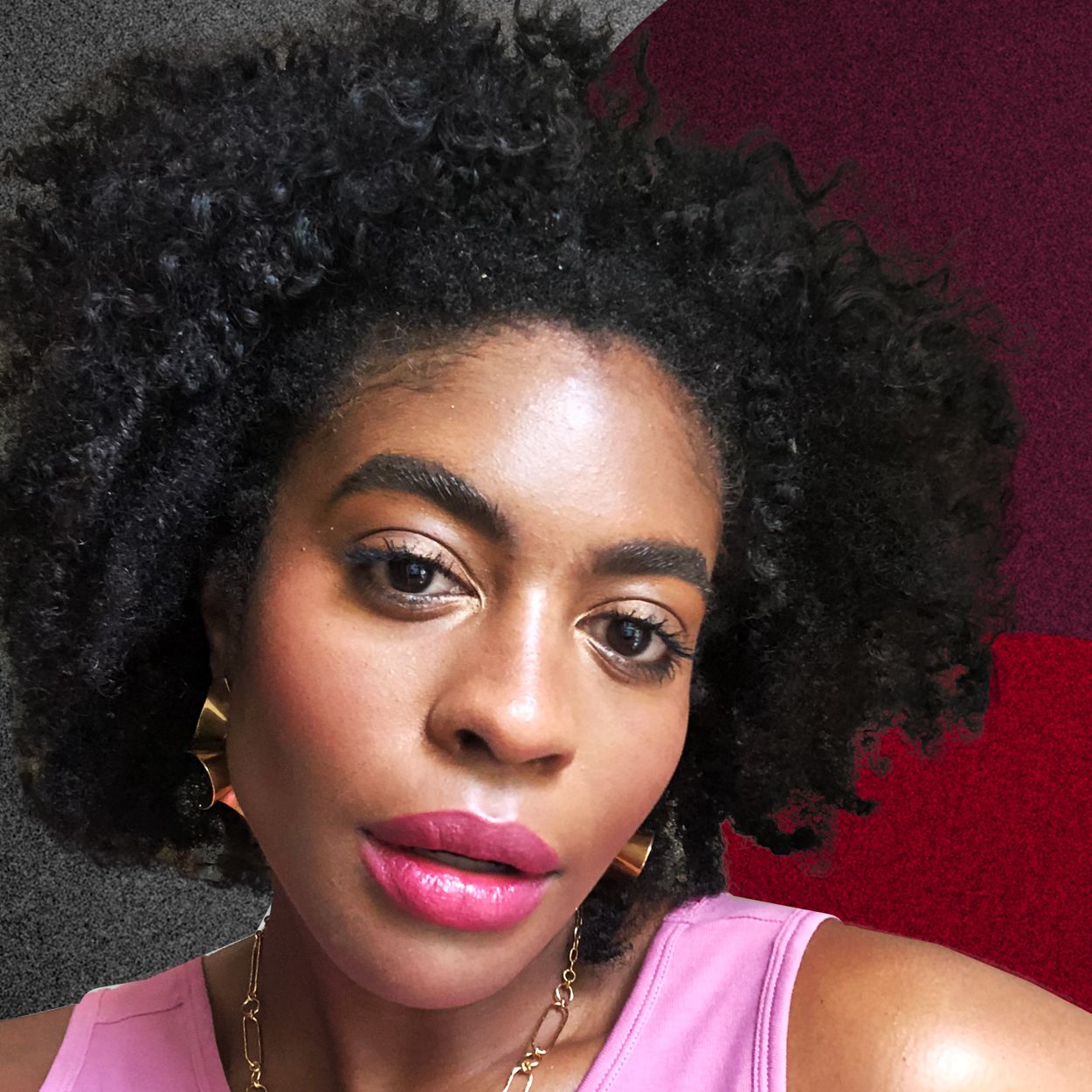 Maya Allen is the former Digital Beauty Editor at MarieClaire.com where she covered makeup, skincare, haircare, wellness, you name it! She has a 15-step skincare routine, owns over 200 red lipsticks, and enjoys testing the latest and greatest in beauty. On most weekends, you can find her at her happy place, which is her makeup vanity. There, she's usually blasting her speakers while singing along to lyrics at the top of her lungs, and making sure her highlighter is on point.