Under-Eye Filler: A Dermatologist's Guide
All the questions you've ever had, answered.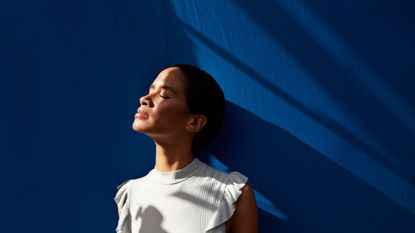 (Image credit: Klaus Vedfelt)
You've probably seen the dramatic before-and-after photos all over Instagram—and if you tend to load up on concealer because you look like baby Grinch first thing in the morning, maybe you've already considered it. We're talking about under-eye filler, a temporary professional treatment designed to treat sunken, dark, or tired-looking eye areas.
The most basic run-down? Your provider will inject a filler—often a hyaluronic acid-based formula such as Restylane or Belotero—into your eye and cheek area with a needle to improve the appearance of dark circles or puffiness underneath the eye. The filler is temporary, and your provider can tell you how long the particular filler they use tends to last. While very rare, there are risks—particularly if the product is injected into an important blood vessel that can block blood flow to the skin, or even to the eye. That said, complications are highly unlikely, making this a generally safe and even routine procedure. We checked in with NYC-based dermatologist Joshua Zeichner for a crash course.
What issues does under-eye filler treat?
Under-eye filler isn't a blanket solution, but it might be able to improve a specific issue. "Dark circles may appear due to true pigment or by a shadow created by volume changes in the face. Chronic inflammation, rubbing of the skin, genetics, and even sun exposure can promote pigment production under the eye," says Zeichner.
While he says that true pigment is best treated with the same types of ingredients used to treat dark spots on the face—think vitamin C—the biggest issue Zeichner sees concerning under-eyes is shadowing caused by a lack of volume. This type of circle is best improved with injectable filler by restoring volume under the eye to eliminate the shadow and and give a brighter, and more well-rested appearance.
How does under-eye filler work?
The fat pads in your face (which help give your face shape, aside from your skill) redistribute as you age, which can create new shadows and valleys. That means the shifting structure of your face might make you the optimal client to receive filler.
"The puffiness under the eye isn't so much the issue, but rather the valley that exists beneath it," explains Zeichner. "Fillers can be used to smooth the transition so you do not see a break in the felt pads between the under eye and the cheek itself. They essentially fill the valleys." According to Zeichner, those with longer or oval-shaped faces tend to have more under-eye issues than those with a rounder or a heart-shaped face.
"I personally always address the cheek and the under-eye as a unit," notes Zeichner, adding that simply injecting the eye area can give an unnatural appearance and lead to more puffiness. "The under-eyes are perhaps the most technically challenging part of the entire face to fill because it is important to maintain a natural facial contour."
Why is under-eye filler so popular right now?
"The COVID-19 pandemic has separated everyone into a digital network where we still can be together, but separate. As we have spent more time on Zoom, we are getting a high-definition look at ourselves on a regular basis for all to see," notes Zeichner.
"It's easy to be critical of yourself when you're looking at your image all day on your computer. While face masks have protected us from the COVID-19 infection, it has changed the way that we look at ourselves. Given that the lower half of the face is completely covered by a face mask, any imperfections of the upper face are being magnified," he says. And staring at screens all day doesn't help; squinting at blue light can make us look even more tired.
What else should you know?
If some of your favorite TikTok creators have inspired your interest in the procedure, keep in mind that the camera doesn't show much nuance. "Don't be fooled by videos or images that you are seeing on social media," he warns. "Looking good in a photo is very different from looking natural in real life. The face must appear natural not only from straight on, but from the sides as well."
The cost of under-eye filler ranges from roughly $800 to $3,000, depending on what filler is used and how much of it. When choosing your provider, look to a trusted, board-certified dermatologist or plastic surgeon with expertise working under the eye.
Celebrity news, beauty, fashion advice, and fascinating features, delivered straight to your inbox!
Taylore Glynn is the Beauty and Health Editor at Marie Claire, covering skincare, makeup, fragrance, wellness, and more. If you need her, she's probably roasting a chicken, flying solo at the movies, or drinking a bad Negroni at JFK.