Did She or Didn't She?
With new advancements in breast augmentation — from stem cell injections to cutting-edge implants — it's hard to tell. Ning Chaeo investigates the latest breakthroughs busting out.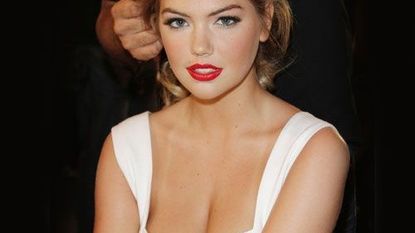 (Image credit: Alexander Tamargo/Getty Images)
Marie Claire Newsletter
Celebrity news, beauty, fashion advice, and fascinating features, delivered straight to your inbox!
Thank you for signing up to Marie Claire. You will receive a verification email shortly.
There was a problem. Please refresh the page and try again.
While the Amazonian Lara Stone body type — ample chest, slim hips — was once a superhuman anomaly, it now seems like plenty of women's cups runneth over. Rest assured, "The public's conception of what's natural is off," says Beverly Hills plastic surgeon Dr. Suzanne A. Trott, a breast specialist who can easily spot celebrity enhancements. (She has performed many.) "It is very uncommon to have a skinny body with large and perky breasts — real C cups start sagging by the time you're 30 years old." That's exactly why A-listers are choosing subtle plumping that also fits better in designer dresses. Here, the latest breakthroughs that help keep the tabloids on their toes.
If you've got the love handles (or saddlebags) to spare, fat and stem cell breast augmentations are now an option. Popular in Europe and Asia, these grafting procedures are for those who want to perk up without the stigma of implants. After liposuction, the patient's own fat is either injected straight into the chest or processed to concentrate the number of stem cells, where it marries with existing fat. These injections are 100 percent natural and come with a big bonus: "If you gain weight, it goes straight to your chest," says Trott.
The drawback is that filling up requires as much recovery time as implant surgery (because of soreness in the lipo areas) and costs about $1,000 more for less volume. (Implants average $3,694 for silicone; $3,308 for saline.) Only about 50 to 60 percent of the fat, the equivalent of a half- to a full-cup size, remains permanent after six months; the rest is metabolized by the body. "There are no scars, and they feel just like regular breasts — you can't tell at all that there's been work done," says Trott, who also points out that the procedure can take up to six times as long as the standard 30-minute implant surgery.
To maximize results, a recent study shows that by using a BRAVA vacuum-based external tissue expander to stretch out skin before and after the procedure, the grafted fat that remains permanent can increase up to 82 percent. But the giant, plastic Barbarella-bra-like machine costs $900 and must sit on your chest for at least eight hours a day the week prior to the procedure, making it impractical for most. "I've had only two patients who could wear it long enough," says Trott.
"I rarely have an augmentation patient ask for a D," says Trott. "Most of my patients ask to be a full B to small C cup." For those who are curious how a Kate Upton — size boost will change their body, doctors now have Vectra 3-D Imaging Devices to inflate chests photographically. Or, if you're after the most flattering proportion, there's now an app for that: Santa Monica, California, plastic surgeon Dr. Steven Teitelbaum has partnered with implant maker Allergan on a computerized program that uses chest dimensions and nipple spacing to calculate the perfect cup size. According to Teitelbaum, the measurement tool helps create the most realistic silhouette. "A graceful slope to the upper part of the breast looks natural," he explains. "An upper bulge looks fake." New, more anatomically shaped teardrop implants with gummy-bear-like silicone filling — such as the Brazilian Sientra and Allergan's 410 (expected to receive FDA approval by the time you read this story) — help prevent that bulging on top.
"The teardrop is just the beginning for shaped implants," reveals Marina del Rey, California, plastic surgeon Dr. Grant Stevens. "Outside the U.S., implants with more shape options are already in use. In Istanbul for the Eurasian International Aesthetic Surgery Course, I even saw plans for implants specific to the left or right side of the body."
Scientists are also investigating saline and silicone alternatives. Clinical trials for these are far in the future for Americans, but a new saline implant has begun the FDA evaluation process: The IDEAL implant contains multiple smaller saline-filled sacks that are nested together. "If the IDEAL is approved, it will change the landscape once again. Maybe women will want a saline implant if it can feel like a breast and won't spring leaks as often," predicts Stevens, who describes the IDEAL as less similar to a water balloon than a traditional saline implant, but still not as natural-feeling as silicone. (Studies have shown that 3 to 9 percent of today's saline implants break within the first three years.) "The problem is that saline is salt water. Salt is a crystal with sharp edges that deflate the implant." And no matter if it's fat, silicone, or saline, no one wants her bubble burst.
Celebrity news, beauty, fashion advice, and fascinating features, delivered straight to your inbox!