5 Awesomely Inspiring Things We Learned at TEDWomen
There wasn't a dry eye in the house.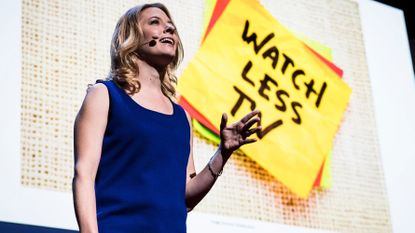 (Image credit: Marla Aufmuth / TED)
Marie Claire newsletter
Celebrity news, beauty, fashion advice, and fascinating features, delivered straight to your inbox!
Thank you for signing up to . You will receive a verification email shortly.
There was a problem. Please refresh the page and try again.
If you're one of the millions of people who've watched a TED Talk online (opens in new tab) — because where else can you get serious midday inspiration in 18 minutes? — then you'll understand why Clinique chose TEDWomen, the three-day conference focused on women's power to change the world, to partner on its Smart Ideas Competition (opens in new tab). It helps that Jane Lauder, Clinique Global Brand President, is a fan. "TED gives you new ways of thinking," she says. "We get so caught up in our day to day, but it's so important to take the time to be inspired."
After receiving over a thousand entries from around the world, Clinique finally named Alison Bishop of Irvine, CA, founder of Boot Camp for New Moms (opens in new tab), winner of the Smart Ideas award. Bishop's brilliant concept: three-hour workshops designed to help new moms navigate the tricky, yet often-overlooked, emotional aspects of new mommy-hood. According to Bishop, there's plenty of practical info around childbirth and breastfeeding, for instance, but little on helping moms with the "psycho-social changes that are happening when you become a parent." She adds, "It's a huge shift in a woman's identity." Bishop's mission dovetailed nicely with the beauty giant's mission. "[Historically], Clinique was the first brand to talk about challenges women were having in a very bold way," Lauder says, mentioning a Clinique campaign from the 1960s that addressed the effect of birth control pills on women's skin. She adds, "Alison is doing the same thing by having these honest conversations."
Bishop was awarded $20,000, fêted at a cocktail party during the TEDWomen conference in October in San Francisco, and even got to attend the invitation-only talks. We tagged along and got to soak up the brilliance of the speakers — and some life-changing lessons too.
1. You are the master of your time.
Who hasn't lamented over how little time they have? Or how busy they are to accomplish X, Y or Z? To hear author Laura Vanderkam (opens in new tab) (pictured above) tell it, this is silly talk. "When you say you don't have time, what you're really saying is that certain things aren't priority," said Vanderkam. To prove her point, the author of I Know How She Does It offered up a simple calculation for the audience, asserting that after adjusting for sleep and work, we all have an extra 72 hours in the week. "That's a lot of time," she said. "We don't need that much time to do amazing things. Build the life you want in the time you've got." One way to go about it, she said, is to assign yourself six to 10 goals for the year and break those down into smaller goals. Schedule them in — ideally on a Friday, when we're (surprisingly) at our most goal-oriented. And just...go.
2. Asking for help is a strength, not a weakness.
Self-reliance is amazing, but there are times when you just need a helping hand. And asking for one, said Michele Sullivan, President of the Caterpillar Foundation (opens in new tab), an Illinois-based philanthropic organization focused around alleviating poverty, is more than okay. In fact, it's what's helped Sullivan, who uses a wheelchair, succeed in business and in life. "It's vitally important to help each other. No, we can't walk in each other's shoes, but we can walk side-by-side and support each other," she said. Bishop echoed this sentiment. New moms, she noted, gain strength from hearing other mom's stories.
3. Forgiveness is everything.
Kennedy Odede and Jessica Odede might have grown up in vastly different surroundings — he, in a slum in Nairobi and she, in Colorado — but they agree that forgiveness is vital to a fulfilling life. (The two met while Jessica was studying in Nairobi and, to everyone's surprise, ended up madly in love.) The now-married couple and founders of the empowerment group Shining Hope for Communities (SHOFCO (opens in new tab)) used the heartbreaking poverty in Nairobi as fuel for developing the keys to forgiveness. They included tolerance, forgetting and release. "Forgiveness opens up a space for new ideas," they said. "Because if that space is blocked by anger and hurt, nothing will grow."
4. Think of your "failures" as acts of bravery.
If you tend to wallow, Caroline Paul (opens in new tab) has this message for you: "I'm not against fear. I'm just pro-bravery," she said. "Get outside your comfort zone. Confront your inadequacies." She should know. Paul was one of the first women to work for the San Francisco Fire Department, and she wrote The Gutsy Girl, a best-selling guide for raising brave young women.
5. We have 50,000 thoughts a day. And 95% of them are the same as yesterday's.
In other words, says Sandi Toksvig (opens in new tab), host of the UK television show, QI and co-founder of the Women's Equality Party, make today's new thoughts count!
Follow Marie Claire on Facebook (opens in new tab) for the latest celeb news, beauty tips, fascinating reads, livestream video, and more.
Patricia Reynoso is a writer who lives in New Jersey. She's obsessed with her twins. And their hair.