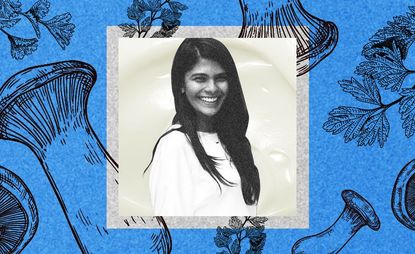 (Image credit: Dove Beauty)
In the ultimate quest for inner beauty and outer glow, Marie Claire asks our favorite trailblazers to share intel on finding balance in their busy lives. Read it all here, in Beauty Inside & Out.
As a writer who covers race and self-evolution, Tasnim Ahmed has spent a fair amount of time reflecting on the concept of beauty, both internal and external. "One of the most important things I've learned is that beauty is what you make of it," she says. "For a very long time, I tried to live by other people's standards of what external beauty is, but I've since realized it's almost entirely internal."
Here, she shares the routines and rituals that keep her feeling beautiful—inside and out.
Inner Beauty
A Good Book:
"Honestly, my favorite thing is to take a moment to sit down with a book and read…just being able to create space for myself to read is important. It's my 'me time,' and afterward, I always feel very refreshed and energized, like I want to do more and explore my own creativity."
Candles and Mood Lighting:
"During the summer when the sun sets quite late, I'll pull down the blinds to make the lighting a bit moodier and light a good candle. I have a Diptyque Baies Berries candle I use in tiny, tiny increments because I love it so much."
Cooking:
"I like to cook—it's a process to actually get me in the kitchen, but once I'm there, I really enjoy cooking as a way of unwinding. I'll actually banish my husband and anyone else from the kitchen so I can have space to do what I want. I make very simple, easy meals, but the act of cooking allows me to think about what I'm doing and focus on it, instead of letting my mind wander somewhere else."
Creating a Quiet Space:
"It wasn't until fairly recently that I realized that self-care is literally just about carving out space and time to completely unplug and take care of yourself, even if it means doing absolutely nothing. When I run a bath, I only take my phone into the bathroom to play very cheesy, relaxing spa music, then try to unplug and enjoy it. No books, no computer, just create a spot for myself."
Outer Glow
Dove Purely Pampering Shea Butter with Warm Vanilla Body Wash:
"I've been using Dove body wash since I can remember; my mother uses it, my grandmother used it—it has always been a staple in my family. I didn't grow up with many traditions, but the fact that Dove has been used in my family through generations makes me feel sentimental. It's very hydrating. It never making my skin feel stripped and dry. I like to use this formula whenever I need extra moisture, especially on a self-indulgent day. It gives my skin a nice smooth feeling, like I could just melt into bed afterwards."
Then I Met You Oil Cleanser and Dr. Loretta Gentle Hydrating Cleanser:
"I'm really into double cleansing at the moment. With wearing masks and the heat, my usually somewhat decent skin has been breaking out, so I'll start with an oil cleanser by Then I Met You to remove everything, then follow it with the Dr. Loretta Gentle Hydrating Cleanser, which foams up really nicely."
Beautycounter Counter+ All Bright C Serum:
"In the outer beauty sense, I think the most important thing for me has been to take care of my skin. It's also something that I've always been made to be very aware of by my mom and grandmother. Right now, I'm using the Beautycounter Counter+ All Bright C Serum. It contains turmeric and vitamin C, which is right up my alley as far as my skincare needs go."
Christophe Robin Regenerating Mask with Rare Prickly Pear Oil:
"When I'm having a very indulgent day, I'll go all out and do a bath for myself and apply the Christophe Robin Regenerating Mask with Rare Prickly Pear Oil to my hair. I'll cover my hair from root to tip, and just let it sit while I soak in the bath. It's very calming and relaxing for me."
Recipe for Success: Daal
"A recipe that makes me feel good from the inside out is Daal, or lentil soup. I grew up eating it, and it's such a staple at every meal—we always have it at lunch and dinner, and it's also kind of a palate cleanser. Daal has kind of an umami flavor, and we'll usually have it with rice, though I like to squeeze a little lemon over it and add cilantro. It makes me feel secure and nourished, while also making me feel connected to home, which I think of as Bangladesh, my parents, and my grandparents."
1 cup daal (red lentils)
1 1/2 cups of water
1 bay leaf
1/4 teaspoon turmeric powder
1/2 teaspoon salt
Hot water as needed
Pinch of jeera (cumin) seeds
1 teaspoon of finely chopped onions
1 garlic clove
1 dry red chili
White rice
Fresh cilantro (according to preference)
Limeist
1. Add daal to a pot and rinse thoroughly.
2. Soak daal in enough water to cover the surface for approximately 1 hour, then drain.
3. Add 1 1/2 cups of water, the bay leaf, turmeric powder, and salt, and set to low-medium heat on stove (a white foam may rise to the surface; remove it as it forms).
4. After 30 minutes, the daal will begin to soften. Remove the bay leaf and whisk or use a hand blender to break down any granules and add hot water if the mixture becomes too thick for your preference.
5. In a separate pan, heat oil and fry jeera for 1-2 minutes and set aside. 6. In the same pan, lightly fry onions then garlic until they are brown.
7. Add the dry red chili to the mixture and heat till it turns a deep red. 8. 8. Add the fried jeera and remove from heat.
9. Stir in the mixture into the daal and remove from heat.
10. Garnish with cilantro and have on its own or with white rice. Add a squeeze of lime if desired.
Marianne Mychaskiw is a former beauty editor and copywriter turned freelancer, covering topics like beauty, wellness, sex, and relationships. She likes long walks on the beach, and still gets emotional about Ginger leaving the Spice Girls.