The Best Blonde Hair on Celebrities to Show Your Stylist
Behold, every shade of the blonde hair spectrum.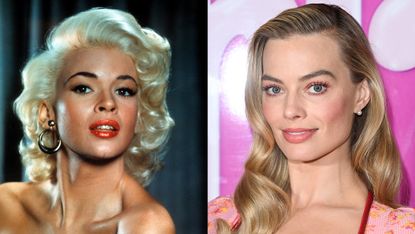 (Image credit: Getty Images)
So you'd like to go blonde. Welcome! As a blondie myself (naturally dark blonde with wheat highlights), I can attest that we do really have more fun. However! It can take time and effort to select your perfect hue, which can depend on a multitude of factors: length, color, and volume, not to mention your skin tone, face shape, and eyebrow/eyelash color. But, lest that litany scare you, just know that with the right assistance, you can look like the blonde bombshell of your dreams. Meanwhile, you can rely on Pinterest and a bunch of celebrity hair pictures to help you find "your" blonde.
Throughout the years, there have been some magnificent Hollywood blondes (natural and otherwise!)—and these days, hair technology is such that it's easier to play around with different hues. We've also got a wealth of wigs, extensions, and temporary dyes that allow for more experimentation in hair color without, you know, completely frying you hair. Because actors, singers, influencers, and public figures get more opportunities to change up their hair, we have many opportunities to see what they did and show it to our hairdressers as inspiration for our own heads. From the most golden to the whitest blonde imaginable, we've got the whole spectrum.
Below, 32 blonde celebrity hairdos that you just might want to print out immediately.
Dua Lipa
For those of us with naturally dark hair, going this blonde might feel intimidating. But Dua Lipa (who's no stranger to a wild hair color) shows that you can still achieve a gorgeous white-blonde even with the darkest natural brunette color. Bonus: don't be afraid to show your roots, just go to a good stylist who can make the growing-out process as seamless and cool-looking as possible.
Blake Lively
If it feels like bright golden blonde is a bridge too far (I've had many a salon visit where I ended up looking like a lion), try a balayage where your roots remain darker. The other key is picking the exactly right shade—Blake Lively's bronzed skin is a near match to her hair, meaning they're complementary but not identical. Not everyone matches their hair to their golden-hued dress, but Lively is just that talented.
Gwen Stefani
It's harder to find a more iconic '90s blonde than Gwen Stefani. Her particular commitment to the hue is impressive, especially considering that this is probably a double process color—which is much more intense and time-consuming. If you're going to really lean in and try this color, experiment with a wig first to make sure you like it, and consult a talented hairstylist so you can keep your hair as healthy as possible.
Pamela Anderson
In the '90s, Pamela Anderson had what I affectionately refer to as a "soft platinum": It's not completely white blonde, with some hints of yellow (especially when the light hits it, as in this photo). But it's also not an intimidating color, and the hair looks soft and dimensional. That's especially helpful when you have bangs in front of your eyes, as Anderson does, or soft fringey pieces in front of your face.
Zoë Kravitz
A pixie cut is edgy enough for some people, but not Zoë Kravitz. She's also rocking a white-blonde platinum dye, and it's a testament to her innate style that she pulls it off. The plus of doing a blonde pixie is that there's not a lot of hair—if you don't like it or want to change it, you don't have long to wait for the hair to grow out. The minus is that it's two edgy looks in one, so make sure you're ready to commit.
Elle Fanning
Elle Fanning's long, luxurious hair is the stuff of legend (in part because she takes such good care of it). This blonde is dimensional and darker at the bottom—which is common when someone dyes their hair regularly—with a little root grow out at the top. Speaking from experience, this is a nice "starter blonde" color if you're not sure whether the hue will work for you but still want to commit to dying your whole head.
Beyonce
Obviously, Queen Bey has given us a lot of hair inspo throughout the years, from her matchy matchy Destiny's Child days to her longest and most magnificent wigs. She doesn't always go with blonde, but when she does I think it's a fabulous choice. This is very golden (meaning it's not for the novice), and the chunky bob is also an impressively advanced haircut. But it works perfectly for her oval-shaped face and flawless skin.
Charlize Theron
White blonde is a magnificent choice if your skin has olive or yellow tones in it (white blonde has been my choice of highlight for many years, and I've never looked back). But if you'd rather not make your hair one solid color—which can look flat when you don't have a ton of volume—make like Charlize Theron and go with a dimensional color. The darker highlights are probably closer to her natural hair color, which also means the hair will grow out more easily.
Farrah Fawcett
Nobody had more coveted hair in the '70s than Farrah Fawcett. Even if you're not going with the "flip" hair style that she popularized (which can be a lot of work, tbh), you can still take inspiration from her silver-y blonde hair. The key is to work with a variety of highlight colors from wheat to almost white. But, and this is crucial, you want to keep any gold tones out of the color palette. Fawcett has dark blonde hair, which means it's easier to obtain the color, but also note that keeping the hair that silver blonde color requires particular maintenance and regular upkeep.
Billie Eilish
Fun fact: Billie Eilish has naturally honey blonde hair, which you would never know because she's constantly giving us edgy new hues. I would actually include this wheat color as edgy for her because it's a bit more muted, but it's also incredible inspiration for the rest of us. Feel free to keep your eyebrows and eyelashes at your natural color as Eilish does here, because it offers a nice contrast. Combined with the thick barrel curls, it also feels like a cool Hollywood throwback.
Gigi Hadid
Granted, Gigi Hadid is a literal supermodel, but this white blonde color is not impossible to pull off. Hadid's natural hair color is dark blonde (which we can see in her eyebrows and roots), which means it's not as much of an effort to get her hair so light—something to note if you have dark hair and want to emulate the look. If you have natural volume, great, and if not, you'll want to make sure to add volume through curls or extensions, lest the color look too "flat" on your head.
Britney Spears
Britney Spears has given us lots of variation on blonde hair throughout the years, but perhaps my favorite is this layered, curling iron-perfected, dimensional Y2K look. This was the decade of a lot of highlights, often in different colors, but this version is less extreme than some '00s styles. Highlights, brown lowlights, visible roots: The whole thing feels layered and a bit piecey, but still cohesive. If you're hoping not to look too dated, don't go with such varied and short layers.
Jayne Mansfield
While her natural hair is brunette (see: the color of her eyebrows), this not-found-in-nature hue became Jayne Mansfield's signature "look." Part of it was the study in contrast with her darker brows, and part of it was how the color catches the light (a must for an actor!). The dye process is somewhat gentler on the hair today than it was back then—it's no accident that most bottle blondes had shorter hair—but it can take a toll, so going to someone who can keep the strands from getting damaged is a must.
Rihanna
Name a hair color, and Rihanna's probably tried it at some point. Blonde hasn't historically been one of her favored colors, but I'd argue that a light buttery yellow is a terrific look on her. It's not too light as to look jarring (matching with gold makeup and accessories helps a lot) but the softer tones contrast with the blunter, more geometric cut. Using some light body glitter to achieve an all-over gold color: absolutely black-belt-level styling mastery.
Amanda Seyfried
You may remember Amanda Seyfried playing a particularly infamous blonde—Elizabeth Holmes, former founder of Theranos—but she's a blonde in real life, too. She doesn't deviate much from her established formula (insert joke about not fixing something that's not broken). She uses highlights to obtain a butter-through-caramel set of hues throughout the hair, which add depth and warmth to her long length. Sometimes she goes lighter, but she absolutely gets what works for her look.
Anya Taylor Joy
Calling everyone who really wants to lean in on a daring hairstyle! Anya Taylor Joy shows us how it's done, with a sharp platinum color and a long length (obviously, she may be wearing extensions, so just keep that in mind before you commit to dying your own long hair). The upkeep here can be intense, especially if you want short or no visible roots, as Joy does here, and stick-straight hair. But it's an absolute guarantee that you'll have the most exciting hair everywhere you go.
Julia Roberts
Believe it or not, Julia Roberts' hair color is actually blonde (even though most of us associate her with auburn or red, which she often favors). This strawberry blonde is very Hannah Montana—the best of both worlds (ha! Sorry.). You still have tones of red, but the lighter blonde shades come shining through as well in highlights. Strawberry blonde, much like red, isn't the right shade for everyone, so ask an expert. But when it's subtle, it looks surprisingly natural and effortless.
Reese Witherspoon
Reese Witherspoon has been a Hollywood blonde for decades at this point, so she's got her trademark style down (obviously she'll change it up for a role, but in her personal life, she's consistent!). She generally favors a color with gentle yellow tones, without looking too bronze or brassy—it's a surprisingly complicated feat to pull off. There's some dimension in the color and a little layering, but generally she sticks to a long, straight, simple style that we now associate as classic Reese.
Zendaya
Zendaya is wholeheartedly a fashion trendsetter, which means she's always playing with her hair and style (fun fact: She loves edgy cuts and wigs, so it's always fun to speculate what she'll play with next). Leaving aside how this bowl-cut style really wouldn't work on anyone else, let's instead focus on how the rich hues complement her skin and bronzed makeup. With bright gold through copper and brunette hues throughout, it's got so much dimension that it "lifts" the shorter style
Michelle Williams
Michelle Williams has that old-Hollywood vibe in her overall look, and her hair is no exception. Whether she's got it in a pixie or longer in a wavy bob like this, she's often keeping it one yellow-blonde color. This is a prime example of selecting a hue that complements your skin tone enough (and also contrasts with it enough)—then committing to the necessary maintenance. This look no doubt requires regular touchups, since we don't really see much visible root, but it's the exact right color for her.
Scarlett Johansson
Scarlett Johansson—whom you may associate with the red hair of her Marvel character, Black Widow—actually has a natural blonde hue that has gone through a variety of iterations throughout her long career. A standout was this deeply balayaged look: It's very dark and naturally blonde on top, then a gradient effect to a yellow-white blonde towards the tips. No lie, this can be a tricky one to pull off, and you need an expert stylist to tell you exactly what ombre look will work for you. But when it's effective, it's effective.
Sarah Michelle Gellar
Simply put, every tween in the '90s wanted "the Rachel" haircut (hello Jennifer Aniston on Friends!) and the "Buffy" hair color. Sarah Michelle Gellar had simply stellar hair—both on the show and off—because of an expert mix of what looks to be highlights and lowlights. The light brown looks to be deeper and darker than her natural blonde (see also the color of her eyebrows), and then the white gold offers contrast without looking skunk-like.
Courtney Love
If "grunge blonde" is a thing (I'm pretty sure I just made that term up but whatever), Courtney Love is its queen. The color itself is pretty simple—a soft wheat color—but the fun is in the visible dark roots and piecey-as-heck haircut. (It's a little harder to see with the headband, but there are a ton of layers in her cut.) If you're aiming for a blonde, messy aesthetic, make sure your hair has some natural waves, as Love does, or add some volume in there.
Marilyn Monroe
If ever there was someone to perfect the "bottle blonde" peroxide look, it was Marilyn Monroe. Mere mortals could never: Having your hair be all one color, often with yellow tones, is a tough 'do to pull off. (I accidentally dyed my hair this exact color and can attest that I did not, in fact, look like Marilyn Monroe.) If you're gonna go all in with this vibe, make sure that you either have a lot of natural volume or commit to the vibrant curls that Monroe was known for.
Kate Moss
Kate Moss pioneered the '90s blonde trend: messy, darker, multidimensional, with some layering and fringe in the front. This is a more mature, sleeker version of the look, but just as full of color. Her natural hair color serves as a base, then golden and wheat colors are layered throughout. Moss actually doesn't have a ton of volume (I can relate to this exact problem) so a wealth of colors help her hair look thicker and richer. This is a perfect look for someone who wants the illusion of volume.
Claudia Schiffer
Pure yellow gold can be tough to pull off unless you're literally a highly paid supermodel like Claudia Schiffer. But it's not impossible: Just as the "modern Brigitte Bardot" was able to make the color work for her (thanks to her peachy-yellow skin), the key is to near-match the exact color to the tones within your skin. It helps that Schiffer has some volume—otherwise with the lighter color, the hair might look too flat—with some subtle layering to help give the look dimension in length.
Grace Kelly
Ah, Grace. No doubt every woman in the '50s brought a magazine clipping to their hairdresser with the directive, "I want to look exactly like this." Kelly had a shorter, chin-grazing style for a lot of her career, and she personified an iconic-but-natural blonde that looked less peroxide-y. The hue is a few shades from white but still silver-y, complementing her incredibly pale-peachy skin. With her signature soft red lip, it remains a classic look that would absolutely work today.
Sydney Sweeney
Lots of people would kill for Sydney Sweeney's long blonde hair, and with good reason. This looks to be an (impressively done) full highlight with her darker hair peeking out from underneath an almost-platinum color. The whole thing feels like a callback to a '90s "soft platinum" Pamela Anderson-esque color, but with a modern twist and more dimension. Sweeney's character on Euphoria is known for a brassier color, so this is a perfect way to remain blonde but tone it down.
Madonna
Perhaps one of the more iconic modern blondes, Madonna shocked the world with her spiky platinum locks (often with darker roots or highlights) back in the day. I have always been a fan when she wore her hair naturally curly. It feels a bit "messy" but perfectly in line with her aesthetic, with her dark roots growing in and matching with her eyebrows and lashes. And the blonde is actually quite soft, striking that perfect mix of masc and femme.
Taylor Swift
Taylor Swift, one of our most famous blondes, has experimented with different colors and cuts over her various "Eras." I happen to be a huge fan of this dimensional color, which makes her natural color deeper and richer (it actually feels like there's some strawberry blonde in there, which I love). Add in the length and waves, and her whole head looks richly vibrant. She makes for a good traditional blonde, though, if you pull up one of her lighter looks as inspo.
Sienna Miller
Sienna Miller's known for a lot of things, most notably her chic and lived-in fashion aesthetic, but her trademark blonde hair is a part of her fun vibe. This dimensional white blonde highlight doesn't have a hint of gold in it—which is deceptively simple, because it's easy for brassy yellow to creep into your hair over time—and mixing in a lighter shade with her natural dark blonde means the whole thing looks less intense (and she doesn't have to dye her eyebrows to match a lighter blonde).
Margot Robbie
It's harder to do better than Barbie! Margot Robbie is a pretty legendary blonde in movies, even though her actual hair color is brown. When she's not pretending to be the world's most famous platinum-haired doll (she donned a more traditional yellow-blonde hue while filming the movie), she embraces a darker blonde. There are a multitude of colors in these highlights and lowlights, which makes her hair feel thick and dimensional—and most important of all, really healthy.