The 15 Best Volumizing Hair Products of 2023
Flat hair? Don't know her.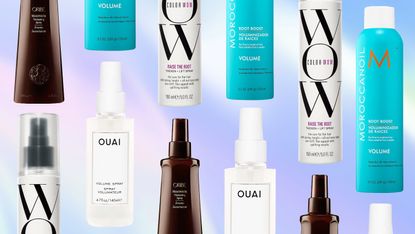 (Image credit: Future)
I'm the self-appointed president of the Fine, Flat Hair Club. Having density, grit, or a body-filled blowout has long remained a mystery to my natural texture; and when left to its own devices, my strands resemble Flat Stanley (read: limp and lifeless). That in mind, I've spent the greater part of my life searching for the best volumizing hair products in existence. I've created concoctions and brainstormed combinations of styling products to give me a lift at the root. I've used mousses pre-blowout, dry texturizers post-blowout, and carried pocket-size dry shampoos with me in case of emergency.
It's been a journey (to say the least), but in the end I've been able to find the best volumizing hair products that actually deliver on their promises—and leave hair in a healthy state. I'm a believer that sharing is caring, so I'm rounding up my all-time favorites for your shopping pleasure. From Bumble & Bumble's thickening line that creates a denser texture in a wash to ColorWow's surprisingly lightweight and wildly volumizing mousse, keep scrolling for the best of the best.
What to Look For
Plug "volumizing hair product" into Google, and you'll be met with dozens of search results spanning hair thickening shampoos, conditioners, and styling products. Here's the thing: One particular type of product isn't going to unanimously deliver better results. "They work as a team. Like most things that work in tandem, you want to use them together in their respective orders," explains Blake Novick, Bumble and Bumble NYC Flagship Stylist. "The shampoos and conditioner pave the road for styling products to drive on."
When it comes to ingredients, you're going to want to pay attention to two things: What's going to volumize your hair and what's going to dry out your hair. "Volumizing products work in a number of ways. Some will use ingredients like hydrolyzed wheat protein or emblica, which have been known to swell hair strands to create an appearance of volume and density," explains Novick. On the other end of the spectrum, you'll find alcohols or texturizing fibers. They're not inherently bad per se, but they might not be ideal for your specific hair type. "These create resistance between the strands, which can ultimately be drying or damaging over time. Those who have chemically processed hair, or curls that easily tangle might want to bear that in mind and make sure to use moisture on their ends when possible."
In the styling product realm, you'll normally find three distinct textures: A powder, a spray, or a mousse. The best option for you is largely personal preference. "You could put the same formula in two different cans that have slightly different disbursement methods and still get the same effect. Basically, it all boils down to the ingredients and what they do. Do they create friction and thus give the illusion of density when the strands fight each other for space? Does it swell the hair shaft to give the look and feel of more density?" says Novick.
The Best Volumizing Hair Products
The Best Volumizing Product for Dry Hair
I'll start off with a warning: This product is not for my air dry girls. But, if you believe in the power of a blow dryer, this mousse is equivalent to hair magic. Use just a few sprays, focusing on the crown of the head and the top layers, and massage it in to distribute the product evenly. Once you whip out a round brush and get all the water out, you'll be mesmerized by the lift. A bonus? The formula contains an ingredient that safeguards against static and humidity.
Pros: Lifts root; Great smell; Good for all hair types
Cons: Needs heat to activate
The Best Spray Volumizing Product
Mousse textures aren't for everyone. If you prefer a mist that you can spritz without a care in the world, reach for this Ouai option. It's a multi-tasker (we love that) and can add both extra lift at the root and increased body throughout the rest of your hair. In the end, you'll be left with thicker, fuller-looking hair that has added texture and shine. The body building spray is balanced out with panthenol, an ingredient commonly found in skincare, to keep the hair moisturized.
Pros: Adds both volume and body; Keeps hair moisturized
Cons: A little sticky
The Best Volumizing Hair Product for Dry Hair
ColorWow Raise the Root Thicken & Lift Spray
Day two hair? It typically means your expertly achieved volume from the day prior has faded. That's where ColorWow comes in and saves the day. The exceptionally lightweight formula can be sprayed right on dry hair for an added boost. Blow drying isn't necessary, but it will give some extra lasting power. There's no stickiness or crunchiness, and it's safe for color-treated hair so your blonde won't turn brassy.
Pros: Color safe; Can be used on dry hair
Cons: Might feel a little sticky
The Best Heat Protecting Volumizing Product
Oribe Maximista Hair Thickening Spray
If you know you won't abide by a multi-product hair routine, keep it simple and efficient with this three-in-one. It's going to build long lasting body and volume thanks to thickening copolymers, moisturize and strengthen the hair with amino acids, and protect against environmental aggressors with Oribe's signature complex. The biggest selling point, however, is the added UV and heat protection the formula offers. Just a few sprays and all your hair concerns are covered.
Pros: Multi-benefit; UV protection; Good for color treated hair
Cons: Expensive
The Best Shine-Boosting Volumizing Hair Product
Bumble and Bumble Bb. Thickening Go Big Plumping Treatment
"My all-time favorite volumizing product is the Bb. Thickening Go Big Plumping Treatment. It has all the yummy things, and not much of the stuff I dislike," says Novick. "I find that my hair will still feel like hair, not tangle too much, and still have a level of shine without being greasy, heavy, or brittle." How is it able to do it all, you ask? Give some credit to its super-powered formula, which is packed with wheat proteins and starches designed to plump up hair strands without weighing 'em down.
Pros: Hair stylist-approved; Conditioning
Cons: Strong scent
The Best Environmentally Friendly Volumizing Hair Product
Made with 100 percent clean energy and bottled in recyclable packaging, you can feel good about purchasing this product. And believe me: You'll feel even better when you're using it. Fifteen-ish sprays will give insane volume to even the flattest hair types. It quite literally makes the root stand up straighter. To take things to the next level (read: '90s supermodel volume) spray a little product in your hand and scrunch through your ends.
Pros: Recyclable packaging; Adds softness
Cons: Can be drying
The Best Strengthening and Volumizing Hair Product
Kerasilk Volumizing Spray
Ingredients are everything and Kerasilk's can't be beat. Take this spray for instance, which is focused on both strengthening and volumizing. Its star ingredient is biomimetic silk, which has a mission to protect that hair (especially color treated hair!) from UV rays, pollution, heat styling, and UV damage. Then something called behentrimonium chloride swoops in to remove static. It may sound like no big deal, but the lack of static means lifted, less weighed down hair.
Pros: Lightweight; Adds shine
Cons: Tacky
The Best Volumizing Mousse
Virtue Volumizing Mousse for Fine Hair
Some volumizers have short lived staying power. You give your hair a healthy coating but 24 hours the next day you're back to your flat, lifeless starting point. But with Virtue? I promise you'll have the longest lasting volume. When I use it, I don't add any additional product for two days. The formula is focused on hydrating the hair, so a mix of a proprietary keratin compound, panthenol, and baobab seed oil (aka a fruit oil that provides shine) create a healthier, stronger foundation.
Pros: Creates long lasting volume; Strengthens hair
Cons: Can get sticky
The Best Strong Hold Volumizing Product
For those who want a stronger hold that has grip, texture, and a bit of stiffness, pay close attention: Maria Nila is for you. It's non-sticky, but still gives fine hair that grit it needs to stay lifted and full. While blow drying is always an option for an extra oomph, this product is my personal go-to for air-dry days. It gives me a little extra wave, preserves my color (thank you, ColorGuard Complex), and still feels natural.
Pros: Texturized; Color-safe
Cons: Can be drying
The Best Long Lasting Volumizing Hair Product
Biolage Volume Full Bloom Volume Spray
Celebrity hairstylist Sunnie Brook used this spray on me this week and when I tell you the results were unbelievable, I mean it. The crown of my head had a solid inch of lift that lasted for a full 72 hours. That's not an exaggeration—no hair was touching my scalp; it stood straight up. It didn't have a tacky or stiff texture like some other options, which is my personal preference given my uber-fine texture.
Pros: Long lasting volume; Lightweight
Cons: Some say it's drying
The Best Volumizing Hair Product for the Whole Head
Andrew Fitzsimons Body Volume Blowdry Hold Spray
If anyone knows volume, it's hairstylist extraordinaire Andrew Fitzsimons. This product is not for the faint of heart—it delivers extreme volume. It's intended to be used on damp hair and the more you spray the bouncier your blowout will be. Focus on your roots, but don't shy away from adding a little to your mid-shafts and ends for a comprehensive hold. Just a friendly PSA: You *will* feel this product in your hair once you've blow dried it; it doubles as a texturizer.
Pros: Intense volume
Cons: A little gritty
The Best Hair Volumizing Product for Touch Ups
Living Proof Full Dry Volume and Texture Spray
If you forgot to spray some product or damp hair or the humidity got the best of your volume, don't worry—Living Proof is a life saver. This particular product was designed for use on dry hair, so you can whip out the bottle anytime your roots need a little pick me up. I personally like to use it right before heat styling because it doubles as a heat protectant. I'm preventing breakage and getting the added, texturizing benefit, which in my book is a win-win.
Pros: Can be used on dry hair; Heat protecting
Cons: Product buildup
The Best Strengthening and Volumizing Hair Product
Sisley-Paris Volumizing Spray
I can confidently say that the Sisley-Paris hair care range is just as strong as the brand's skincare. Take this volumizing spray, which has become my do-it-all lifesaver when humidity strikes. I douse my hair in product while its damp, apply heat (with a round brush for extra lift), and go in yet again with some spritzes on dry hair. The formula is packed with volumizing resin and rice brand proteins, which provide a combination of volume and body, as well as pro vitamin B5 to keep the hair shiny as opposed to overly textured.
Pros: Can be used on damp and dry hair
Cons: Expensive
The Best Volumizing Hair Product for Oily Hair
R + Co Balloon Dry Volume Spray
Oil is the enemy of volume, so this volume spray makes sure all that grease is gone. The stars of the show are two minerals which soak up oil to make sure roots have the dryness they need to stay standing up. I'll be honest though—that can take a bit of shine out of the hair. To counteract those drying effects, the formula is infused with ingredients like calendula and mica to restore hydration and moisture. If you need a little extra love, add some oil to your ends.
Pros: Absorbs oil; Restores shine
Cons: Can be too textures; Strong smell
The Best Lightweight Volumizing Hair Product
Christophe Robin Instant Volume Mist
Volume at your roots is great and all, but if you want to ensure that the rest of your length gets the same TLC, reach for this deliciously rose-smelling Christophe Robin mist. It's extremely lightweight, but still manages to give the perfect extra boost to flat strands. It's airy and weightless so don't be afraid to go to town with 20 or so sprays on dry or damp hair. An added bonus? It's color safe and extremely hydrating.
Pros: Lightweight; Good for ends
Cons: Expensive
Meet the Expert
Samantha Holender is the Beauty Editor at Marie Claire, where she reports on the best new launches, dives into the science behind skincare, and keeps up with the latest trends in the beauty space. She has previously written for Us Weekly, Popsugar, Makeup.com, Skincare.com, and Philadelphia Wedding. Follow her on Instagram @samholender.