The 14 Best Volumizing Hair Products of 2023
Flat hair is about to get a serious lift.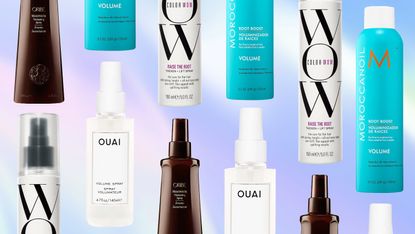 (Image credit: Future)
I'm the self-appointed president of the Fine, Flat Hair Club. Having density, grit, or a body-filled blowout has long remained a mystery to my natural texture; and when left to its own devices, my strands resemble Flat Stanley (read: limp and lifeless). That in mind, I've spent the greater part of my life searching for the best volumizing hair products in existence. I've created concoctions and brainstormed combinations of styling products to give me a lift at the root. I've used mousses pre-blowout, dry texturizers post-blowout, and carried pocket-size dry shampoos with me in case of emergency.
It's been a journey (to say the least), but in the end I've been able to find the best volumizing hair products that actually deliver on their promises—and leave hair in a healthy state. I'm a believer that sharing is caring, so I'm rounding up my all-time favorites for your shopping pleasure. From Bumble & Bumble's hair thickening line that creates a denser texture in a wash to ColorWow's surprisingly lightweight and wildly volumizing mousse, keep scrolling for the best of the best.
The Best Deals on Hair Volumizers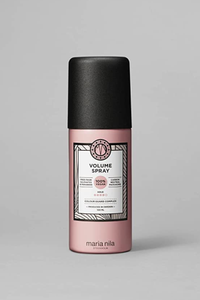 Maria Nila Volume Spray, $17 $15
This Swedish hair care brand produces top-notch products—and this volume spray is no exception. I recommend spraying the product directly into your hands and then working it through your hair, from root to tip.
What to Look For
Plug "volumizing hair product" into Google, and you'll be met with dozens of search results spanning hair thickening shampoos, conditioners, and styling products. Here's the thing: One particular type of product isn't going to unanimously deliver better results. "They work as a team. Like most things that work in tandem, you want to use them together in their respective orders," explains Blake Novick, Bumble and Bumble NYC Flagship Stylist. "The shampoos and conditioner pave the road for styling products to drive on."
When it comes to ingredients, you're going to want to pay attention to two things: What's going to volumize your hair and what's going to dry out your hair. "Volumizing products work in a number of ways. Some will use ingredients like hydrolyzed wheat protein or emblica, which have been known to swell hair strands to create an appearance of volume and density," explains Novick. On the other end of the spectrum, you'll find alcohols or texturizing fibers. They're not inherently bad per se, but they might not be ideal for your specific hair type. "These create resistance between the strands, which can ultimately be drying or damaging over time. Those who have chemically processed hair, or curls that easily tangle might want to bear that in mind and make sure to use moisture on their ends when possible."
In the styling product realm, you'll normally find three distinct textures: A powder, a spray, or a mousse. The best option for you is largely personal preference. "You could put the same formula in two different cans that have slightly different disbursement methods and still get the same effect. Basically, it all boils down to the ingredients and what they do. Do they create friction and thus give the illusion of density when the strands fight each other for space? Does it swell the hair shaft to give the look and feel of more density?" says Novick.
The Best Volumizing Hair Products
The Best Volumizing Product for Dry Hair
I'll start off with a warning: This product is not for my air dry girls. But, if you believe in the power of a blow dryer, this mousse is equivalent to hair magic. Use just a few sprays, focusing on the crown of the head and the top layers, and massage it in to distribute the product evenly. Once you whip out a round brush and get all the water out, you'll be mesmerized by the lift. A bonus? The formula contains an ingredient that safeguards against static and humidity.
Pros: Lifts root; Great smell; Good for all hair types
Cons: Needs heat to activate
Customer Review: "Wow, where has this stuff been all my life? I have thin, fine hair that never holds a curl or blow out. This stuff did wonders when I sprayed it on my roots before I blow dried. I do a rough dry upside down and then finish with a blow dry brush. I put in a couple curlers to set my roots and then pow: volume!! Just buy it." — Sephora
The Best Spray Volumizing Product
Mousse textures aren't for everyone. If you prefer a mist that you can spritz without a care in the world, reach for this Ouai option. It's a multi-tasker (we love that) and can add both extra lift at the root and increased body throughout the rest of your hair. In the end, you'll be left with thicker, fuller-looking hair that has added texture and shine. The body building spray is balanced out with panthenol, an ingredient commonly found in skincare, to keep the hair moisturized.
Pros: Adds both volume and body; Keeps hair moisturized
Cons: A little sticky
Customer Review: "I started using this product today and I already noticed a dramatic difference in my hair! I do it on damp hair as instructed and afterwards diffused my hair. I could honestly see the difference immediately which is insane! I have more volume, thickness and body in my hair. I totally recommend this to anyone!" — Sephora
The Best Volumizing Hair Product for Dry Hair
ColorWow Raise the Root Thicken & Lift Spray
Day two hair? It typically means your expertly achieved volume from the day prior has faded. That's where ColorWow comes in and saves the day. The exceptionally lightweight formula can be sprayed right on dry hair for an added boost. Blow drying isn't necessary, but it will give some extra lasting power. There's no stickiness or crunchiness, and it's safe for color-treated hair so your blonde won't turn brassy.
Pros: Color safe; Can be used on dry hair
Cons: Might feel a little sticky
Customer Review: "I've been using this for a week now. I put in a blow dry cream that is also a heat protectant, then add this to the roots when my hair is about 70% dry, and blow dry with a round brush. Volume and smoothness that lasts all day. No frizz. Day after day of great hair days….Unbelievable!!" — Sephora
The Best Heat Protecting Volumizing Product
Oribe Maximista Hair Thickening Spray
If you know you won't abide by a multi-product hair routine, keep it simple and efficient with this three-in-one. It's going to build long lasting body and volume thanks to thickening copolymers, moisturize and strengthen the hair with amino acids, and protect against environmental aggressors with Oribe's signature complex. The biggest selling point, however, is the added UV and heat protection the formula offers. Just a few sprays and all your hair concerns are covered.
Pros: Multi-benefit; UV protection; Good for color treated hair
Cons: Expensive
Customer Review: "This keeps my hair feeling light and shows a very noticeable difference in the texture, where it appears super fluffy and feels thicker. I already recommended this to a couple friends and will definitely plan on continuing to use it - Love this!" — Sephora
The Best Shine-Boosting Volumizing Hair Product
Bumble and Bumble Bb. Thickening Go Big Plumping Treatment
"My all-time favorite volumizing product is the Bb. Thickening Go Big Plumping Treatment. It has all the yummy things, and not much of the stuff I dislike," says Novick. "I find that my hair will still feel like hair, not tangle too much, and still have a level of shine without being greasy, heavy, or brittle." How is it able to do it all, you ask? Give some credit to its super-powered formula, which is packed with wheat proteins and starches designed to plump up hair strands without weighing 'em down.
Pros: Hair stylist-approved; Conditioning
Cons: Strong scent
Customer Review: "This is my new holy grail, I used to have okay hair but I went blonde and it's damaged and I lost a bit of hair, I have been wearing my hair up for months now because I hate how it looks down. I have fine hair to begin with, this really gave me lots of volume , smells amazing and I can finally wear my hair down again!" — Sephora
The Best Environmentally Friendly Volumizing Hair Product