The 12 Best Blow Dryers, According to Editors and Hair Experts
From TikTok-famous blow dryers to classics from Dyson and Drybar.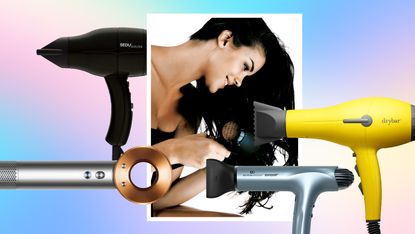 (Image credit: Future; Dyson; Drybar)
In a perfect world, we'd all indulge in a blowout from a pro on a daily basis. But who has the time (or budget) for that? Fortunately, there are salon-quality blow dryers that will provide a similar look from the comfort of your own bathroom—and I've scoured the internet to find the best blow dryer for you at any price point. From the most sought-after luxury blow dryers to the high-performance, budget-friendly options, our curated list is here to address every texture and hair care need.
I also spoke to celebrity stylists about the dryers—and tips!—that make styling a breeze. Because even with the launch of hair dryer brushes and the resurgence of Velcro and hot rollers, figuring out how to master a blowout was, for years, little more than an elusive pipe dream. I would simply load up my hair with heat-protectant products and rough-dry away, leaving me with frizz and flyaways.
How We Chose Blow Dryers
The blow dryers on this list have been tested, reviewed, and selected by Marie Claire's Commerce Editor, Julia Marzovilla (a.k.a. yours truly), Beauty Editor Samantha Holender, Beauty Director Deena Campbell, our team of expert editors, and celebrity hair stylists who use them on a daily basis. While the *best* blow dryer for you will vary based on your hair type and desired result, you can't go wrong with one of the items on this list. For a more personalized recommendation, or if you have any concerns, check with your hair stylist.
What To Look For
The blow dryers on this list aren't the same ones your mom or grandma used. Modern dryers come with tons of promises these days, from shorter dry times to higher-shine finishes, while others promise to be virtually silent. Regardless of your hair type and texture, there are a few key features to look out for.
High Wattage: "Wattage corresponds to the amount of power in your blow dryer," says New York City-based stylist Alexandra Efstratiou. "Ideally, your hair dryer should have 1600 watts, at least. I think high wattage is absolutely critical—I personally hate the type of dryer that gets super hot but doesn't have a strong wind flow. Both are important but air pressure is a non-negotiable in having a quick, smooth blow dry."
Type of Dryer: There are three common types of hair dryers that you'll see on the market right now—ceramic, tourmaline, and titanium ionic—and they're all great for different reasons. Ceramic hair dryers "allow for a frizz-free blowout" says stylist Venner James, who has worked with Megan Thee Stallion and Nathalie Emmanuel. James says that ceramic dryers are better for thick or coarse hair because it can be "smoothed out with ease without changing the integrity of the hair" and "dries hair fast without causing damage." These machines also have the technology to set a style using the cool shot feature. Meanwhile, tourmaline dryers use negative ions to emit heat, making them gentler on the hair and providing a shinier finish. Titanium ionic dryers maintain an even temperature and provide an even dry that takes less time.
Adjustable Heat Settings: Three heat settings—low, medium, and high— are generally the standard for dryers in 2023. Having several allows you to customize your experience as you go. High heat settings are great for rough drying and can shorten your drying time.
Several Speed Settings: Just like with heat settings, having several speed settings allows you to get the most out of your blow dryer. Dryers will most commonly have three speed settings: low, medium, and high.
A Cold Shot Function: If you're like me, you never really considered the cool shot button your dryer. But, they're actually incredibly important when it comes to setting your style. "Think about it like taking your clothes out of the dryer: if they sit in there until they cool off all the way they will be extremely wrinkly," says Efstratiou. "If you take them out and fold or hang them while they're still hot, they'll take the shape of whatever position you put them in. Hair is a fabric in a way, and it follows those same principles. I always use a cool shot over the entire head of hair after finishing the style whether it be sleek and straight or curly and bouncy. It just gives the hair the opportunity to lock in the desired outcome before destructive elements like humidity, wind, and even it bending and resting on your own shoulders changes the look."
Attachments: Attachments like diffusers and concentrators are the key to achieving a versatile array of styles at home. The former is usually used with curly and wavy hair types to maintain your original curl texture by—as the name might suggest—diffusing the hot air throughout a larger area. Concentrators, on the other hand, are great for sleeker, straighter styles.
Deals on Blow Dryers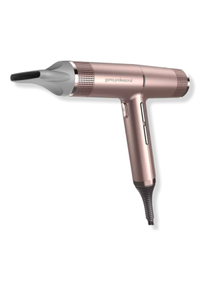 Ga.Ma Italy Professional IQ Perfetto, Rose Gold, $400 $320 at Ulta
Style Editor Emma Childs loves this blow dryer from Ga.Ma Italy Professional because "it's the lightest hairdryer on the market at only 0.65 lbs" and iss designed to dry your hair 30% faster. Shop it now for $80 off.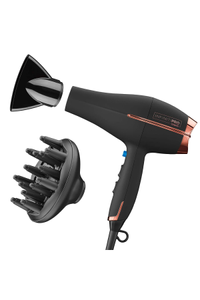 INFINITIPRO BY CONAIR Hair Dryer with Diffuser, $47 $30 at Amazon
If you want to spend less than $50 on a dryer, try this best-selling option from INFINITIPRO BY CONAIR. As one Amazon reviewer put it: "This dryer is really powerful for being 1/2 the size of a regular blow dryer. My hair is nice and smooth after. I have thick wavy hair and like to use the blow dryer to straighten. This dryer worked great. It's not as light as I expected but it is much lighter than a full size. I like that it's small with all the power of a full size."
The Best Blow Dryers
Best All-Around Blow Dryer
Dyson Supersonic™ Hair Dryer
This best-selling hair dryer is "the best overall blow dryer for all hair types with four precise heat settings and three airflow settings as well as five styling attachments," says stylist Frankie Calire. "I feel as though this is the fastest dryer I've ever used when it comes to styling clients," he continues. Venner James also says that it has "ceramic and ionic technology," which are "all about keeping the curls soft, voluminous and intact; it is an all in one diffusing and hair drying tool. The airflow is amazing."
Pros: Stylist-approved; Great for all hair types; Comes in several colors; Comes with five attachments;
Cons: Filter can get clogged over time.
Customer Review: "I've owned a few professional hair dryers, so was a bit skeptical at how much better it could get than the ones I've used in the past. I have pretty average hair: in the middle of thick and thin, wavy, and can go about 3 days without washing before it gets oily. This hair dryer has significantly cut down my drying time, and is so powerful! I think some of the reviews that mention it makes their frizzy probably aren't brushing or using one of the head attachments to achieve the results they want. I've also noticed my hair is much healthier after a half of year using this dryer vs. my old ones and I think it has everything to do with Dyson's heat control." — Sephora
Best Sleek Blow Dryer
Olivia Garden SuperHP Hair Dryer
"When I travel the last thing I want is to use a hotel's old hairdryer that I know will inevitably burn my hair and scalp. I also want to cut down on the clutter on my vanity. The new Olivia Garden SuperHP Hair Dryer somehow packs professional-grade hair drying and styling into a lightweight tool that weighs less than a pound. And as you can see it is compact and won't take up too much space in your travel bag. It comes with easy controls for heat and power, a concentrator nozzle, and a diffuser. But most importantly it gets the job done safely and effectively in minutes, without the bulk and hassle of a traditional heavy hairdryer." — Tanya Benedicto Klich, Senior Editor
Pros: Editor-approved; Small size; Comes with a concentrator and a diffuser nozzle; Sleek size. Lightweight.
Cons: Louder than other devices.
Customer Review: None available.
Best Under-$50 Hair Dryer
INFINITIPRO BY CONAIR Hair Dryer with Diffuser
"On a recent trip to my parent's house, I had to borrow my sister's blow dryer and was immediately blown away (pun intended) by the quality of it. This blow dryer packs a mighty punch—so much so that my hair completely dried in minutes. It's also lightweight, comes with two heat settings, a cool setting, and two attachments. When my sister told me she had gotten it for $30 on Amazon, I was even more shocked and immediately added it to my cart." — Brooke Knappenbeger, Editorial Fellow
Pros: Editor-approved; Costs under-$100; Good for curly hair; Good for thick hair; Top-rated.
Cons: Some reviewers said it's too heavy.
Customer Review: "I needed a new dryer with a diffuser so I randomly bought this and I'm so glad I did. This dries my hair so much quicker than my old dryer. It doesn't get super hot so my hair feels soft after drying. For reference, I have very thick hair, past shoulder length." — Amazon
Best Fast Blow Dryer
ghd Helios 1875W Advanced Professional Hair Dryer
"My favorite blow dryer is the GHD Helios Dryer," says Ellis. "It is super powerful and has different heat settings to ensure the right temp for any hair type." Available in three colors, this GHD dryer is a fan favorite. It uses ionic technology to reduce frizz and add shine, and blows hot hair at a top speed of 75 mph through the concentrated nozzle. And Ellis isn't its only die-hard fan—this dryer also has over 300 glowing five-star reviews on Sephora's website to boot.
Pros: Stylist-approved; Comes in several colors; Has a top speed of 75mph; Top-rated; Speeds up drying time on longer hair; Good for thick hair; Lightweight.
Cons: Some reviewers say that it's louder than others on the market.
Customer Review: "Beautiful hair dryer and leaves my hair shiny and silky smooth. Cuts my styling time in half - which says a lot for my thick haired girlies. Looks professional each time I use it and I'm not great with styling my hair by any means!" — Sephora
Best Lightweight Blow Dryer
Ga.Ma Italy Professional IQ Perfetto Hair Dryer
"I am very lazy with my hair—a roll-out-of-bed, call-it-messy-à-la-Chloë-Sevigny kind of girl. But when I need to make a smidge more effort, I use GAMA Italy Professional's iQ Perfetto Hairdryer. It's the lightest hairdryer on the market at only 0.65 lbs, and its compact design makes it the ideal gadget for those living in small spaces with limited storage (someone like me, for instance, who's in an NYC shoebox). And not only does its air flow-optimized design dry hair 30 percent faster, but it emits active oxygen with anti-bacterial properties while in use to make your hair shinier." — Emma Childs, Style Editor
Pros: Editor-approved; Lightweight; Good for long hair.
Cons: Some reviewers say that the on-off switch is very touchy.
Customer Review: "This is seriously the best hair dryer ever made. I first saw it used at a salon where I get my hair done. It was quiet, light weigh and dried my hair so fast and it didn't feel dried and crispy the way some hair dryers do. Now I wash my hair once a week, have bleached, thin, fine, straight hair down to my lower back, and almost never use heat on my hair. With that being said, I threw away all my other hair drying devices for this one, the rare occasion I do heat style my hair, this is all I want to use." — Ulta
BabylissPRO Nano Titanium Hair Dryer
BaBylissPRO is known for its high-performing straightening tools, and their blow dryer is no different. It has six different heat and speed settings (plus a cold lock button!) to give you a smooth salon-worthy blowout, this best-selling bright blue titanium dryer checks all my boxes. Priced at just under $100, it's a great mid-point option for those looking to invest in a quality device without splurging. The nine-foot-long power cord also guarantees easy styling, no matter where the outlet is placed in your bathroom.
Pros: Has a 9-foot chord; Has 6 heat and speed settings; Best-selling; Costs under $100; Top-rated.
Cons: Some reviewers say that the attachments fall off as you use; Some reviewers say it gets too hot.
Customer Review: "Every blower I've tried either doesn't get hot enough, isn't strong enough or leaves my hair frizzy. This is the first one I've tried that I didn't have to iron my hair afterwards. No frizz and dried quickly. Plenty of power and lightweight. Try it!" — Amazon
T3 Afar Lightweight Travel Size Hair Dryer
"There's nothing more I hate than getting to a hotel room and realizing there's no blow dryer—or a weak one at that. To avoid bad hair days (and irritation) I always sneak this T3 into my carry-on. It's super compact so I don't have to worry about it taking up a lot of space. But don't let the small size throw you off—this is still extremely powerful. My whole head is dried (and frizz-free) in no more than 15 minutes" — Samantha Holender, Beauty Editor
Pros: Travel-sized; Editor-approved; Powerful for its size; Has dual-voltage capability; Great for short to length hair; Comes with a travel pouch.
Cons: Doesn't have attachments.
Customer Review: "PERFECT! The color is beautiful, the perfect rose gold tone! It is the perfect travel size to fit in any luggage or duffle bag. Most importantly it gets the job done, hair is super sleek and voluminous." — Sephora