The 12 Best Blow Dryers, According to Editors and Hair Experts
From TikTok-famous blow dryers to classics from Dyson and Drybar.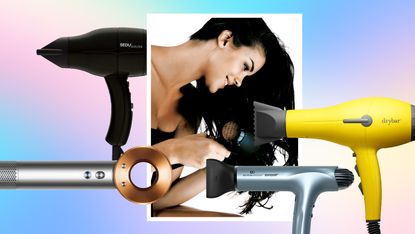 (Image credit: Future; Dyson; Drybar)
In a perfect world, we'd all indulge in a blowout from a pro on a daily basis. But who has the time (or budget) for that? Fortunately, there are salon-quality blow dryers that will provide a similar look from the comfort of your own bathroom—and I've scoured the internet to find the best blow dryer for you at any price point. From the most sought-after luxury blow dryers to the high-performance, budget-friendly options, our curated list is here to address every texture and hair care need.
I also spoke to celebrity stylists about the dryers—and tips!—that make styling a breeze. Because even with the launch of hair dryer brushes and the resurgence of Velcro and hot rollers, figuring out how to master a blowout was, for years, little more than an elusive pipe dream. I would simply load up my hair with heat-protectant products and rough-dry away, leaving me with frizz and flyaways.
How We Chose Blow Dryers
The blow dryers on this list have been tested, reviewed, and selected by Marie Claire's Commerce Editor, Julia Marzovilla (a.k.a. yours truly), Beauty Editor Samantha Holender, Beauty Director Deena Campbell, our team of expert editors, and celebrity hair stylists who use them on a daily basis. While the *best* blow dryer for you will vary based on your hair type and desired result, you can't go wrong with one of the items on this list. For a more personalized recommendation, or if you have any concerns, check with your hair stylist.
What To Look For
The blow dryers on this list aren't the same ones your mom or grandma used. Modern dryers come with tons of promises these days, from shorter dry times to higher-shine finishes, while others promise to be virtually silent. Regardless of your hair type and texture, there are a few key features to look out for.
High Wattage: "Wattage corresponds to the amount of power in your blow dryer," says New York City-based stylist Alexandra Efstratiou. "Ideally, your hair dryer should have 1600 watts, at least. I think high wattage is absolutely critical—I personally hate the type of dryer that gets super hot but doesn't have a strong wind flow. Both are important but air pressure is a non-negotiable in having a quick, smooth blow dry."
Type of Dryer: There are three common types of hair dryers that you'll see on the market right now—ceramic, tourmaline, and titanium ionic—and they're all great for different reasons. Ceramic hair dryers "allow for a frizz-free blowout" says stylist Venner James, who has worked with Megan Thee Stallion and Nathalie Emmanuel. James says that ceramic dryers are better for thick or coarse hair because it can be "smoothed out with ease without changing the integrity of the hair" and "dries hair fast without causing damage." These machines also have the technology to set a style using the cool shot feature. Meanwhile, tourmaline dryers use negative ions to emit heat, making them gentler on the hair and providing a shinier finish. Titanium ionic dryers maintain an even temperature and provide an even dry that takes less time.
Adjustable Heat Settings: Three heat settings—low, medium, and high— are generally the standard for dryers in 2023. Having several allows you to customize your experience as you go. High heat settings are great for rough drying and can shorten your drying time.
Several Speed Settings: Just like with heat settings, having several speed settings allows you to get the most out of your blow dryer. Dryers will most commonly have three speed settings: low, medium, and high.
A Cold Shot Function: If you're like me, you never really considered the cool shot button your dryer. But, they're actually incredibly important when it comes to setting your style. "Think about it like taking your clothes out of the dryer: if they sit in there until they cool off all the way they will be extremely wrinkly," says Efstratiou. "If you take them out and fold or hang them while they're still hot, they'll take the shape of whatever position you put them in. Hair is a fabric in a way, and it follows those same principles. I always use a cool shot over the entire head of hair after finishing the style whether it be sleek and straight or curly and bouncy. It just gives the hair the opportunity to lock in the desired outcome before destructive elements like humidity, wind, and even it bending and resting on your own shoulders changes the look."
Attachments: Attachments like diffusers and concentrators are the key to achieving a versatile array of styles at home. The former is usually used with curly and wavy hair types to maintain your original curl texture by—as the name might suggest—diffusing the hot air throughout a larger area. Concentrators, on the other hand, are great for sleeker, straighter styles.
Deals on Blow Dryers
The Best Blow Dryers
How To Blow Dry Your Hair
Sure, you could just rough-dry your hair, but mastering the perfect at-home blowout is key to amazing hair days. The most important tip? Use tension with going in with your round brush. "Tension is your best friend," says Calire. "The style and brush size also are a huge factor here! I love using the Y.S. Park G series Styler Round Brush this is a boar bristle, great for the perfect smooth blowout." Ahead, James shares his tips for blow-drying at home.
After shampooing your hair, remove excess moisture. This not only reduces drying time but minimizes frizz due to less heat needing to be used.
Leaving the hair damp, section your hair out.
Use a heat protector spray and brush through to make sure hair is detangled,
Then you can start round-brushing your hair section by section [with the dryer]
To finish, you can use a lightweight hair oil, evenly distributing it throughout the hair.
Spray with a humidity spray, avoiding moisture and the use of too much product thereafter is a key step in making sure your blowout will last.
Tips for Your Best Blow Dry
"The best way to reduce frizz is making sure that you have enough tension when you're using the brush to smooth the hair out," explains Glenn Ellis, a celebrity hairstylist who has worked with Olivia Wilde and Chloe Fineman.
Also key to achieving your best hair day: Taking your specific hair texture into consideration as you blow dry. "Someone with finer and straighter hair can rough dry their hair 70 percent before going in with a brush," continues Ellis. "If you have curly hair, you want to go in straight away with a brush from towel-dried hair to ensure no frizz," he says. Your technique should be tailored for your hair type: Ryan Trygstad, the co-owner of the Mark Ryan Salon in New York City, says that "you may be able to go rough-dry until 90 percent of the moisture is out of the hair" if you have a finer hair texture.
Finally, make sure that you use the devices and tools that your dryer comes with. "Concentrators and diffusers make a world of difference when using them to blow dry," says Trygstad. "They really help focus the air how you want, making it easier to get to your end goal of a nice shiny blowout!"
Meet The Experts
Julia Marzovilla is the E-Commerce Editor at Marie Claire, where she covers everything from the latest beauty and fashion launches and sales to celebrity outfits and news. She also creates shopping guides that span every vertical on the site. Prior to joining the Marie Claire team, she contributed similar shopping stories to sites such as Bustle, InStyle, The Zoe Report, Who What Wear, and STYLECASTER. In her spare time, Julia can be found creating shopping guides for all of her friends, spending too much money on yet another pair of black boots, and cooking in her far-too-small kitchen.