The 20 Best Temporary Hair Colors for Commitment-Phobes
Highlights, pastel washes, root touch-ups, and all-over color made simple.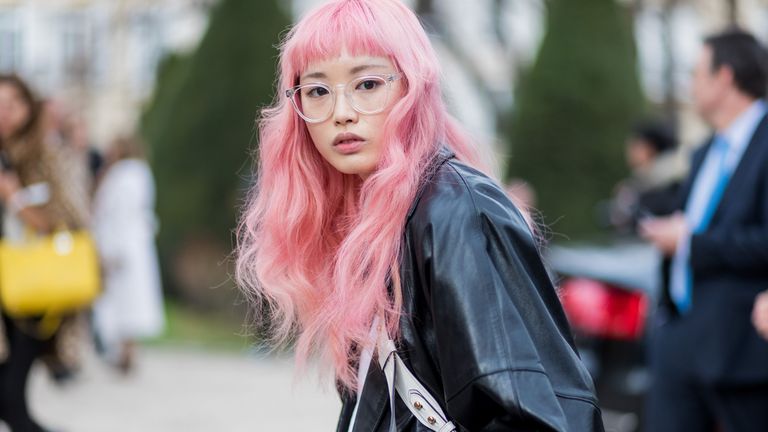 (Image credit: Christian Vierig)
You miss your colorist. You miss going to the salon. And dishing on Love Island. And waffling over the shade of honey or ginger or burnt caramel—or violet!—with which you'll paint your highlights or dip-dye your tips. You even miss the pungent smell of the chemicals and the slight stinging sensation on your scalp. Us too. But while none of the excellent hair pros we've consulted are suggesting you attempt a complete DIY hair color transformation (opens in new tab) at home, most of them are encouraging a little play and noncommittal experimentation. Enter: Temporary and semi-permanent hair colors. They're now available in an endless array of at-home formats—from powders to sprays to gels and conditioning masks (opens in new tab)—to infuse your strands with soft, glossy color. And they promise to eventually shampoo out (opens in new tab) (some quicker than others). So read up for your match, and don't forget to DM a pic to your colorist. They miss you, too.
1/20
SEPHORA COLLECTION Semi-Permanent Hair Color
For One-Step Color
This temporary dye, which can last through 10 shampoos, is perfect for those weeks where you want to go a little crazy without damaging your hair. Let it sink in for 30 to 45 minutes, and be amazed with the color payoff. This one-step dye is calling your name!
2/20
LIME CRIME Unicorn Hair Tint Semi-Permanent Hair Color
For a Natural Tint
This is perfect for a natural tint—and by "natural tint," we mean both natural-looking and naturally formulated. This 100 percent vegan formula (which comes in eight additional hues) leaves lighter hair shades with a soft, copper-colored tint and darker hair shades with a subtle auburn wash that fades after a few weeks.
3/20
Arctic Fox Semi-Permanent Hair Color Dye
For Vivid Color
This one isn't for the timid, but if you're eager to dye your hair a vivid, eye-catching shade that'll disappear in just a month or two, Arctic Fox is for you. Bonus: It's vegan and cruelty-free, and promises to nourish your hair while it colors it.
4/20
Splat Conditioning Color Masque
The Color-Depositing Mask
In just three to five minutes, these quenching masques penetrate the hair shaft, leaving behind a vibrant wash of teal, purple or fuchsia. (For the most intense results, feel free to leave on for for a full 30 minutes.) It's also buildable, so if you're not happy with the depth of your tone, feel free to repeat up to three times.
5/20
MANIC PANIC Classic High Voltage Semi Permanent Hair Color
For An All-Over Wash of Color
You can't write about hair dyes and not include the most famous of famous brands: Manic Panic. This vegan formula is thick and creamy, making it super easy to spread throughout your hair. And the insanely bright colors will leave darker hair with a subtle tint, while on white or blonde hair the dye will result in a rainbow-worthy shade.
6/20
Clairol Jazzing Temporary Hair Color
For Relaxed Hair
Gentle enough to be used after relaxing or perming services, this ammonia-free treatments leaves behind a translucent wash of color in one of five natural-looking shades. For a semi-permanent cover hair with plastic shower cap cap and add a bit of heat with your dryer for up to thirty minutes. (This application isn't recommended for recently relaxed hair, though.)
7/20
Beyond the Zone Color Bombz Temporary Hair Color Spray
The Power Sprays
Just because they're cheap doesn't mean they work any less well—and they're especially appealing if you truly are looking for a one night hair stand. Spray it on, rinse it off. Nothing more, nothing less.
8/20
Moroccanoil Color Depositing Mask
For a Conditioning Color Treatment
It's a mask! It's hair color! It's both! And it comes in seven temporary shades, from soft Rose Gold for blondes to rich Bordeaux for brunettes. What's more, these affordable single-use packets mean you can experiment with a few different shades before committing to a full-size bottle.
9/20
Good Dye Young Poser Paste Temporary Hair Makeup
For Rave-Ready Hair
This striking paste delivers bold color to your strands without the time commitment. Perfect for parties, brunch, or just getting weird on Zoom calls, this dye gives you a bold new look until you decide to wash it out.
10/20
Nuonove Temporary Hair Color Chalk
For a Party
A brush-on hair chalk that goes on like a mascara, ideal for rinse-out streaks in a range of tones.
11/20
ORS Color Blast Temporary Hair Color
For Curly Gals
Work this beeswax-based pomade into your coils, spirals and curls and get a new look with none of the mess (or the commitment).
12/20
Christophe Robin Temporary Color Gel
For Gentle Gray Coverage
Set aside 20 to 40 minutes to let this easy-to-use gel color work its magic and you'll come out the other end with shiny, even color and softer-than-ever strands, thanks to the gentle treatment from Parisian colorist Christophe Robin. Infused with inula flower for shine and oat flakes to protect the skin and scalp, the gel formula (available in four shades) covers grey, is free of peroxide and ammonia, and lasts five to seven shampoos.
13/20
BRITE Instant Color, Pastel Purple
For Easy Application
An unmessy semi-permanent wash that works best on hair that's already color-treated, and rinses out in ten to 15 washes. If you have dark hair, consider prepping your strands first with a lightener if you're after a more intense result.
14/20
Punky Colour Semi-Permanent Conditioning Hair Color
For Serious Color
While the color isn't permanent, per se, it is worth reading instructions and wearing gloves because it does mean business, delivering a serious color punch depending on how you prep your hair and how long you leave it on. Also: The customer service team is excellent and responsive, so feel free to reach out with detailed, specific questions and expect helpful feedback.
15/20
Got 2b Playful Temporary Hair Chalk
For Streaks That Wash Out
Add fun streaks in minutes that wash out at the end of the day with this range of non-messy, non-permanent chalk. (Why don't more people use hair chalk, btw?)
16/20
Good Dye Young Semi-Permanent Hair Color
Best Smelling
Available in nine shades—from hot pink to indigo and pumpkin—this vegan, cream-based semi-permanent dye seems to deliver the best results on hair that's already color treated but wants a change or lift. Users rave over the pleasant smell (a huge upgrade from most toxic-olfactory experiences). This is a perfect way to accent tips or add streaks.
17/20
Uberliss Bond Sustainer Temporary Hair Care
For Blondes
Here are the pros: You can either apply with a brush, or with your hands, rather than covering your bathroom in plastic, Dexter-style. Here are the cons: The product really works best on blonde hair of all tones. If you like the color this tinted conditioner dyes your hair, simply keep using it weekly to keep it going. Otherwise, the unfussy hues will rinse out naturally after about eight washes.
18/20
Curlsmith Temporary Color Styling Gel
For Ribbon Color
Add ribbons of color to curly hair by scrunching in this tinted styling gel. Each of the five shades is particularly flattering on dark strands, which are usually reticent to hold color.
19/20
Keracolor Color Depositing Conditioner
For Colored Hair
A tinted conditioning cleanser? Sign us up. Ideal for maintaining vibrancy on already-colored hair, it's gentle enough to brush on as frequently as you see fit.
20/20
L'Oréal Paris Colorista Spray 1-Day Hair Color
For a Quick Color Hit
If you're looking to tiptoe into bold color, this is your best bet. A blast of the concentrated pigment spray, as allover highlights or focused on the ends, lets you flirt with cobalt blue with zero commitment. Like makeup, we recommend you simply wash it out at the end of the day.