The 12 Best At-Home Waxing Kits for Smooth-as-Silk Skin
Get ready to rip.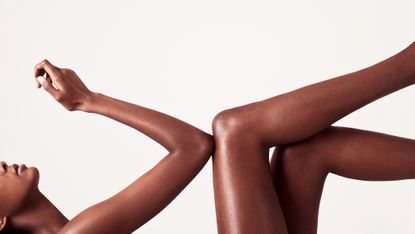 (Image credit: Jonathan Storey)
When it comes to the big, wide world of hair removal, personal preference reigns supreme. So, while some may decide to get laser hair removal and others might choose to leave their armpits and bikini area au naturel, you may find that one of the best home waxing kits suits you—and your lifestyle—best. It's pretty inexpensive; hair stays away for around three to four weeks; and it gradually reduces hair growth over time.
Seeing a professional is always going to be the safest bet, as you're quite literally ripping hot wax off of your skin. That said, there are a handful of well-reviewed home waxing kits that give silky smooth, razor bump-less skin when executed properly. Just make sure you read the instructions *very* carefully before going gung-ho with an at-home option. "Using poor wax technique or poor ingredients can hurt your skin or make it more sensitive and prone to ingrown hairs," explains European Wax Center's field training manager Deidra Green.
To get the best outcome humanly possible, there are a handful of prep and aftercare tips and tricks that will make your results that much better. The first step? Make sure your hair is long enough. It should be about a quarter of an inch long (aka the length of a sprinkle) before considering a wax. Next up? Exfoliate. "Exfoliation is key to your skincare routine, especially for a smooth wax," explains Green. "Use a film-free exfoliant 24 to 48 hours before your wax."
Once your skin has reached post-wax bliss, aftercare comes to the forefront. "When showering after a wax, make sure to use lukewarm or cooler water—hot showers can dehydrate the skin," Green advises. She also notes that you should avoid any harsh soaps and steer clear of hot tubs, lakes, and saunas. To soothe any lingering redness or irritation and calm down inflammation, she suggests reaching for body lotions and serums packed with ingredients like tea tree oil, aloe vera, chamomile, green tea, and glycerin. Her must-haves? The EWC Treat Ingrown Hair Serum, along with the EWC Slow Wash, Polish, and Lotion.
So, while you go ahead and grow out your hair, please scroll below to figure out which of the best home wax kits sounds right for you. From strip-less options ideal for the sensitive skin around the bikini line to professional-level kits that will get all your leg hair in one go, these at-home wax kits are the closest you'll get to a professional.
The Best All-in-One Home Wax Kit
(opens in new tab)
Happy Waxing At-Home Waxing Kit
For a one-stop-shop that does it all (read: armpits, bikini line, toes), this is the best of the best. With everything from your pot to your measuring cups, it has all the tools and ingredients you could wish for. The best part? It automatically heats up your wax to the perfect temp, so you don't have to worry about the formula being too cold or too hot. Need more convincing? It's racked up nearly 150 reviews and has an average rating of 4.7.
The Best Home Wax Kit for Pubic Hair
(opens in new tab)
Flamingo Pubic Hair Wax Kit
If you're a big fan of the Flamingo razors (we know we are), consider taking the brand's waxing kit for a spin. It's designed for the upper thigh and bikini line, but pretty, pretty please note that it's not recommended for a Brazilian wax. This kit specifically stands out from the rest because of the yellow hue of the strips. It makes it crystal clear to see what hair you're removing versus leaving.
The Best Home Wax Kit for Sensitive Skin
Completely Bare Face & Sensitive Areas Wax Kit
Calling everyone with sensitive skin! If you're nervous about waxing and don't plan on seeking the assistance of a professional, make sure you choose a kit that's designed to work with easily irritated skin. This strip-less formula—along with the aftercare products—were created to be as gentle as possible. That said, it's best to do a patch test if you're concerned about a reaction.
The Best Sugar Home Wax Kit
(opens in new tab)
Parissa 2-in-1 Roll On Organic Sugar Wax
If a mess is your biggest pain point with at-home waxing, allow us to introduce you to this easy, clean, and efficient option from Parissa. The roll-on applicator puts the perfect amount of warmed wax onto your skin in an easy-to-rip strip. Just make sure to pull the skin as tight as possible before tugging.
The Best No-Strip Home Wax Kit
(opens in new tab)
Bliss is here to give you authentic spa feels in your own bathroom. Just heat up the hard wax in your microwave until it fully melts down and then apply the warm solution directly to your skin—no strips required. This kit also comes with soothing post-wax oils to calm the skin.
The Best Home Wax Kit for All Over
(opens in new tab)
Sally Hansen Hair Remover Wax Strip Kit
This is a quick and easy cure for all body hair. No need to warm up the wax or cut any strips—this kit comes equipped with pre-cut strips suitable for removing even the shortest, stubbiest hair on large areas of the body.
The Best Home Wax Kit for Legs
(opens in new tab)
Veet Legs and Body Wax Strip Kit
These gel wax strips are formulated with good-for-you ingredients like shea butter, almond oil, and vitamin E to nourish the skin. The pre-cut strips are dermatologist-tested and will seamlessly remove the majority (if not all) of the hair from the area after just one application.
The Best Home Face Wax Kit
(opens in new tab)
Glee Face Wax Hair Removal Strips
The skin on your face is the most sensitive area of the body, so using a non-irritating waxing kit with a gentle formula is imperative. These raspberry-scented face wax strips automatically warm up upon application, to soothe the skin and safely remove unwanted hair.
The Best Multi-Purpose Home Wax Kit
(opens in new tab)
Maxpearl Hair Removal Waxing Kit
How cute is this pretty little set? These pearly beads are made from a natural pine resin, and are included alongside every little thing you need for a full at-home waxing experience—including but not limited to rubber fingertips for precision applications and peels. Editor's note: The green wax is gentler and for finer hair along your face, while the white is sturdier enough for coarser strands.
The Best Home Wax Kit for Travel
(opens in new tab)
It's the night before vacation, and you've remembered everything but your bikini line. This handy aluminum kit includes single serve strips and pouches of aloe that can tuck right into your carry-on for on-the-go excellence.
The Best Eco-Friendly Home Wax Kit
(opens in new tab)
Nad's Natural Natural Sugar Wax
If you're looking for an all-natural formula, you'll enjoy this sugar wax. It instantly softens once it gets warmed by your body heat for a no-fuss removal process. What's even better is that these strips aren't one time use—you can wash and re-use them as you please.
Best Professional-Grade Home Wax Kit
(opens in new tab)
GiGi Pro Hair Removal Waxing Kit
This waxing kit comes complete with Brazilian body hard wax, cooling gel, soothing oils, spatulas, and a mini heater to warm up the wax. This option is the closest set up to a professional waxing salon experience.
Samantha Holender is the Beauty Editor at Marie Claire, where she reports on the best new launches, dives into the science behind skincare, and keeps up with the latest trends in the beauty space. She has previously written for Us Weekly, Popsugar, Makeup.com, Skincare.com, and Philadelphia Wedding. Follow her on Instagram @samholender.