The 6 Best Hair Removal Creams of 2023
For a smooth, bump-free finish.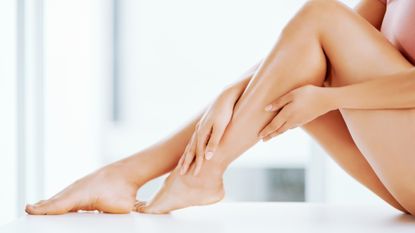 (Image credit: Getty Images )
Marie Claire Newsletter
Celebrity news, beauty, fashion advice, and fascinating features, delivered straight to your inbox!
Thank you for signing up to Marie Claire. You will receive a verification email shortly.
There was a problem. Please refresh the page and try again.
Hair removal can be a tricky, and often painful, process. Using a laser hair removal device at home comes with its own slew of precautions, not to mention expenses. And if you've already run through all of the best razors and wax strips at the drugstore, finding a hair removal cream can feel like the best remaining option. We tapped dermatologist Dr. Karan Lal, a dermatologist at Affiliated Dermatology, to talk all things hair removal cream, including how to use them and what to look for.
How Do Hair Removal Creams Work?
Unlike razors, epilators, or waxing kits, hair removal creams, also known as depilatory creams, offer a relatively painless way to remove hair in the comfort of your own bathroom. But how do they work? Dr. Lal explains that hair removal creams "contain chemical ingredients that break down the tight bonds in our hair proteins, causing the hairs to break off."
It's critical to understand the differences between hair removal methods before we dive into the best hair removal creams. Classic razors remove hair by cutting it off as close to the skin as possible; wax strips pull out strands by ripping them from the follicle. (For more information, check out Marie Claire's guides on how to use wax strips, as well as our guides on how to shave your legs and how to shave your bikini line.)
Should I Use a Hair Removal Cream?
If shaving or waxing works perfectly for you and for your needs, great! Dr. Lal says hair removal creams can be a good alternative to either option, though, especially if you're someone who gets razor bumps. Also, creams are good for anyone whose skin is too sensitive for waxing or if you've "had skin tearing or ripping" during that process.
Risks
Like many hair removal processes, using a cream comes with its own set of risks—although I should note that they're very minor. For one, Dr. Lal says that you should not "use hair removal creams on the face, neck, or private areas." These tend to be more sensitive than other parts of the body, so irritation can happen more easily. Also, it's important to leave the cream for only the allotted amount of time, so read the directions carefully. "If you leave the cream on for too long, you can develop a chemical burn, which can present with redness, blistering, and/or pain," says Lal.
The products on this list have been vetted by Marie Claire's Commerce Editor, Julia Marzovilla (aka yours truly), and Beauty Director Deena Campbell. Each and every one is highly rated by reviewers. While the *best* hair removal cream for you will vary based on personal preference, you truly can't go wrong with one of the items on this list. For a more personalized recommendation or if you have any concerns, check with your board-certified dermatologist.
The Best Hair Removal Creams
Best Dermatologist-Recommended Hair Removal Cream
Nair Hair Remover Sensitive Formula Shower Power with Coconut Oil and Vitamin E
Dr. Lal uses (and loves!) this hair removal cream from iconic brand Nair because it's filled with good-for-skin ingredients. "It has coconut oil so it's moisturizing and won't make your skin feel waxy after use," he says. Plus, the formula is both dye and paraben-free. Many of the five-star reviews on Target's site note how easy this cream is to remove and how smooth it leaves their skin. However, other reviews say that, when left on too long, it did cause irritation.
Pros: Dermatologist-approved; Formula contains Vitamin E.
Cons: Some reviewers said the scent was too strong; Some reviewers said it burned their skin when left on too long.
Customer Review: "This has been a lifesaver, The odor associated with this product is mellow and [has] no burning. Just follow the instructions and you can't go wrong. my legs have never been smoother." — Target
Best All-Around Hair Removal Cream
Veet Aloe Vera Legs & Body Hair Remover Gel Cream
This longtime favorite hair removal cream from Veet comes in a bigger bottle than others on this list, so you know it will last a long time. Reviewers also say that's gentle on their skin, but some noted that it works better if you have long hair on your desired areas rather than short stubble, so you'll have to wait longer in between sessions. However, an even, thick, coat will remove even coarse hair. Plus, the pump dispenser makes it easy to apply with less mess.
Pros: Bottle lasts a long time; Smell goes away in the shower; Not strongly scented.
Cons: Some users said it didn't remove every hair in the first pass.
Customer Review: "I was hesitant to use this because I have sensitive skin, but it worked nicely! The hair came right off without any irritation and my legs feel extremely moisturized. After a shower, I couldn't smell the scent anymore, it was very light. Test it on a small part of your body first though!" — Target
Best Hair Removal Cream for Dry Skin
NADS 3-In-1 Body Butter Hair Removal Cream
This body butter/hair removal cream hybrid from Nads is great if you're looking to soothe your dry winter skin as you remove any unwanted hair. The brand says that you can use it both in and out of the shower, and the hydrating formula is created to be hypoallergenic and includes both cocoa butter and shea butter to keep your skin feeling its best. If you're using it in the shower, make sure to apply the butter a few minutes prior to getting wet for the best results.
Pros: Formula is cruelty-free; Good for sensitive skin;
Cons: Has a strong smell; Some reviewers say you need to leave the cream on for 10 minutes.
Customer Review: "I'll start off "negative" first and then go positive (don't worry it really wasn't bad). I just definitely had to do a whole 10min, and I feel my hair isn't that thick or coarse, but I assume I'd have to anyways. You definitely have to use ALOT, so there won't be many uses out of the bottle. But I didn't have any reactions, my legs feel smooth, and I'm pleased with the results!" — Ulta
Best Beauty-Director-Approved Hair Removal Cream
WooWoo Tame It! Vegan In-Shower Hair Removal
"I'm sensitive down there, and when I wax or shave with a razor, the next day (without fail) I'm met with red, irritated, inflamed, bumpy skin. Eww. But whenever I use this hair removal cream my skin is baby soft and significantly less red. I also love that it doesn't smell like rotten eggs like most removal creams. Finally, it's female-powered and vegan—what could possibly be better?" — Deena Campbell, Beauty Director
Pros: Beauty Director-approved; Has a vegan formula; Cruelty-free; Formula contains aloe vera.
Cons: Some reviewers said it burned their sensitive skin.
Customer Review: "I've always struggled with razor bumps but omg this is a life saver!! It left my skin feeling so silky smooth I didn't feel the need to use the soothing balm afterward but I did anyhow to stop any potential tingling. I will definitely be ordering more!!" — Woo Woo
Best Hair Removal Cream for Thick Hair
SoftSheen-Carson Magic Razorless Shaving Cream
This cult-favorite (and top-rated!) hair removal cream was technically designed for men, which means that it works great on thicker, coarser hair. It has more than 40,000 five-star reviews on Amazon, many of which laud it for working quickly and effectively without causing irritation. Reviewers also note that it should be applied when your skin is dry and then rinsed off with warm water and a washcloth, so you'll have to plan ahead and apply this before you jump in the shower.
Pros: Works quickly.
Cons: Might be too harsh for sensitive skin.
Customer Review: "This cream works quickly and gently to remove unwanted facial hair. And it's so affordable." — CVS
Best Hair Removal Cream For Touchups
Nad's Hair Removal Cream - Gentle & Soothing Hair Removal
If you're in a pinch to remove unwanted hair, try this Gentle and Soothing Hair Removal cream from Nads. It has over 4,000 five-star reviews on Amazon, and is designed to work in less than 10 minutes—and at least four! Results last up to one week, and the formula is cruelty-free. Reviewers also note that it smells stronger than other, similar products and that it doesn't remove every strand of hair if your hair is on the thicker side of the spectrum.
Pros: Doesn't cause irritation; Formula is cruelty-free.
Cons: Some reviewers say it doesn't remove all the hair in one pass.
Customer Review: "It doesn't get all of the hairs gone. Buuuuuut it also does not give me a major rash like other brands do. Highly recommend!!" — Walmart
How to Use Hair Removal Creams
Perform a Test Strip: Rather than jumping in and using your preferred cream on your entire leg or underarm area, Dr. Lal suggests testing out the product on a smaller area on the skin first. He specifically recommends trying it out "on your upper thigh to make sure you aren't allergic or sensitive to the cream you are trying."
Apply The Cream To The Rest Of Your Desired Area: If the test strip doesn't cause any irritation, it's time to apply the cream to the rest of the area. Dr. Lal says to apply a thin layer in the direction the hair grows.
Leave The Cream On: Dr. Lal says that the hair removal cream should be left on for "no more than five minutes."
Remove The Cream: Using a microfiber towel will help gently remove the cream. To get the best results, move the towel in the opposite direction of hair growth.
Rinse The Area and Moisturize: Keep your skin feeling healthy, cleanse the area with soap and water. Follow this up with a moisturizer. Dr. Lal also says that you should wait three weeks between using a hair removal cream.
Preparation
"Make sure you don't have any active rash or irritation prior to applying your hair removal cream," says Lal. He also says that you shold "make sure you are not allergic to any ingredients in the hair removal cream."
Aftercare
"Moisturize right away and for a few days after treatment," says Dr. Lal. "If you have redness or irritation, use 1% hydrocortisone two to three times a day until the redness and irritation is gone."
Meet The Expert
Originally from New York City, he grew up in Queens and attended Hunter Science High School in Manhattan. He graduated summa cum laude from the New York Institute of Technology, where he completed a rigorous seven-year accelerated combined medical program. He was selected to be an academic medical scholar, during which he received a Master of Science in neuroscience and a scholarship for three years of medical school and graduate training. He was elected to the Sigma Sigma Phi and Psi Sigma Alpha medical honor societies. He completed his internal medicine internship at the University of Connecticut Medical Center where he was elected intern of the year. He completed a three-year dermatology residency at the University of Massachusetts, where he was elected chief resident. He continued at the University of Massachusetts to complete a pediatric dermatology fellowship, where he gained an interest in vascular anomalies, pediatric laser, and dermatologic surgery of pediatric patients. Dr. Lal specializes in pediatric and adult dermatology, laser surgery, soft tissue filler augmentation, body sculpting, melanocyte keratinocyte transplant surgery for vitiligo and hypopigmentation, pigmentary abnormalities of the skin and enjoys treating patients from birth onwards. He is an expert in atopic dermatitis, vitiligo, melasma, psoriasis, and hidradenitis and has worked in specialty clinics among experts. He is the only board-certified pediatric and fellowship-trained cosmetic dermatologist in the country.
Celebrity news, beauty, fashion advice, and fascinating features, delivered straight to your inbox!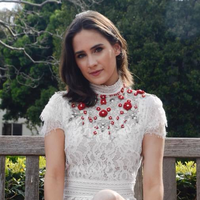 Julia Marzovilla is the E-Commerce Editor at Marie Claire, where she covers everything from the latest beauty and fashion launches and sales to celebrity outfits and news. She also creates shopping guides that span every vertical on the site. Prior to joining the Marie Claire team, she contributed similar shopping stories to sites such as Bustle, InStyle, The Zoe Report, Who What Wear, and STYLECASTER. In her spare time, Julia can be found creating shopping guides for all of her friends, spending too much money on yet another pair of black boots, and cooking in her far-too-small kitchen.