Spring 2021 Hair Trends to Lust Over As Your Freeze in Your Apartment
The weather outside is frightful, but these hairs are so delightful.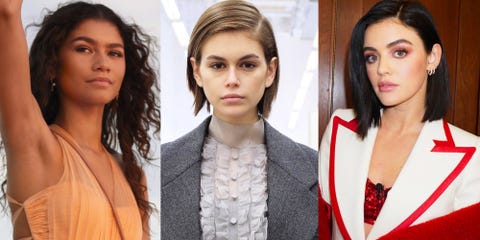 You did not click on this article about spring 2021 hair trends to hear yet another screed about how bad 2020 was and how much we have to look forward to in 2021. You came here for major hair inspiration, and I am here to deliver. One good thing about 2020 was that quarantine and lockdown left creatives a lot of time to get inspired. Which meant that even though fashion shows and red carpets weren't what they once were—some were virtual, others had pared-down guest lists, others were outright canceled—the looks that turned out were nothing short of spectacular.
At Gucci, models in the holiday campaign showed off bouncy blowouts and long thick bangs, a lush and rather retro look brimming with optimism. Balmain, of course, had a different take, sending models out with punk pixies, made modern thanks to feathered, feminine strands at the nape. Ropey braids at Red Valentino were the most personally inspirational: I can only Zoom into my Monday morning meetings in a floppy high bun so many times.
The idea behind spring 2021 hair: Fun. Lord knows we all need it. Nothing was fussy or overly wrought, and while styles felt individual, working and adjusting based on the models' natural hair texture, there was something deeply accessible about all the styles I saw. Hair is about self expression, self care, and beauty, plain and simple, and you shouldn't need professional help or a black AmEx to pull off the styles you crave. Ahead, the twelve most relevant hairstyles for the spring 2021 season.
This content is created and maintained by a third party, and imported onto this page to help users provide their email addresses. You may be able to find more information about this and similar content at piano.io