How to Transition to Natural Hair, According to Lisa Price
The founder of Carol's Daughter shares her coveted curl advice.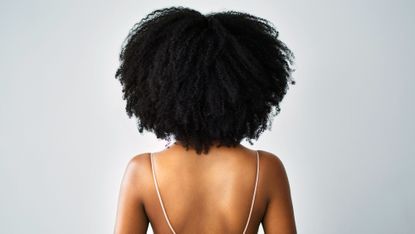 (Image credit: Delmaine Donson)
Once you let go, embracing your natural hair is an empowering experience. But transitioning to natural hair is not easy. Everyone's journey is different, and understanding that there's beauty in challenging yourself with your curls is the first step. A natural hair transition occurs once you choose to fully grow out the chemical relaxer in your hair, which alters the texture of your hair. To give you guidance, I consulted the incomparable Lisa Price, the founder of hair empire Carol's Daughter.
"Everyone's hair is different, everyone's lifestyle is different, so when it comes to natural hair transitions it's not a one-size-fits-all-answer," Price says. "Each person has to look at their own individual circumstance and decide what they feel comfortable doing. Today versus ten years ago, making those choices is an easier thing to do because they're viewed as less radical today."
The natural hair movement has gained a lot of momentum since it came along to shift the industry over ten years ago, back when naturalistas were documenting their transitions on YouTube. "The good thing is that there are a lot more resources now," Price explains. "And there's been a lot of trial and error done by other people, so it takes out some of the guesswork." To get you started, read on for hair guidance from a curl legend.
Never Compare Your Natural Hair Journey to Someone Else's
Step one: get your mind right and your hair goals together. Instead of trying to rush through the process, give yourself patience and plan accordingly. Instead of yearning for instant gratification, it's important to take time to learn your hair throughout the journey.
"If you've never done this before, you don't know what your natural curl pattern is," Price points out. "So, if you're a person who perhaps has been relaxing since childhood or adolescence you don't know what your curl pattern is or how your hair grows because you haven't styled it in this state before. All of it is new, there's no right or wrong. Don't ask yourself why don't your curls look like her curls? All of those things are off the table because it's your hair and it's your individual journey and you have to give yourself patience as you go through that process."
Shop These Hair Masks
If You Don't Mind Losing Length, Try the Big Chop
If patience isn't your virtue, the most tried-and-true way to speed up your natural hair journey is the "big chop," which means you're willing to cut all of your relaxed hair off at once and lose length. "You can be the person who wants to start from scratch, so your natural hair journey is going to take as long as it takes the clippers to get through that hair—it's going to be quick! And you're going to be right there, in the thick of it, with the big chop," Prince says.
You have to weigh your options and decide what's more important to you, like the time it takes to transition or the amount of length you have left during the process. "You can speed up your transition process by doing the big chop, because you're instantly transitioned. But then, you don't have length," explains Price.
Or You Can Explore Protective Styles
It is possible to transition without the big chop. There are several styles you can explore on your natural hair journey. According to Price, there's not one style that's better than another because it all depends on each person's patience, lifestyle, and budget. If cutting all of your hair off makes you cringe, consider trying alternative and accessible protective styles like braids, twists, faux locs, weaves, etc., which will allow you to actually transition and let your hair grow out to a point where you want to cut it.
"Your transition decision is totally up to you," Price says. "It's challenging to speed up the process because the full transition process can be anywhere from two to three years depending on how much length you want before you cut it off. If you want to transition with length before you cut it, keep your hair in constant protective styles. Each time you take down the protective style, you'll be able to judge how many inches your hair grew." When Price was personally transitioning, her in-between styles were braids and twists because they mimicked her natural curl pattern.
Be Weary of Tension Alopecia With Protective Styles
With protective styes like braids, weaves, or crochet twists, you want to make sure that you're not getting it braided with excessive tension. "It is possible for your hair to be braided well and secure without you needing to take painkillers or ibuprofen after it," Price says. "Tension alopecia is a prevalent thing. When your edges come out at the root they don't come back. You can grow back hair but you can't grow back follicles so you want to take precious care of your edges, and never allow anyone to braid your hair too tight.
Put Down the Heavy Hair Pomades and Gels
It's easy to get carried away with products when styling, but the over-use of heavy pomades or gels on your scalp can lead to damage. "All of the heavy pomades will clog your pores," Price warns. "Gel has a high content of alcohol, which will dry out your edges and you need to take care of your edges and keep them hydrated when you have protective styles."
Price suggests scheduling days when you don't put any product at all on your hair. "Skip the gels and leave-in products just to see what you're natural hair does on its own," she says. "Sometimes we over-do it with products and we don't even know if our hair needs all of that."
Ease Off Heat Styling
You should simply avoid anything that is going to do damage to your hair. If you can't put down the hot tools, apply heat safely and minimize it. Another way to transition is to stop heat-styling altogether and wear your natural curls with the intention of letting your relaxer grow out.
"Some people relax their hair just for the convenience of taking care of it, and the difference between their relaxed hair and natural hair is just because the maintenance is easier," Price explains. "They might be able to curly transition without much of a difference because they'll avoid heat-styling until they have more length."
Consult Curly Hair Specialists
Understand that you don't have to do this alone. Instead, you can go to skilled stylists who specialize in natural hair transitions. They will be able to manage the health of your hair during this process; your hair is more susceptible to breakage because of the sensitive state that it's in. After your hairstylist stops putting a relaxer in your hair, they're able to determine where your new growth begins and decide exactly when and where to trim your hair.
"There's a line of demarcation where your new growth meets your relaxed hair. It becomes fragile, which could lead to breakage," Price notes. "Over 10 years ago, when we were following people's natural hair journeys on YouTube they would talk about blowing out their hair and an entire chunk came off. They were shocked and thought they had done something wrong in their routine, but it's just that line of demarcation between the relaxed hair and the new growth, which weakens overtime. It's easier for a stylist to see that before it actually happens and advise the client on when to cut."
Don't Skip Deep Conditioning
Deep conditioning minimizes the attention you'll have to pay to your hair since it thoroughly hydrates your tresses. Bottom line: it's a non-negotiable necessary step in a wash day routine.
"Using a product that's deeply moisturizing the hair is key," Price points out. "If you're blowing it out, you want that line of demarcation to be as supple as possible. If you're wearing it curly, you want your relaxed ends and roots to match as much as possible and you have more resilience when your hair is properly moisturized. Deep conditioning is a critical part of the routine for anyone who is transitioning."
Price continues: "Our Monoi Mask ($32) and Coco Crème Velvet Hair Mask ($12) are two very strong contenders in giving someone an amazing deep moisture treatment. And the Goddess Strength Oil ($12) is another go-to—it's great for moisturizing the scalp and hair. If you're a protective style transitioner taking care of your scalp is very important. You don't want to stress it or your edges. Moisturizing your scalp during protective styles helps with comfort and any itching that may occur."
Shop These Healthy Hair Alternatives
A Healthy Life Leads to Healthy Hair
Your health directly correlates with your curls. It's important to nourish your body on the inside, which will lead to healthy hair on the outside. "On a personal level, I take vitamins and supplements for my hair, skin, and overall health," Price says. "I exercise regularly, drink lots of water every day, and eat mostly a plant-based diet. Overall the healthier you are the better you feel, the better you feel, the better you look.
Maya Allen is the former Digital Beauty Editor at MarieClaire.com where she covered makeup, skincare, haircare, wellness, you name it! She has a 15-step skincare routine, owns over 200 red lipsticks, and enjoys testing the latest and greatest in beauty. On most weekends, you can find her at her happy place, which is her makeup vanity. There, she's usually blasting her speakers while singing along to lyrics at the top of her lungs, and making sure her highlighter is on point.