39 Stunning Brown Hair Color Ideas to Inspire Your Next Look
Because not all brown hair is created equal.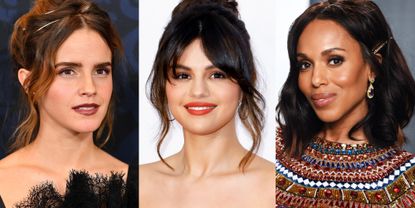 (Image credit: Getty)
How come blondes always get fun hair descriptors like "ashy" or "strawberry" or "bleach-blond"? It seems that brunettes always get the catch-all "brown" label, while other shade ranges get down to specifics. But no more! Knowing exactly the shade of brunette you want is completely necessary when you're looking to dye your locks. Having a reference pic is one of the most essential tenets before any dye job, and we want to make sure you're prepared. Chestnut and chocolate are not created equal, and if you're looking to get one but accidentally get the other, you might be sorely disappointed.
Luckily, we're seeing a lot more celebs rocking the brunette look, which means we have a lot more cut-out options to bring to our favorite colorists. Whether you want a new all-over color, some highlights to liven your look, or are aiming for that super subtle undertone, these celeb looks have it all. From detailed highlights to ridiculously flattering balayages, these 39 very different, yet incredibly pretty, hair color ideas for brunettes will convince you that no brown shade is created equal. Here, your very own flipbook of gorgeous brown hair colors to peruse before you book your next salon visit.
1/39
Marisa Tomei's Auburn Brown
2/39
Mindy Kaling's Cool Light Brown Highlights
3/39
Keira Knightley's Golden Brown Undertones
4/39
Solange Knowles' 1970s Noir Waves
5/39
Amal Clooney's Lowlight Wavy Side Part
6/39
Ciara's Face-Framing Highlight
7/39
Kate Middleton's Dramatic Caramel Curls
8/39
Jennifer Lopez's Honey Brown Highlights
9/39
Dakota Johnson's Warm Brown Curtain Bangs
10/39
Kerry Washington's Dark Waves
11/39
Alexa Demie's Jet-Black 'Do
12/39
Tessa Thompson's Voluminous Curls
13/39
Vanessa Hudgens' Chocolate Locks
14/39
Alexa Chung's Mid-Brown Waves
15/39
Emilia Clarke's Highlighted Look
16/39
Camila Mendes' Polished Waves
17/39
Natalie Portman's Caramel Highlights
18/39
Shailene Woodley's Classic Brown Braids
19/39
Bella Hadid's Slicked Look
20/39
Gal Gadot's Coffee Tones
21/39
Lupita Nyong'o's Gorgeous Braids
22/39
Lily Collins' Shiny Look
23/39
Zendaya's Warm Blow-Out
24/39
Emily Ratajkowski's Girl-Next-Door Locks
25/39
Shay Mitchell's Easy Dark Bun
26/39
Jourdan Dunn's Long Curls
27/39
Keira Knightley's Sunkissed Brown Updo
28/39
Selena Gomez's Ombre Look
29/39
Ashley Graham's Chocolate Waves
30/39
Rihanna's Jet-Black Look
31/39
Alicia Vikander's Chestnut Locks
32/39
Lana Condor's Inky Side Part
33/39
Gayle King's Warm Waves
34/39
Rooney Mara's Sophisticated Bun
35/39
Emma Watson's Highlighted Updo
36/39
Kate Beckinsale's Hazelnut Waves
37/39
Ali Wong's Mahogany 'Do
38/39
Zoë Kravitz's Jet-Black Chop
39/39
Demi Lovato's Tumbling Curls