Choosing the Right Hair Color
Like award-winning movie lighting, the right hair hue can flatter your complexion, even with no makeup. Here, how to find your perfect shade.PLUS: THE BEST PRODUCTS FOR MAINTAINING HAIR COLOR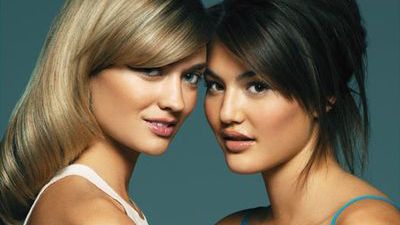 (Image credit: Greg Delves)
Shimmering highlights and rich glosses are an easy way to tone down ruddiness or tune up your summer glow. "You can counteract whatever is unflattering in your skin tone with your hair color," explains New York City's Oscar Blandi Salon colorist Kyle White, who's responsible for Mariah Carey and Uma Thurman's head-turning highlights. "Just as you would avoid red sweaters if you have a lot of pink in your face, warm-toned hair will bring out a flush, while cool colors can minimize it. But if you have an ashy or olive complexion, cool shades will make you look more green. Warm, golden hues are more flattering."
GOLD RUSH
According to White, hair should never be the same color as skin: "It completely washes you out. Platinum is a big trend this season, but if you're super-pale, you're going to look like an albino." For a glowing complexion, Beverly Hills' Lukaro Salon colorist Rona O'Connor recommends apricot lowlights. "The warm tone brings out a natural blush in your cheeks," says O'Connor, who maintains Blake Lively and Debra Messing's enviable manes. However, if you overdid it on the self-tanner and your skin is looking a little too golden, she suggests using a violet toner or shampoo: "Violet neutralizes the yellow in blonde highlights so you'll look less sallow."
Eye-Catching
"Blonde looks most natural with blue or green eyes. The brighter your eye color, the lighter your hair can be." —Kyle White
The Blondes: Jennifer Aniston, Uma Thurman, Drew Barrymore, Blake Lively.
Try: KEN PAVES Self-Help Elasticity Color Infusion, $34.
BROWNIE POINTS
For your ideal brunette shade, White suggests looking at a childhood picture. "Nine times out of 10, that's the color you should have. After you hit puberty, your hair starts to darken and lose its luster," he says. And too-dark hair can look harsh and aging, especially if you're over 35. "If you feel like you look tired and the fine lines are showing more than ever, soften your brunette by going one or two shades lighter around your face," says O'Connor. Even if you don't highlight your hair, she recommends getting a clear gloss treatment every two months: "Porous hair absorbs light and makes your skin look dull, but glosses and conditioners smooth the cuticle to reflect more light."
True Colors
"Keep your brown from turning brassy by using blue shampoos [typically designed for blonde or white hair]." —Rona O'Connor
The Dark Side: Halle Berry, Sandra Bullock, Eva Mendes.
Try: JOHN FRIEDA Brilliant Brunette Conditioner, $6.50.
RED VELVET
Brown-based coppery reds are most flattering on a yellow-based complexion, but O'Connor warns against adding too much warmth. "A golden copper can make you look sallow," she says. And if your skin isn't particularly ruddy, O'Connor advises choosing a cool-toned red, which will give cheeks a pretty flush. A natural carrot top who's lost her luster? O'Connor suggests fixing this "dishwater red with a golden gloss. Even if your hair is a blue-red, the gold tones will make the color more vibrant." If you don't have time to go to the salon, a color-depositing shampoo can add instant shimmer.
Dry Idea
"The detergents in shampoo strip out color, and red is the largest hair color molecule, so it slips out the fastest. To slowdown fading, cleanse with a dry shampoo in between blowouts." —Kyle White
Crimson Tide: Christina Hendricks, Amy Adams, Debra Messing, Julianne Moore.
Try: TRESEMMÉ Fresh Start Dry Shampoo, $4.99.