Haven't Heard of Hair Lingerie Yet? You Will!
We're convinced it's one of the latest, most cost-effective new techniques available.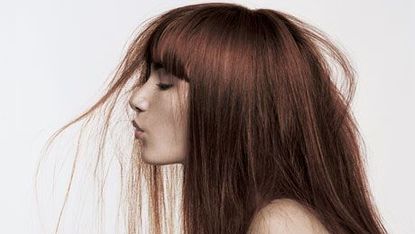 (Image credit: Ralph Mecke)
ION studio, founded by three editorial hairdressers, is a sustainable, eco-friendly salon in NYC and home of the greatest invention since balayage: Hair Lingerie. We're now convinced it's one of the latest, most cost-effective hair extension systems out there. We quizzed Hair Lingerie whiz Marcus Diaz on the newest way to a Gisele-like bountiful bouff!
Tell me about the concept of Hair Lingerie. Where did it begin?
The concept of Hair Lingerie came from the demand to have healthy hair as opposed to "extension hair." It was born out of necessity on the sets of many editorial projects and was runway tested for many of fashion's biggest shows each season during Fashion Week. From this application was derived a way of permanently adhering them.
Surprising facts/benefits about Hair Lingerie?
Hair Lingerie is the first line of extensions to be born on the sets and runway of many major fashion projects and to make the leap to permanent salon application for long-term use. This being the case, the majority of clients are a mix of models and celebrities that rely on this line to keep their hair healthy day in and day out.
Talk me through the application process. How long does it take?
The application process involves a brief consultation to determine the client's needs including matching correct hair color. From there, the extensions will be ordered and applied in as little as 24 hours from the original consultation. The first application only takes 2 hours, compared to 8-10 hours for other methods.
Where does the hair come from?
Lighter-colored hair comes from Russia, and darker-colored hair comes from India.
Can I really wash as normal? How about tying it up and blow-drying?
The hair can be treated like any other head of hair; as it's been used on runways, it has been put to the limits of being crimped, curled, tied, twisted, and ironed.
How do you remove Hair Lingerie? Can I do it myself? How long does it take?
Hair Lingerie is removed with a special adhesive specially formulated to not damage the hair. You technically could do it yourself if you want to pull it out, but who would ever want to do that? If one feels that they are done having them, they can schedule a simple appointment to have them removed, which takes only about 30 minutes!
They are strips! If someone runs their hand through my hair are they going to feel them?
No, this is one of the many benefits of this line; they lie flat on the head, creating a seamless feel. We all know most men don't really know what extensions are and will be awkwardly surprised to find them in one's hair. This is one thing you don't have to worry about with this line.
How does Hair Lingerie not damage/stunt hair growth like other hair extensions?
The reason Hair Lingerie doesn't ruin hair is because it is applied lying flat and seamless. Other extension lines crimp and cinch the hair whether they are sewn in, bonded, or clamped. To have your hair in that state for weeks on end makes breakage and, even worse, complete hair loss in that area inevitable.
What are the best products to use with these extensions?
This hair is to be treated like any normal head of hair, so using a gentle shampoo and applying conditioner mid-shaft to ends is most appropriate. Davines is a delicious, hardworking, all-natural product line that people should use regardless of extensions.
THE FACTS:
COST: A full head: $300; service charge for a half head of extensions starts at $200 and a full head starts $400.
APPLICATION TIME: One to two hours
REMOVAL: 30 minutes
LASTS FOR: 9 months
DAMAGE: Zero!