12 Dark Red Hair Colors to Try This Fall
Seeing red isn't so bad after all.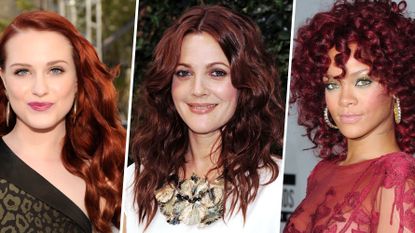 (Image credit: Design by Bridget Burns)
1/12
Emma Stone
This bottle-redhead is more famous for her crimson locks than her natural hue. Here, Stone adds some more dimension to her hair with deep brown color at the roots. It's a nice transition for redheads hoping to try a cooler hue in the fall and winter months.
2/12
Rihanna
Rihanna has undergone many style evolutions in her career, but none can hold a candle to the cherry red hue she debuted in 2010. On a head full of curls, here, they look even more dynamic. If you're seeking a brighter hue like this, just ensure that your colorist stocks the right shades to pull it off.
3/12
Lana del Rey
The ideal hue for a moody muse like Lana del Rey is this vampy shade of red that's mostly chocolate-y brown with deep red in the mix.
4/12
Meghan Trainor
We love the gradient here from darker to lighter red towards the ends of Trainor's hair.
5/12
Drew Barrymore
For a cooler take on red, try out this burgundy color that has hints of purple and red mixed in.
6/12
Lindsay Lohan
The OG in her signature cinnamon red hair color. It's a natural blend of darker and lighter sun-kissed red hues that's easy to pull off for fall.
7/12
Evan Rachel Wood
A super shiny, vibrant flame color is a gorgeous way to kick your color up a couple notches if you're a natural blonde like Wood.
8/12
Scarlett Johansson
Remember when she tried out this dark red hue? It works well with her pale skin tone, especially when she's toning it down with warm nude shades for makeup.
9/12
Ashlee Simpson
Going up to a smoky red like this is easy for natural blondes like Simpson. Ask your colorist for a cinnamon or rusty color with hints of lighter brown.
10/12
Julia Roberts
The Goldilocks red and brown color combination that we crave every time we re-watch Pretty Woman.
11/12
Bryce Dallas Howard
Bryce Dallas Howard's stunning red locks have run the gamut from bright amber to this deep, rich ruby.
12/12
Karen Elson
Elson's pallid skin tone and red hair combo have made her resemble a modern day pre-Raphaelite muse. But it's when she turns her gingery hair up to a shiny crimson like this that she looks positively electrifying.