Jocelyn Bioh's 'JaJa's African Hair Braiding' Is a Love Letter to Black Hairstyling
The Broadway show depicts the authentic experience and importance of African hair braiding salons within the Black community.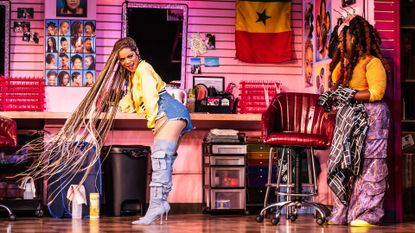 (Image credit: Matthew Murphy)
When Nikiya Mathis began styling her friend's hair shortly after graduating from New York University with a Master of Fine Arts, she never imagined her talent would one day turn into an actual gig. "I went to school to be an actress, not a hairstylist," she tells Marie Claire. "Styling hair just happened for me because no one on set could style Black hair. My friends knew me as the girl who could cornrow and create wigs, next thing I knew I was styling wigs on Broadway."
Mathis is referring to crafting original braided wig styles for JaJa's African Hair Braiding, otherwise known as the world premiere for Ghanaian-American playwright Jocelyn Bioh. The 90-minute show welcomes viewers into Jaja's bustling Harlem hair braiding shop on a sweltering hot summer day. Inside the small salon, West African immigrant hair braiders create braided styles (box braids, micro-braids, a braided bob, cornrows, even Beyonce-inspired floor-length braids) on neighborhood women who either drop in unexpectedly or arrive for their appointments.
Construction for the wigs took two and a half weeks, and that was after a month of extensive planning and training (for the actresses) with braiding consultant Hair By Susy. For content, a traditional box braid style requires at least 8 hours to create, and depending on the length and size, can take up to 12 hours. Mathis, along with her team of 10 was challenged to create an illusion of styling in 90 minutes. "When I got the role I didn't consider showing the evolution of a style. These actresses come on stage with one style and leave with another. And I have to allow the viewers to get this experience in a short amount of time."
But more than showcasing an illusion, Mathis wanted the styles to honor the African tradition. "When I was 17 years old I went to an African hair braider and I remember appreciating the tradition of hair braiding," she says. "It's an art that's been passed down for generations. It needs to be celebrated."
Much like Mathis, African actress Maechi Aharanwa who plays Ndidi—the fastest braider in the salon who is envied by her coworkers—knows firsthand what it's like to want to celebrate hair braiding culture, and its impact on the African and African-American communities. That's the primary reason why she came on board. "I am first generation, so I was raised in a house that was very African, but I lived in a world outside of my house that's very American, very African-American, very Black American," she says. "So I love that this duality that so many of us experience was represented."
"I think Jocelyn's play is a mighty work," she continues. "We can sit and know that another portion of a Black woman's story has been centered. And that's magical."
Jaja's African Hair Braiding will play at Manhattan Theatre Club's Samuel J. Friedman Theatre through November 19. The live stream performances will begin Tuesday, November 14th and include all evening and matinee performances. Tickets to the live stream performances will be $69 and are available at LOLST.org.
Marie Claire email subscribers get intel on fashion and beauty trends, hot-off-the-press celebrity news, and more. Sign up here.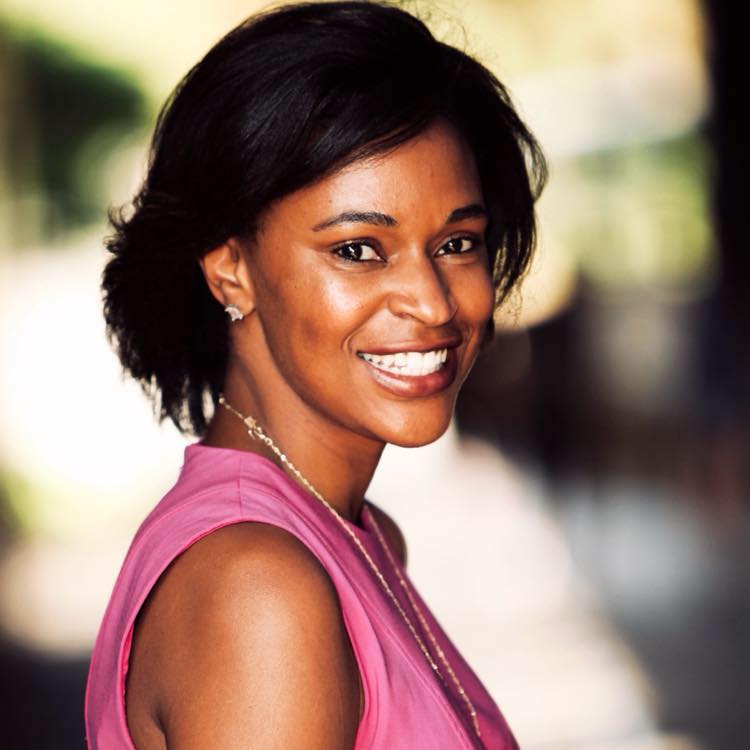 Deena Campbell is the Beauty Director of Marie Claire where she oversees beauty and health content on all platforms. Deena joined Marie Claire after a decade-long career as an editor in print and digital media. Before joining the brand, she managed editorial content for L'Oréal owned Makeup.com and Skincare.com. In 2015, she launched Essence.com's hair channel where she received Time Inc.'s Henry R. Luce Award, shortly before joining Allure.com's staff as Senior Beauty Editor. Along with her editorial positions, she also consulted on content and marketing strategies for beauty companies including DevaCurl and Dove, and has appeared at various speaking events and live television segments.