A Stylist's Guide to Caring for Natural Hair
The no-nonsense routine that'll keep your curls looking fabulous.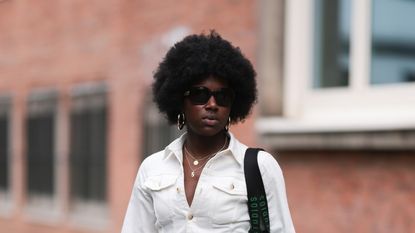 (Image credit: Jeremy Moeller/Getty Images)
When you have natural hair, it can be challenging to find the best products (including shampoos and conditioners, leave-ins, and stylers) for your unique crown of curls. Lifestyle, scalp health, and whether you have high porosity or low porosity hair make a difference in determining what's best to invest in. And then, once you've finally assembled your perfect collection of products, you need to learn how—and the order in which—to use them. Just the thought of crafting this unique natural hair routine is enough to leave anyone feeling exhausted.
"There is no one-size-fits-all answer," agrees Jamila Powell, founder of haircare brand Naturally Drenched, when I question her on the best natural hair routine. "Listen to your hair and pay attention to how your hair looks and feels."
This means checking for symptoms of breakage, a dry or itchy scalp, acne, frizz, and other factors, which can clue you into what cadence and ingredients work best for you.
"Experiment with different schedules and products to discover what works best for your unique hair needs," Powell agrees. "Also, consulting with a hairstylist or a natural hair specialist can also provide personalized guidance based on your hair's specific characteristics is suggested."
A natural hair specialist herself, Powell is a wealth of information on caring for natural and curly hair of all types and porosity levels. Below, she shares her knowledge, detailing the best methodology for finding a natural haircare routine that works for you.
Shampooing Natural Hair
Keeping your hair clean is fundamental to having a gorgeous mane and healthy scalp. Powell agrees, attesting, "Washing natural hair properly is essential to maintain its health, moisture, and overall appearance."
But one of the trickiest aspects of haircare for anyone (but especially for those with natural hair) is determining how frequently you should wash.
"The best frequency varies depending on factors such as lifestyle, condition of the hair, and personal preference," she explains. "If it becomes dry, itchy, or greasy, it may be time to wash. Typically, once a week will suffice, but if you work out on a regular basis or are prone to sweating, you may have to wash your hair more frequently. Ultimately, the key is to find a washing frequency that keeps your hair clean, moisturized, and healthy without stripping it of its natural oils."
To properly shampoo natural hair, she suggests "thoroughly saturating your hair with water, and then sectioning your hair in fours so you can make sure all your hair and scalp are being properly cleansed. If your hair has a lot of product build up, I would start with a clarifying shampoo, and then follow up with one or two shampoos using a moisturizing shampoo. You don't want to dry your hair out, so try and only use a clarifying shampoo once a month."
And when it comes to picking your everyday, non-clarifying shampoo? Powell advises assessing your hair type, porosity, and needs, as well as determining your stylistic preferences. She points out, "The right shampoo depends on the person's hair, and the desired outcome," she says.
Innersense Pure Harmony Hairbath
"For fine hair, a lightweight shampoo with volumizing properties is recommended," says Powell. "Innersense Pure Harmony is a good lightweight shampoo that won't weigh the hair down and that will give the hair volume." The clean, cruelty-free option also works on medium hair, and is packed with ingredients made to enhance both the health and appearance of the user's mane. Its quinoa and rice extracts, for instance, strengthen strands, while coconut and avocado oils condition hair thoroughly, preventing braekage and frizz.
Pros: clean; cruelty-free; conditioning; expert approved
Cons: some users find it irritating—patch test before use
Customer Review: "I've been using this for years now and after experimenting I've found that a little goes a long way. My hair is just past my shoulders with a 3C curl pattern. I use three to four pumps and make sure to work it through with a lot of water. I detangle in the shower so as I'm working the product through my hair I add a drizzle of water if I feel like a section needs more slip. I lightly rinse my scalp so nothing is sitting on my skin, add in a little gel, and I'm done!" -Ulta
Innersense Hydrating Cream Hairbath
For those with damaged, dry, or high porosity hair, it may be necessary to invest in a shampoo that offers an extra boost of hydration. "If you are looking for more moisture or are struggling with frizz, you might want to try the Innersense Hydrating Cream Hairbath," suggests Powell. The clean formula is infused with shea butter, avocado oil, Tamanu oil, and monoi oil, all of which promote softness and shine by moisturizing hair and sealing the cuticle.
Pros: clean; cruelty-free; expert-approved
Cons: some users with thin hair found it weighed hair down
Customer Review: "The hair bath cleanses all the build up of products used prior to washing, and followed up with the conditioner, with its great slip, locks in moisture and leaves my curls BOUNCING. I have 3C/4A/4B [curls]just past shoulder length; shrinkage is above my shoulder." -Ulta
Briogeo Don't Despair, Repair! Super Moisture Shampoo for Damaged Hair
If your hair is particularly in need of some TLC (if it's been bleached, for instance, or if it's suffered damage from UV rays, pollution, or chlorine), then you may be in need of an even stronger option. "If someone is experiencing damage or has color treated hair try Briogeo's Don't Despair, Repair Shampoo," says Powell. The popular option was made with damaged hair in mind and features fortifying plant proteins, moisturizing rosehip oil, and antioxidant-rich algae extract.
Pros: clean; expert-approved; gluten-free
Cons: some find it doesn't lather easily
Customer Review: "A long term staple of mine! I have sensitive skin/hair and it has never flared me up or irritated before! Scent is fresh and not overpowering!" -Sephora
As Powell stated, it's important to incorporate a clarifying shampoo into your natural haircare routine, particularly if you work out frequently, live in a hot or humid (read: sweat-inducing) climate, or if you use a lot of hair products and stylers that could result in buildup. In any of these cases Ouai's viral Detox Shampoo is just the ticket. It's suitable for all hair types and is especially effective at cleansing excess oil from users' scalps. It also banishes flakes and dandruff—a crucial quality as we head into the winter months.
Pros: cruelty-free; bestseller; works on all hair types; gets rid of flakes and dandruff; suitable on sensitive skin
Cons: some users experienced irritation—patch test first
Customer Review: "I LOVE this shampoo! It's expensive, yes, but it's one of a kind in my opinion. I have sensitive skin and a sensitive scalp, and this doesn't bother me. It clarifies so well without drying out my hair too much. I have extremely fine hair, but lots of it, so it's hard for me to find things that work well for my hair. This brings tons of volume back in too, but doesn't dry out my scalp like volumizing shampoo tends to." -Sephora
Co-Washing Natural Hair
For many people with high porosity or natural hair, co-wash is an excellent alternative to shampooing. This is particularly the case for those who need to wash their hair every day, but don't want to use a potentially stripping shampoo each time.
"If someone is experiencing increased dryness or frizz, they might want to incorporate co-washing, or if they are washing their hair more than once a week, they may use a co-wash for the second shampoo when they are washing their hair," adds Powell. "Co-wash products usually provide a gentle cleanse, but it can lead to product build up if a co-wash is solely used without a shampoo."
"Also, if you have a scalp condition such as dermatitis or dandruff, co-washing might not be suggested," she warns. "The cleansing ingredients of a co-wash might not be strong enough to break done the debris and oil on your hair and scalp, which can worsen the condition." Therefore, it may be best to consult a trichologist, hairstylist, or dermatologist before incorporating a co-wash into your routine.
Rawkyn Deep Conditioning CoWash
According to Powell, "a suggested cowash would be the Rawkyn Deep Conditioning Co Wash," which is formulated with honey, charcoal, and fruit extracts in order to remove build-up and sebum from hair without stripping it of the moisture it needs. She adds, "It has great moisturizing properties along with protein for added strength, and it gently cleanses the hair." It also promises to unclog pores on the scalp, which is especially helpful for those with oily or combination skin, or who suffer from dandruff or acne on the scalp.
Pros: expert-approved; great for all hair and skin types; protein-infused; cleansing; free of fragrance, silicones, and sulfates
Cons: none found
TPH By Taraji Hustle & Co Hydrating Co Wash
This moisturizing co-wash from Taraji P. Henson's beloved haircare brand, TPH, is recommended for use by itself or as a second step in your shower routine, between shampooing and conditioning. It cleanses and softens hair with its no-lather formula, and is infused with nourishing ingredients like shea butter and olive fruit oil. Made with natural hair in mind, it's also vegan, cruelty-free, and certified clean. Reviewers love how effectively it defines curls, and they rave about how shiny their hair looks after each use.
Pros: shine-enhancing; Black-owned brand; made with natural hair in mind; vegan; cruelty-free; clean
Cons: some users dislike the design of the bottle
Customer Review: "I have very thick hair. So thick it takes hours to dry. My mother also has thicker hair though thinner especially since she's 67. Both of us swear by this stuff! My mother says her hair has never looked better and I'd agree. My hair doesn't take as long to dry and gone are the horrendous knots that left me in tears." -Target
Treating Natural Hair
Between your shampoo and conditioner steps, Powell points out that you may want to treat any scalp or hair concerns you have. Most treatments, including protein treatments, scalp scrubs, and scalp tonics, need to be left for several minutes before they're washed out. Thus, feel free to apply, engage in the rest of your shower routine, and wash out when the time's up.
Naturally Drenched Rebalance
"If your hair is struggling with breakage and dryness, you can use a pH restorative treatment like Rebalance before you apply your conditioner," says Powell. She instructs that it's best left on for three to five minutes, distributed evenly throughout from hair's roots to ends, ideally using a detangling brush for even distribution. Use the treatment once to twice per week, or as needed, for soft, defined curls that are free of frizz.
Pros: vegan; expert-approved; cruelty-free; free of parabens; large bottle
Cons: none found
While Rebalance is formulated to restore hair's pH levels, Powell says that Naturally Drenched's Restore treatment is a moisture mask. It's best left on for five to ten minutes, after which she says to "thoroughly rinse out all product." These mask seeks to define curls, improve texture, and enhance shine through a burst of hydration. It's best used once to twice per week, and it's safe for all hair types and curl patterns, as well as for color -treated hair.
Pros: color-safe; expert-approved; shine-enhancing; vegan; cruelty-free; free of parabens
Cons: small container
Conditioning Natural Hair
After your hair is thoroughly cleansed and you've washed all the shampoo out, it's time to condition. To do so, distribute product from mid-lengths to ends (you don't need to apply so much to the top of your hair, and you'll want to avoid creating buildup on your scalp). Let the conditioner sit for a few minutes, using that time to shave, wash the rest of your body, exfoliate, or anything else you need to do. Then rinse. You can also condition your hair by way of a moisturizing hair mask, which is typically left on longer.
But conditioning doesn't end in the shower. After you've emerged, Powell recommends applying leave-in conditioner to "freshly washed" hair.
"Select a leave-in conditioner that suits your needs," she continues. "Depending on your hair's thickness and length, you may want to create two to four sections for easier application. Dispense a small amount of leave-in conditioner into your hand. Rub the leave-in conditioner between your palms, and apply the leave in to the ends of your hair and work your way up toward the roots to prevent excess product from accumulating on the scalp. Use your fingers or a detangling brush to distribute the product evenly."
Styling Natural Hair
When styling your hair, Powell recommends drying it with a hair dryer and diffuser to ensure long-term hair health.
"Air drying natural hair can cause damage to your hair long-term because the hair shaft swells when wet, which over time can weaken the cuticle layer causing cracking," she explains. "This cracking can occur deeper in your cortex leading to damage and breakage. Not to mention depending on the thickness of your hair—it's harder for the hair to completely dry."
But how do you use a tool to dry hair without inadvertently causing heat damage? "A better alternative is to use indirect heat," says Powell. "A diffuser paired with a blow-dryer works well. You can place the blow-dryer on medium or high heat with low to medium pressure. Hover with the diffuser, or if you want more curls, you can lightly scrunch the curls using a push pull method. Another alternative is a hooded dryer."
And to style curls for optimal definition during the drying process, Powell says, "In general, you can use a foam, gels, curl balm or a combination of styling products." But it's important consider what level of hold you're looking for before you invest in a new styler.
"It really depends on the persons desired outcome, and how long they want the style to last," she admits. "Foams typically have a lighter hold and can provide definition. Used alone, a foam might not provide the longevity of a gel depending on the product. Gels often have varying holds and pair well with foams."