21 Foundation Hacks Every Woman Needs to Know
Life-changing ways to create an even complexion, conceal dark circles, hide zits, and more.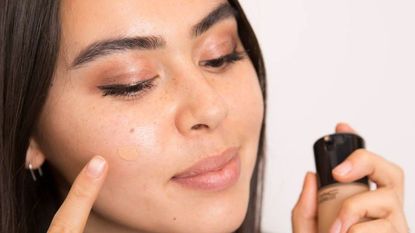 (Image credit: Kathleen Kamphausen)
1. Apply your base makeup in this order: color correctors, foundation, concealer. If you're getting fine lines just sitting there trying to figure out the order in which to apply your base makeup, here's a little tip I've heard from every makeup artist I've ever interviewed: First, apply color correctors where needed (opens in new tab), then your foundation all over (this helps take away most of the redness from an uneven complexion and breakouts), followed by concealer so it acts as just a finishing touch rather than doing all the covering up.
Heeseung's before-and-after shot, after using all three steps (plus a little blush and a light lip color just because):
Not sure what shade of color corrector to use for your skin tone? Click here (opens in new tab) and refer to the handy chart below:
2. If you deal with dark circles on a daily basis, double up on concealer coverage. If you don't tend to need any other color correcting but need some extra help in the dark under-eye department, pat some concealer under your eyes before applying your base makeup. If you need additional coverage after your base makeup is applied, then apply as necessary. Here, Brooke used a yellow-based concealer, since she has an olive skin tone. Not sure which color-correcting base cover-up you should use? Refer to the chart above.
3. Use primer on your T-zone to keep oily skin matte and to prevent your foundation from breaking down. If your skin tends to get oily around 2 p.m., like mine does, then this tip is for you. Try Sephora's Beauty Amplifier Afterglow Primer and Luminizer (opens in new tab).
4. Choose the right foundation consistency for your desired finish. There are three general types of coverage: sheer, medium, and full. If you just want a lightweight veil of foundation, try a sheer version like Tom Ford Traceless Foundation SPF 15 (opens in new tab) (pictured here) or Glossier Skin Tint (opens in new tab). If you want some coverage because you have redness or a few blemishes, then medium is your best bet. Try Physicians Formula Mineral Wear Talc-Free All-in-1 ABC Cushion Foundation SPF 50 (opens in new tab). And if you want to wear a full face of makeup, then an opaque coverage is what you should use. Try Clinique Beyond Perfecting Foundation + Concealer (opens in new tab).
5. Figure out your perfect foundation shade with the three-swipe test. If you're between a few shades, swipe them all along your cheek/jawline to see which one melds perfectly into your skin tone. Voilà, you just found the right foundation shade for you.
6. When applying foundation, start from the center of your face and work outward. This leaves you with the most natural finish, like Maya's, and prevents mask-like edges of foundation to be visible around the perimeter of your face.
7. Blend foundation seamlessly over your ears and neck. Imagine seeing yourself in a picture with a flawlessly even face, but your ears look a touch red and your neck is a slightly different color. This tip prevents all of that. One last note: If you're wearing a low-cut top, pat the formula over your chest too, so there aren't any weird lines of demarcation there either.
8. You also need to think about the color of your neck when searching for your perfect foundation shade. If your neck is much lighter than your face and chest (it might happen when your chin shades it), split the difference and go for a foundation in between the color of your face and neck. This way, everything looks like it blends together seamlessly. And remember, your face stops at your chest, especially if you're wearing a strappy, strapless, or low-cut top. The last thing you want is for your face and neck to look even and your décolletage to be red and splotchy.
9. Don't forget to apply foundation over your eyelids to reduce redness. Doing so instantly conceals any redness from superficial capillaries that are visible through thinner eyelid skin. Plus, it makes you look like you actually slept eight hours; skip covering them up and you'll look like you were out all night.
10. If you don't have a window (or good natural light) in your bathroom, smooth foundation on at your sink, and then check it in natural light. This helps ensure you walk out of the house with the right foundation shade, as well as zero telltale signs (like unblended areas) that you just fully made up your face.
11. If you tend to break out, always use an oil-free foundation; if you have drier skin that doesn't break out, try an oil-based formula. While it's good to hydrate acne-prone skin, dermatologists will tell you that using oil-based products isn't the best way to do it, since the heavier formula can clog your pores. That's why opting for water-based foundations are better for sensitive and oily skin types, while drier skin types — and those who don't often break out — can handle the heavier formula.
To figure out whether a foundation is water- or oil-based, look to the ingredients list. If it's water-based, it will list water as the first ingredient and most likely be labeled oil-free. If it's oil-based, an oil — like argan oil, for example — will be included in the list of ingredients. Try Estée Lauder Double Wear Nude Cushion Stick Radiant Makeup (opens in new tab) for a water-based formula and Josie Maran Vibrancy Argan Oil Foundation Fluid (opens in new tab) for an oil-based option.
12. If you find yourself without concealer, place a small dot of liquid foundation on the area, wait a few minutes for the formula to set, and then lightly blend it out.
The trick is to wait until the foundation dries and thickens a bit (it will eventually reach the consistency of concealer) before trying to blend it. If you blend it too soon, the foundation will be sheer and rub off, leaving you with very little coverage. Try MAC Cosmetics Mineralize Moisture SPF 15 Foundation in "NC 40." (opens in new tab)
13. Contour your face with foundation. Don't have a separate contouring palette handy? Use a foundation that's one shade darker to create depth, and one that's one shade lighter to highlight the center of your face and underneath your cheekbones. Maya used Anastasia Beverly Hills Stick Foundation (opens in new tab) to contour and Giorgio Armani Maestro Glow Liquid Foundation (opens in new tab) to highlight.
14. If you want to turn your matte finish into a dewy one, apply a drop or two of a facial oil onto a sponge, then smooth on your foundation. Try Yes to Primrose Miracle Oil (opens in new tab), which is safe for sensitive skin and can be used on your face, body, and hair.
15. Mix an illuminating formula in with your foundation for a subtle glow. If you want a slightly dewy finish, apply a touch a pea-size drop of luminizer, like L'Oréal Paris True Match Lumi Liquid Glow Illuminator (opens in new tab), on the back of your hand, followed by a quarter-size amount of foundation. Then, blend them together and apply it all over your face. If you only want certain parts of your complexion to glow, like your forehead, bridge of your nose, or cheekbones, only apply the combo over those areas.
16. If your skin tone slightly lightens or deepens with the seasons, alter your foundation shade with color-adjusting drops. Brands like The Body Shop (opens in new tab) (shown here) and Cover Fx (opens in new tab) make tweaking your foundation foolproof, thanks to a dropper formula that helps you customize your shade.
17. Use a foundation shade with the right undertones for your skin. There are three classifications for undertones: warm, cool, and neutral. If you have warm undertones, your skin will appear peachy, yellow, or golden. If you have cool undertones, your skin will have a pink, red, or bluish cast to it. If your skin is neutral, then you have a mix of warm and cool tones. Figuring out which undertone you have is crucial because the right foundation undertone complements your skin, while the wrong one can make you look washed out or ashy. Try Make Up For Ever Water Blend (opens in new tab) or Laura Mercier CandleGlow Soft Luminous Foundation (opens in new tab), both of which offer pink and yellow undertone options.
Three quick ways to figure out whether you have warm, cool, or neutral undertones:
18. Use a makeup sponge to buff out your foundation. If you like applying your base with a brush, keep a stash of makeup sponges on hand to blend out any brush strokes for an I-woke-up-like-this finish that says, "No, I'm not wearing foundation (wink, wink)." If you're trying to get out of the house fast and don't have time to buff out the tiny strokes that brushes can leave behind, use a makeup sponge to apply your foundation. One like this Beauty Blender (opens in new tab) I'm using here leaves your face brush stroke-free. (P.S.: Dampen it a touch before applying your base, so the sponge glides across your skin for an even finish.)
19. Apply your foundation with downward strokes to avoid highlighting the peach fuzz on your face. Unless you shave your face with a facial razor, you most likely have peach fuzz on your cheeks that grows downward and isn't that noticeable. However, if you swipe your foundation on with upward strokes, you can bet that said peach fuzz will be highlighted and noticeable; swipe it on with downward strokes, and it remains less detectable.
20. If you touch up your eyeshadow before you go out, be sure to protect your foundation application. Whether you carefully tape a tissue to your face or use one of the handy Shadow Shields (opens in new tab) that I'm wearing here, it's a good idea to protect your base makeup so product fallout doesn't ruin your base. Otherwise, the general rule of thumb is to do your eye makeup first, and the put on your foundation for this very reason.
21. Finally, set it and forget it. To make your base foundation last all day (if it's not already long-lasting), run a fluffy makeup brush over a translucent powder and dust it over your T-zone. Or, lightly mist your face with a setting spray. Try It Cosmetics Bye Bye Pores Pressed Silk Airbrush Powder (opens in new tab) or Maybelline New York FaceStudio Master Fix Wear Boosting Setting Spray (opens in new tab). Then, throughout the day, use blotting papers, like Sephora Collection Bamboo Charcoal Blotting Papers (opens in new tab), to minimize shine, rather than caking on more foundation to give you a more matte look.
Carly Cardellino was the beauty director at Cosmopolitan. If you follow her Instagram, then you know she'll try just about any beauty trend or treatment once (the pics of her purple hair are on IG to prove it). But her favorite part about being in beauty is finding the most effective products, and then sharing that intel with others—because who wants to spend money on stuff that doesn't work? No one, that's who. Her most recent discovery: De La Cruz Sulfur Ointment, which will change your blemish-clearing game! Hopefully through the beauty stories she writes—and the experiences she shares—you can see exactly why she's in this business.