The 24 Best Foundation Brushes for a Perfect Finish
Your foundation has never looked better.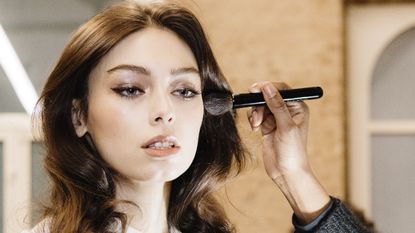 (Image credit: Rosdiana Ciaravolo / Getty Images)
Whether you're a liquid, cream, or powder gal, finding a great foundation isn't the end of the equation. You need something to apply it with, and fingers aren't always your best option. From buffing bristles to the cult classic beauty blender, the kind of foundation brush you use completely changes the finish you get—and can even make your foundation like a completely different kind of product.
How do I choose a foundation brush?
For a full-coverage look, you'll want to try a firm kabuki brush.
For a sheer finish, opt for a lightweight stippling brush.
For hard-to-reach spots, you'll need something slanted or ergonomically-shaped to hit every nook and cranny of your complexion.
Why should I use a foundation brush?
Foundation brushes can help your formula stay smoother and stay on longer—the best foundation brushes create a seamless canvas that can cling to your skin or your primer. And no two foundation brushes are the same, with each one designed to meet a specific purpose.
So rather than leave you to wander the makeup aisle aimless wondering what your foundation brush choices say about you, we've made the decision-making process a bit simpler by streamlining the brushes you need for every application desire.
Hana Hong is the beauty assistant at Marie Claire, where she covers skincare, makeup, and haircare, and is identifiable by her signature cateye.