The 9 Best Foundation Brushes, Tested by Editors and Makeup Artists
Perfect finish, promise.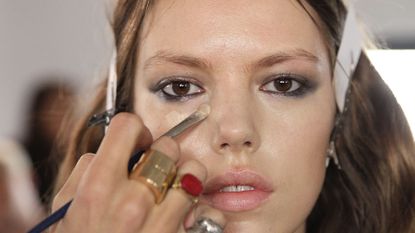 (Image credit: Mireya Acierto/Getty Images)
Whether you're a liquid, cream, or powder gal, finding the best foundation for your skin tone and type isn't the end of the perfect-skin equation. You need something to apply it with, and your fingers aren't always your best option. From buffing bristles to the cult classic beauty blender, using the best foundation brush for your desired finish is the real cherry on top of your completed look.
Because there are so many styles of foundation brushes and application methods to choose from, I turned to the people who use, test, and obsess over them the most: makeup artists and fellow Marie Claire editors. Ahead, experts and editors break down the types of foundation brushes that are best for each formula or finish, the best specific brushes at just about any price point, and what to look for in a great brush that will stand the test of time, even after more than a few deep-cleans.
Why Use a Foundation Brush?
Some makeup users swear by using their fingers to apply their foundation, concealer, and other base products like cream blush, liquid blush, or cream bronzer. However, using your fingers only gives you one finish or one look, whereas having a great brush in your collection can diversify the ways you wear your foundation—and brushes give a more professional-looking finish.
"I love using fingers and brushes, but at the end of the day, brushes give you a lovely, buffed finish that you just can't get with fingertips," says celebrity makeup artist and Co-Founder of Bakeup Beauty Jo Baker, who counts Vanessa Kirby and Natasha Lyonne as clients. "A seamless filter finish can only be created using brushes. And more than one brush."
Baker notes, though, that "There are great brushes at a cheaper price point and supreme beautiful handmade brushes that are on the high end of the budget," and that "both can give you great application and performance," so you don't need to necessarily worry about breaking the bank to complete your brush collection.
Types of Foundation Brushes
There are a few commonalities between the majority of foundation brushes on the market. "Foundation brushes are almost always made from synthetic fibers (rather than natural hair) because this allows the liquid and cream textures you're working with to apply more smoothly," says Melissa Murdick, a celebrity makeup artist who has worked with Selena Gomez, Ashley Park, and Ashley Tisdale.
Murdick explains that there are also two common shapes, both of which give you a different final look when it comes to both the level of coverage and finish.
Flat Brush With Rounded Edges: Murdick says that these foundation brushes "offer buildable coverage, so you can really control whether you want a sheer application of the product or want to build up to fuller coverage in certain areas."
Dense, Domed Brush: These types of foundation brushes, on the other hand, offer "fuller coverage because having more bristles means it will hold more product."
Now that you've learned everything there is to know about when and how to apply your foundation using a foundation brush, it's time to get shopping and find your great foundation brush. Ahead, our editors and experts compiled a list of tried-and-tested brushes. Some, like ones from Real Techniques, are affordably priced at under $20. Others, like ones from Anisa and Kevyn Aucoin—which are beloved by Marie Claire's Beauty Editor Samantha Holender and Beauty Director Deena Campbell, respectively—are more investment-ready pieces
The Best Foundation Brushes
The IT Cosmetics Heavenly Luxe Complexion Brush
"The IT Cosmetics Heavenly Luxe Complexion Brush is my all-time favorite brush for applying foundation, especially when paired with the Estée Lauder Double Wear Foundation. This brush is renowned for its ultra-soft, densely packed bristles that effortlessly blend and buff the foundation into the skin, providing a flawless and airbrushed finish. Its unique shape and size allow for precise application and seamless blending, ensuring a natural and long-lasting coverage that Estée Lauder Double Wear Foundation is known for. With its luxurious feel and exceptional performance, this brush is a must-have for achieving a flawless complexion." — Elizabeth Seropian, Makeup Artist
Customer Review: "Love this blush for blending out concealer and foundation. The brush itself is lightweight and easy to clean. I use it daily!" — Sephora
Real Techniques Expert Face Makeup Brush
"It's unfair to call this brush just a foundation brush in my collection—It's more of an everything brush. Never in my life have I used a tool that blends my foundation, concealer, and cream products as quickly as this one does. The bristles are densely packed so it's better for medium to full coverage looks, but the super soft synthetic brushes have lasted me years and years. This is also fairly specific, but the handle isn't super long, so it fits into every single makeup bag I have, so it's basically with me at all times." — Julia Marzovilla, E-Commerce Editor
Customer Review: "This brush is so good at blending your foundation in and it doesn't take too much of the product. 10/10 recommend" — Target
Kevyn Aucoin Beauty The Duet Foundation Brush
"I own several brushes from Kevyn Aucoin, but this foundation brush is a strong favorite. The bristles are short and dense enough to buff the thickest formulas, yet gentle enough to evenly blend without creating unnecessary streaks. It's also dual-ended (one side is angled, the other is pointed) which is perfect for creating multiple looks at a time." — Deena Campbell, Beauty Director
Sisley Paris Foundation Brush
"I love the Sisley Foundation Brush on my clients, as it's flat packed and synthetic but it has a flexible and soft bend to the bristles which means it moves with the skin and not the other way round. I can apply a light or medium coverage without the brush getting weighed down and I find it to be the best of all the traditional style foundation brushes for me." — Jo Baker, Celebrity Makeup Artist and Co-Founder of Bakeup Beauty
Customer Review: "I have been using this foundation brush for quite some time now and just recently bought a new one when the first one went missing ( and later found). I have foundation brushes from other high end cosmetic companies but, really, nothing compares to this. These days I primarily use tinted moisturizers as foundation and this brush makes everything come out so smooth and beautiful. The brush head is so soft but also because the bristles are so tightly packed that it provides the perfect balance to apply product. Also love the short handle which give so much control." — Nordstrom
e.l.f. Cosmetics Buffing Foundation Brush
"I stole this brush from my sister and never looked back—it's perfect for going over any lines or creasing that pops up over the course of the day because it's so small. I prefer using this when I want a lighter-coverage look because its size makes it perfect for blending over specific areas of my face, like around my nose or on my chin. I've had this brush for years and it's never shed on me, even with constant cleaning." — Julia Marzovilla, E-Commerce Editor
Customer Review: "This brush blends my foundation soooo good and makes it look so blurred! Definitely recommend if your looking for affordable brushes!" — Ulta
Colourpop Medium Foundation Brush
"One of my personal faves is the ColourPop Medium Foundation brush because it's a flat brush that gives you a really smooth, streak-free application, and has a nice precise shape. Also—it's only $9 so you can stock up on a few at a time." — Melissa Murdick, Celebrity Makeup Artist
Customer Review: "Really good quality brush, especially for the price. Applied my foundation perfectly without streaks and the design let me reach those hard areas like around the nose." — Colourpop
Chantecaille Buff and Blur Brush
"The key to any beauty look, whether minimal or glammed up, is blending. This brush's flat shape and soft but densely packed bristles let me buff close to the skin, allowing my base makeup to sink in, whether I'm using a tinted moisturizer or a heavier formula. It allows for even distribution of products and the handle is thick and substantial so I can really put power behind it. Perfect for when I need to leave the house quickly!" — Brittany Holloway—Brown, Art Director
Jenny Patinkin Sustainable Luxury Complexion Brush
"After using my fingers to apply my tinted moisturizer for years, I finally leveled up my makeup game when I got this foundation brush. The bristles are extra soft and dense, making it my go-to for buffing out any splotchy areas. Since switching to this brush, I've noticed my makeup looks so much more seamless and blended than using my fingers (lesson learned). You can also feel good about buying it because it's made from recycled plastic and aluminum!" — Brooke Knappenberger, Editorial Fellow
ANISA Pinnacle Foundation Brush
"I've always been a beauty blender girl—until I tried this densely-packed brush. It sinks my foundation into my skin like nothing I've ever tried, doesn't eat up my product, and creates the smoothest, softest finish. I love how weighted it is in my hand and find that the unique shape genuinely fits into every crevice and contour of my face. Depending on the angle at which I hold the brush, it buffs or paints." — Samantha Holender, Beauty Editor
Customer Review: "Plush, dense, even application of cream and liquids. Doesn't absorb product." — ANISA
Meet The Experts
Melissa Murdick (she/her) is a celebrity makeup artist and educator based in Los Angeles, California. Her work spans everything from red carpets to music videos, and major magazine covers to makeup campaigns. Aside from working with some of Hollywood's leading ladies like Selena Gomez, she has also become a viral sensation on TikTok, where her practical makeup hacks & tutorials have brought in tens of millions of views and over 1.2 million followers (and counting). Melissa also shares her over 20+ years of makeup experience teaching classes at the LA LGBT+ center, and running a first-of-its-kind website
called www.theprettyfix.com dedicated specifically to educating transgender women who are brand new to makeup. Melissa believes makeup should be easy, fun, and empowering, and is passionate about making sure others have the tools they need to feel that way, too.
Elizabeth Seropian is an accomplished Los Angeles-based makeup artist with over a decade of professional experience. She's worked with worldwide brands, celebrities, top photographers, stylists, and models for red carpet events and runways. Her clientele includes the likes of Noah Cyrus, Delilah Belle Hamlin, Anastasia Karanikolaou, the Stallone sisters and more.
Born and raised in London, Jo Baker ingeniously translated her passion for fine art into an obsession with the makeup medium. Her innate understanding of crafting unique hues and creating magic-hour glows has influenced her foundational understanding of color and texture.
With a high-fashion London-based editorial background, the 20-year industry artist always had a knack for exploring and experimenting with makeup, and constantly looked for opportunities in her work to channel her wildly expressive imagination.
"To me, the beauty rules are made to be broken, or ignored altogether," says Jo. "I always start a makeup look by asking the person in my chair how they are feeling because I create based on their truth, which can be different one day to the next. My artistry is inspired by honesty, and I love seeing where that takes me."
After joining Usher on his 2004 Confessions tour, the natural-born artist quickly became the go-to for men's grooming, working with the likes of 50 Cent and Eminem. Since then, Jo captivated the world with a new perception of Hollywood glamor, defining it less as classic and more as bold and adventurous. She has gone on to create daring looks for Hollywood superstars, including Lucy Boyton (who she joined on the Bohemian Rhapsody world tour), Sharon Stone, Bella Hadid, Jennifer Lawrence and Salma Hayek.
Celebrity news, beauty, fashion advice, and fascinating features, delivered straight to your inbox!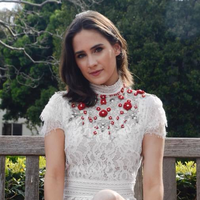 Julia Marzovilla is the E-Commerce Editor at Marie Claire, where she covers everything from the latest beauty and fashion launches and sales to celebrity outfits and news. She also creates shopping guides that span every vertical on the site. Prior to joining the Marie Claire team, she contributed similar shopping stories to sites such as Bustle, InStyle, The Zoe Report, Who What Wear, and STYLECASTER. In her spare time, Julia can be found creating shopping guides for all of her friends, spending too much money on yet another pair of black boots, and cooking in her far-too-small kitchen.