Editors handpick every product that we feature. We may earn commission from the links on this page.
The Best Lightweight Moisturizers for Summer Weather, According to Marie Claire Editors
Do you know how hard it is for a beauty editor to pick a favorite? Consider these the crème de la crème.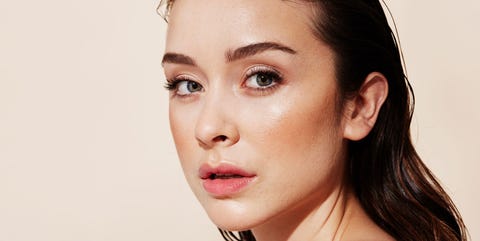 Beyoncé said it best: "The most valuable tip I've learned is always use a skin moisturizer." Yes—always, ladies and gents, is what Queen Bey said. We've been begging for spring, and now that it's finally here...for a hot second. Summer is right around the corner, which means we must welcome sweaty skin with open arms. The thick, rich creams you've been relying on all winter may need to take a backseat for your summer lightweight moisturizer to come through and sweep your skin off its feet.
Listen, skin is complicated and hard as hell to figure out. This may not be the case for you, but if you have oily or acne-prone skin, employing a lightweight moisturizer could lessen your chances of clogged pores. With warmer weather, dense creams can suffocate your skin and cause even more ailments. "As seasons change, so does your skin" Dr. Audrey Kunin, board certified dermatologist and founder of DERMAdoctor explains. "Increased temperatures and elevated humidity tempt skin to pump out more skin oils. Applying a heavy moisturizer in these conditions creates a perfect storm to smother pores and increase the risk for breakouts." Staying hydrated is a non-negotiable, and being intentional about the moisturizer you're using when the seasons change can keep your glow on a trillion.
Team MC's beauty team is a tough crowd to please, and we've tried more moisturizers than most because, well, it's our job. So, consider this your no-bullshit, beauty-editor approved list of the best lightweight moisturizers we can vouch for.
This content is created and maintained by a third party, and imported onto this page to help users provide their email addresses. You may be able to find more information about this and similar content at piano.io