The 13 Best Lightweight Moisturizers, According to Marie Claire Editors
Bring on the humidity.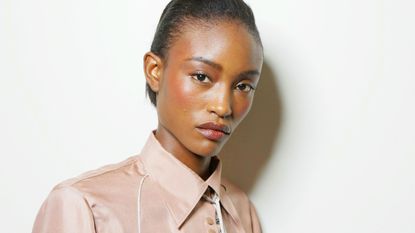 (Image credit: Getty Images/Lorenzo Palizzolo)
Rich and creamy moisturizers have their time and place—and that's by no means during the summer months. On the contrary, hotter temperatures and unbearable humidity signal the need for one of the best lightweight moisturizers. Featherweight formulas, silky textures, and SPF-packed hydrators should be front and center, especially if your skin falls on the oily or acne-prone end of the spectrum. "Increased temperatures and elevated humidity tempt skin to pump out more skin oils," says board-certified dermatologist and founder of DERMAdoctor Dr. Audrey Kunin. "Applying a heavy moisturizer in these conditions creates a perfect storm to smother pores and increase the risk for breakouts,"
To keep your skin clear, glowy, and, of course, hydrated, swapping out your thick cream for a lighter gel cream should be top priority. To scoop up one of the best lightweight moisturizers before summer is in full swing, keep scrolling. The Marie Claire editors have tirelessly tried dozens of formulas in search of the top 13.
What to Look For in a Lightweight Moisturizer
A lightweight moisturizer will feel thinner on the skin, but it shouldn't need to sacrifice hydration. Your formula should still feature emollients and humectants like glycerin, hyaluronic acid, and ceramides. A handful of moisturizers also have SPF to provide added protection from the summer sun.
The ideal feel of your product is always subjective, but as a rule of thumb steer clear from "rich creams" or "emollients." You want to look for gels, water creams, or in some cases, an uber-hydrating serum that can double as a moisturizer.
The Best Lightweight Moisturizers
The Best Lightweight Moisturizer Overall
Embryolisse Lait-Creme Concentre
"I have skin the falls on the dry, sensitive end of the spectrum, so if I'm going to use a lightweight moisturizer, it needs to *really* maximize on hydration. Enter: Embryolisse, which is the only thin moisturizer with the ability to keep my dry, sensitive skin hydrated all day long. It completely eliminates my need for a primer and sinks into my skin in five seconds flat. Pro tip: Apply a thin layer as a lip mask before bed—you'll have the smoothest lips of your life." — Samantha Holender, Beauty Editor
Pros: Silky; Great under makeup
Cons: A little oily
Best Lightweight Moisturizer for Under Makeup
"Tatcha's water-based moisturizer is way more than just a pretty package for your vanity. The formula is infused with Japanese wild rose, which has been long used by geishas to create a flawless canvas for their makeup. I've found that the botanical holds true to its claim: One small dollop of this stuff leaves your skin looking absolutely poreless and imparts a dewy, shine-free glow that sits beautifully under foundation." — Hana Hong, Former Beauty Assistant
Pros: Blurring and dewy finish; Wears well under makeup
Cons: Too greasy for some
Best Splurge-Worthy Lightweight Moisturizer
Sisley Black Rose Skin Infusion Cream
"Behold, the holy grail of hydration. I've waxed poetic about this bouncy, intoxicating formula to anyone who will listen, and I stand by my obsession: the creamy texture melts into a gel upon application, and I can feel my skin drink it in. I started using two years ago when my complexion was acting up, and it brought my face's texture back to normal. And it smells like a Bulgarian rose garden, to boot. I've gone through countless jars, and it's worth every damn dollar. Please bury me with a jar of it so I can use it in the afterlife." —Taylore Glynn, Former Beauty & Health Editor
Pros: Gorgeous texture; Smooths skin; Luxe feel
Cons: Expensive
Best Lightweight Moisturizer With Hyaluronic Acid
Peter Thomas Roth Water Drench Hyaluronic Cloud Cream
"If hyaluronic acid isn't a part of your daily skincare routine yet, it should be. The ingredient is key for moisture: it's a substance found naturally in our skin that holds a thousand times its weight in water to keep it hydrated and plump. Peter Thomas Roth's version is light as a, well, cloud—so, it's perfect for sticky summer days. And if you're prone to eczema or just have sensitive skin like me, the fragrance-free formula won't irritate at all. Wins all around."— Hana Hong, Former Beauty Assistant
Pros: Contains hyaluronic acid; Good cream for eczema and sensitive skin
Cons: Not super long lasting
The Best Lightweight Moisturizer With SPF
Coola Refreshing Water Cream Moisturizer
"Don't sleep on this formula. I was—for years—and the regrets are plentiful. It's my new go-to summer moisturizer, so bear with me while I sing its praises. Not only does it contain SPF 50 (great for daily wear!) and come packed with hyaluronic acid, but it also offers protection from blue light and pollution. It's one of the lightest textures I've ever had the pleasure of wearing and delivers a refreshing cooling sensation that's highly welcome in the summer heat." — Samantha Holender, Beauty Editor
Pros: Cooling; Contains SPF
Cons: A little greasy for some
The Best Brightening Lightweight Moisturizer
A.P. Chem MicroDose Magical Moisturizer
"I despise when my skin feels dull—I like to be glowing 24/7. On days when my skin looks and feels like it needs a little pick me up, I instinctively reach for this brightening formula. It leverages the benefits of eight adaptogens, including shiitake, in order to revitalize my complexion. Polyglutamic acid, which is loved by formulators for its ability to prevent moisture loss, is a star in the formula, so hydration remains at all-time high. The best part? It feels quite literally weightless on my skin." — Samantha Holender, Beauty Editor
Pros: Non-comedogenic; Balancing
Cons: Some say hydration wears off mid-day
The Best Lightweight Moisturizer for Redness
Kiehl's Ultra Facial Cream
"I have dry skin, so this is considered a light moisturizer for me. That means that it's the one I use in the summer when my skin is generally less flaky and requires less upkeep. It's the one I go back to every year because it's no-frills. It calms my skin, sinks in quickly, doesn't react with my SPF or any of my makeup, and doesn't clog my pores on my sweatier days. It's designed to strengthen your skin barrier and I've noticed that my skin looks less red the more I use it. I can always tell when I use it under makeup because my skin just looks healthier underneath—a.k.a. it's my dream summer skincare product." — Julia Marzovilla, E-Commerce Editor
Pros: Calming; Strengthens Skin Barrier
Cons: Comes in a pot as opposed to a more sanitary pump
Best Lightweight Moisturizer for Sensitive Skin
Dr. Barbara Sturm Face Cream Light
"On hot and humid summer days, you won't catch me layering on thick creams—it's a recipe for an oily disaster. That said, I do have pretty dry and easily irritable skin, so I need something that's still going deliver results. For me, that's always going to be this Dr. Sturm cream. It feels totally weightless on the skin, but still delivers hydration and a gorgeous glow. Plus, the purslane is extremely soothing on my rosacea-prone skin." —Samantha Holender, Beauty Editor
Pros: Soothing for sensitive skin; Nice texture
Cons: Expensive
Best Lightweight Moisturizer for Acne
Peace Out Daily Blemish Repairing Moisturizer
"One of my favorite no-fuss moisturizers is this one from Peace Out (the brand behind the very best pimple patches). I have dry, somewhat sensitive skin, and this one moisturizer has worked in both the winter and summer months for me. I noticed that it also calmed the redness and scaring left from past breakouts, giving my skin a more even texture overall." — Julia Marzovilla, E-Commerce Editor
Pros: Evens texture; Contains natural retinol alternative; Reduces hyperpigmentation
Cons: Slightly smelly