What Experts Want You to Know About Your Skin Type
Dermatologists explain how to address the quirks of your complexion.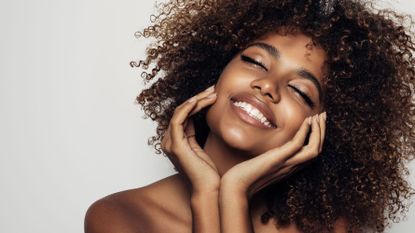 (Image credit: Getty Images)
When it comes to curating a winning skincare routine, the crucial first step is to ask yourself one question: "Do my skin type and skincare habits align?" Considering whether your skin is dry, oily, or a combination of both will enable you to determine the best rituals and products. After all, a rich cleanser that nourishes thirsty skin isn't the same bottle you would reach for to tone down a slick T-Zone.
To help figure out your ideal routine we asked dermatologists, and a cosmetic chemist, to tell us how to identify your skin type, and to share a few essential tips for caring for it.
What does it look like?
Dry skin is characterized by an underproduction of sebum, the naturally occurring waxy substance that coats and moisturizes your skin. "It often feels itchy and produces flakes throughout the face," says NYC-based dermatologist, Joshua Zeichner, MD. You may also see frequent blotching, redness, or irritation—and not just when seasonal or environmental changes occur, but all-year-round.
Tip #1: Use gentle cleansers and non-irritating products.
Dry skin needs—you guessed it—more moisture. Los Angeles-based dermatologist Ava Shamban, MD advises her patients to moisturize several times a day and stick to non-foaming, milky or oil-based cleansers.
"The appropriate oil will easily remove everything off the skin without stripping it of its [natural] oils," she says. Try Neutrogena Skin Balancing Milky Cleanser For Dry Skin, which features a nourishing sunflower oil base, but uses two percent polyhydroxy acid (PHA) to gently exfoliate. The end result: radiant skin that feels soft and balanced.
Along with a gentle cleanser, Shamban also recommends stocking your skincare cabinet with ceramides (a skin barrier-strengthening ingredient that helps prevent moisture loss), hyaluronic acid (which attracts and holds moisture), and lanolin (a sealant that prevents your skin from losing hydration).
Tip #2: Turn down the heat of your shower.
Your shower habits could also be sabotaging your dry skin. Shamban recommends staying away from steamy water temperatures, which can cause additional dryness and irritation. Instead, aim for something around lukewarm to preserve natural oil levels. It may not sound as relaxing, but it's worth the trade-off.
Tip #3: Invest in a humidifier.
It's not just about what you put on your face, but also how you set up your home. "Consider a humidifier for the bedroom to restore moisture levels in the air so your skin does not get dried out while you sleep," says Zeichner. Just switch it on and let your skin bask in the overnight hydration.
What does it look like?
If your skin texture tends to always be shiny and greasy, it's likely that you have oily skin. "Genetically, some people have more active oil glands than others," says Zeichner. The oily skin type is characterized by excess shine and an overproduction of oil all over your face (not just in selected zones).
Tip #1: Avoid over-washing.
When you have oil on your skin, you may feel compelled to give it a squeaky-clean finish. Don't do this. Zeichner cautions against excessive scrubbing, which can disrupt your skin's protective moisture barrier and lead to irritation or potential breakouts.
Instead, select your cleanser wisely. For gentle and effective oil absorption, add the Neutrogena Skin Balancing Clay Facial Cleanser For Oily Skin to your AM and PM routines. The formula contains kaolin and bentonite clays to help soak up oils without stripping the skin, along with a sodium methyl cocoyl taurate. "It's a mild [cleansing agent], so it won't over-dry the skin," says cosmetic chemist Ginger King.
Tip #2: Use a water-based moisturizer.
Another common temptation? Drying out your oily skin in hopes that it will emerge with a matte texture. Zeichner says that skin's oil content and hydration aren't one and the same, and all skin types need hydration. If some skincare products leave you with a greasy feeling, look for an oil-free, water-based formula.
Tip #3: Exfoliate with gentle acids.
To keep pores from clogging up with your skin's natural oils, regular exfoliation is key. Shamban recommends chemical exfoliants like acids that provide consistent results. Think: polyhydroxy acids, like the PHA in the new cleansers by Neutrogena. King says PHAs have bigger molecular structures than alpha hydroxy acids (like salicylic acid), making them gentler on your skin.
What does it look like?
Combination skin can be the most confusing to identify because, as the name implies, it's multifaceted. It's also the most common skin type. "The majority of people have only some areas that produce excess sebum," says Shamban. Those areas tend to be the T-Zone (forehead and nose) and the chin. When they're mingled with dry patches—whether mild or severe—throughout the rest of your face, you've got combination skin.
Tip #1: Opt for light textures.
"I usually recommend foaming cleansers to my patients with combination skin," says Zeichner. "They're powerful enough to remove oil from parts of the face without drying the rest of it." Start your day with Neutrogena Skin Balancing Gel Cleanser For Combination Skin, a sulfate-free formula that King says utilizes ingredients with "good foaming action," as well as a touch of aloe to help moisturize.
Tip #2: Spot treat your T-Zone.
If your T-Zone (but not the rest of your face) seems to be going into oil overdrive, hone in and spot treat it. "Use tea tree oil on this area, but not the entire face," says Shamban. "You can also try bentonite clay masks, or use a primer during the day to prevent shine and absorb excess sebum."
Tip #3: Exfoliate with caution.
Like oily skin, combination skin benefits from routine exfoliation. "Use a mild retinol for managing oil," says Shamban, as the ingredient helps complement surface cell turnover and shrink the look of oil glands. One caveat: Stay away from the facial zones that tend toward dryness and flaking.
Don't Forget!
The Neutrogena Skin Balancing Micellar Cleansing Cloths are friendly for all skin types. They use micellar technology (a.k.a. tiny oil molecules) to sweep dirt, debris, and makeup from your skin. King also highlights its use of dimethicone, a silicone-based polymer that can be used for gentle cleansing. Use it as a first step to your cleansing routine or when you need a quick refresh.
Bonus, the wipes are home-compostable and made with 100 percent plant-based fibers.
There are products designed to pamper and cater to your complexion—no matter if it's dry, oily, or a combination of both. Learn more about the cleansing solutions formulated just for you on the Neutrogena website.
Celebrity news, beauty, fashion advice, and fascinating features, delivered straight to your inbox!
Sarah Y. Wu is a freelance beauty editor, copywriter, and digital consultant based in Berlin, Germany. She enjoys slathering her face in serum-moisturizer-SPF sandwiches and showering herself in baked goods. Sarah has a decade of experience in the beauty industry and has worked with companies including Forbes, Teen Vogue, Glamour, Byrdie, Glow Recipe, Milk Makeup, and Interparfums. See more of her work at sarahywu.com or connect with her on Instagram.