24 Hours With Heela Yang
The Sol de Janeiro cofounder talks Brazilian beauty, meditation, and work-life boundaries.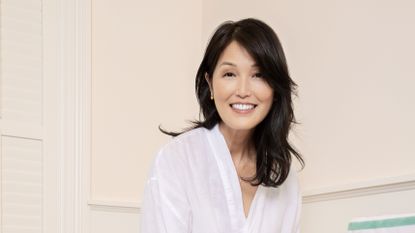 (Image credit: Fernando Freire)
Welcome to Beauty Around the Clock, Marie Claire's peek into the daily lives of some of the most game-changing women in their industries. Ever wonder how they get it all done in a day? Here's your answer.
---
When Heela Yang left her life in New York City—including friends, family, and a killer career that included stints at giants like Lancôme and Goldman Sachs—to move to Brazil, she wasn't planning on launching her own company. But after immersing herself in the zero-judgement beauty practices of Brazilian women, Yang decided to bottle that confidence and share it with the world: enter Sol de Janeiro. In the five years since the brand's launch, its firming Bum Bum Cream has reached cult status, and the rest of the line has made waves in the hair and fragrance spaces. Here, the cofounder shares her own self-care ethos and her tips for running a tight—and mentally healthy—ship.
Rise and Shine
When it comes to the products Marie Claire recommends, we take your faith in us seriously. Every product that we feature comes recommended by a MC writer or editor, or by an expert we've spoken to. Learn more about how we review products.
I wake up at 6 a.m., which gives me enough time to do my morning routine before dropping off my son, Jion, at school.
Morning Mindfulness
The first thing I do after I wake up is roll out of bed, go to the couch that's in my bedroom, and sit and do transcendental meditation for 20 minutes. I started meditating about three years ago, when I began to experience a lot of stress related to the growth of Sol de Janeiro. Meditating daily, especially as the first thing I do in the morning, really helps me to stay calm, grounded, and focused. It's also a beautiful way to start the day.
Balanced Breakfast
I eat with health in mind—not following strict or trendy diets per se, but I make an effort to eat fresh, nutritious foods. For breakfast, I make myself this concoction that's similar to a yogurt parfait, and I put in a lot of different things: four types of nuts (usually brazil nut, almond, walnut, and pine nuts), flax seed, marine collagen powder, pomegranate extract powder, fresh blueberries, and fresh grapes. I do coffee, too—a homemade cappuccino.
A.M. Skincare
I start by rinsing my face with water only, then I apply lotion. I'm currently using Shiseido Benefiance, although I like to switch it up every once in a while. Then, I apply Summer Fridays CC Me Vitamin C Serum, Belif Moisturizing Eye Bomb eye cream, and Caudalie Vinosource-Hydra moisturizer. I always finish with SPF—also Shiseido—because protecting your skin is so important! For my lips, I love [Sol de Janeiro's] lip balm, Brazilian Kiss Cupuacu Lip Butter.
Shop Yang's Morning Skincare Routine:
Morning Glam
My go-to everyday makeup is clean, healthy, and bright—I like a more natural look. Over my SPF, I apply a very light layer of Laura Mercier foundation and dust with Laura Mercier Translucent Loose Setting Powder. I use a bit of Charlotte Tilbury blush and bronzer, and an eyeshadow palette from YSL. I keep it simple—not too many steps, not too much makeup—because my beauty philosophy is all about emphasizing our natural features and letting our authentic beauty shine through. This is a core value of the Sol de Janeiro brand. Beauty—for me and for Sol de Janeiro—is about confidence, making ourselves feel good, loving ourselves, and having fun!
Shop Yang's Makeup Routine:
Hair Sitch
I actually don't do a whole lot with my hair. It's very low-maintenance. I wash it about two or three times per week and let it air dry naturally. If I want a little extra volume, or need to touch up my look throughout the day, I use my Sol de Janeiro's Brazilian Joia Refreshing Dry Shampoo.
Daily Grind
I drop my son off at school at 8:15 a.m., and my meetings usually start around 9:30 a.m. and are a big part of my day—there are a lot of calls! I find that touching base with my team often helps things run smoothly, especially when most of us are working remotely. Wherever I can, I block off a couple hours so that I can do some work on my own, organize, and strategize. I always block off 12–1 p.m., for myself and for the whole Sol de Janeiro team, as a company-wide lunch time. In the afternoon, I try to squeeze in a pilates session about twice per week, then it's back to my laptop for the rest of the evening. Even though I do some work at night after dinner, I'm very conscious about not emailing the team after hours. I think it's important to respect work-life boundaries.
Self-Care Practice
Meditation and pilates are acts of self-care for me; they center me and allow me to be more positive and present in other areas of my life. I also like to get massages every once in a while, and do acupuncture and get a facial about once per month.
Beauty Muse
I love Jeanne Damas' style. Her makeup always looks so natural and pretty.
Sweat Sesh
I'll do pilates two or three times per week, yoga once or twice per week, and a lot of walking. It can be difficult to find time for fitness with so much going on in life, but carving out some time to be active, for me, is an important part of wellness.
Nightly Wind Down
Spending time with my son in the evening is important to me, as we often don't get much time during the day between my work and his school. Afterwards, I like to spend time at my makeup table doing my evening skincare routine. Skincare has always been very important to me, and my routine has many steps. Sometimes I have a Netflix show on in the background at the same time, which helps me start disconnecting from the day. I also like to read before bed.
P.M. Skincare
I spend a lot of time cleansing my skin. I double cleanse with oil and then a foam cleanser. Then I use my Summer Fridays CC Me Vitamin C Serum again, followed by Caudalie Vinosource SOS Deep Hydration Serum,