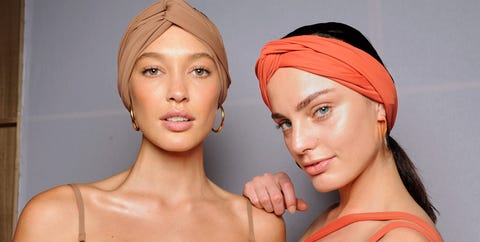 Raise your hand if you've ever felt personally victimized by a self-tanner. Same. It seems like no matter what formula you slather (or spray, or wipe) on, you will inevitably be left with weird streaks, blotches, and patches that scream, "HEY! This tan is fake!" But it's not your fault (well, it might be a little bit your fault)—self-tanners are finicky beasts that require a bit of patience, some trial and error, and, most importantly, a really good formula.
Below you'll find 11 truly excellent self-tanners that, as long as you follow the basic instructions and tips outlined below, won't leave you looking like an orange, streaky mess—which means you'll be free to spend your time doing something other than Googling "how to remove self-tanner." And, hey, even if you hate the results (but trust us; you won't), self-tanners fade after a week, anyway, so the commitment level here is pretty low. Get ready to have gorgeously bronzed skin.
This Light-As-Air Lotion
Gradual Tan Watermelon Infusion Body Lotion
St. Tropez Tanning Essentials
sephora.com
$25.00
Sometimes, a slow and steady tan leading up to vacation is your best bet for longevity. A subtle bronzed finish is exactly what this light-as-air lotion will do, which is the best fake it 'til you make it to the beach approach. Plus, the delightful watermelon scent screams summer.
HOT TIP: To ensure a streak-free, clothes-resistant outcome, don't overdo it. A light squeeze will pump out a moderate amount of lotion that will do the job.
This Super-Luminous Serum
Sunless Tan Luminizing Body Serum
Summer is here, which means you need to avoid heavy, thick lotions unless looking like a grease ball is your vibe. This tanner comes conveniently in a serum form, which will glide right onto your skin leaving behind a luminous, lit-from-wthin glow. Its 100-percent clean formula is foolproof for sensitive skin, and incredibly hydrating.
HOT TIP: Apply this directly after SPF. It's loaded with antioxidants like vitamins A, D, and E, which will double your protection from the sun and free radicals.
This Color-Correcting Tanning Mist
Self-Tanning Water
Isle of Paradise
sephora.com
$28.00
This user-friendly spray pump makes the applying this feel like a breeze. Expect a glowy tan to appear four to six hours afterwards. Even better? Brighter skin. This organic blend is formulated with color-correcting actives that are clinically proven to even your skin tone. Nothing's worse than a spotty tan—you'll never have to worry about missing a spot with this.
HOT TIP: Exfoliate your skin thoroughly before spritzing yourself to ensure all rough patches are gone. For a really good glow, completely saturate your skin with this mist and blend with a tanning mitt.
This Super-Fast Spray Tan
Tahitian Tan Mist
South Seas Skincare
dermstore.com
$28.00
Some spray-tans-in-a-can feel wet and uneven when you apply them, but this formula is fast-absorbing, lightweight, and leaves you with a completely even finish. It also dries down on contact, so you won't need to worry about leaving part of your tan on your furniture. Just make sure to stand outside or in your shower when you spray it on—or you'll be left with gold walls and floors.
HOT TIP: The drier a self-tanner is, the more it clings to your skin—and, by nature, your dry patches—so make sure to slough away any flakes with a wash cloth the day you self-tan.
This Ultra-Dark Lotion
Banana Boat Summer Color Sunless Lotion
Banana Boat
walmart.com
$14.09
Virtually all sunless tanners are made with lighter skin tones in mind, proving once again that the beauty world has a long way to go toward inclusivity. But Banana Boat has already made major strides with this hydrating, tinted formula that gives even the deepest of skin tones a rich, dark tan after about two or three applications.
HOT TIP: To keep yourself from getting blotchy creases in the crook of your arms and back of your knees (the places where lotion tends to settle before it fully dries), dust the areas with baby powder after you apply your tanner.
This Moisturizing Tanning Butter
Whish Self Tanner Body Butter
whish
whishbody.com
$30.00
A two-in-one lotion that leaves skin with a just-napped-on-the-beach glow and just-came-from-the-womb softness? Not a hard sell. Dry-skin haters can thank the formula's shea and mango butters for its creamy texture and moisturizing finish—a total rarity in self tanners—while faux-tan newbies can rest assured that the color payoff is truly even and subtle.
HOT TIP: Usually, sunless tanning works best if you first massage a tiny dab of moisturizer over your dry bits (i.e. knees, elbows, and ankles) to keep them from soaking up too much tanner, but this formula is so rich and creamy, you can go ahead and rub it right on.
This Beginner-Level Tanner
Sublime Bronze Hydrating Self-Tanning Milk
L'Oréal Paris
lorealparisusa.com
$12.99
Think of this little bottle of lightweight lotion as a gradual self-tanner on steroids. Like most gradual tanners, it's diluted enough that it's virtually impossible to mess up, but unlike most gradual tanners, you'll actually be able to see a noticeable (and very realistic) glow after just one use.
HOT TIP: Use a sheer tanner like this three times a week to get a constant subtle bronze, or apply it as-needed to even out a fading spray tan that's gone patchy.
These Low-Lift Tanning Towelettes
Tan Towel Self-Tan Towelettes
TanTowel
dermstore.com
$20.30
I know the idea of rubbing a wipe soaked with self-tanner all over your body sounds like a recipe for a messy, streak-filled disaster, but these low-maintenance towels are shockingly good at their job. Not only do they gently buff away dry patches as you wipe them on (dry patches = the ultimate enemy of a smooth tan), but—added bonus—their tea tree oil–infused formula will fight breakouts each time you use them.
HOT TIP: The final "tan" errs on the lighter side, so if you're looking for a deeper finish, try Tan Towel's dark version, instead.
This Lightweight, Delicious-Smelling Mist
Coconut Water Tan Mist Body
Not everyone has the luxury to be on a beach sipping coconuts, sporting a cute swimsuit right now. If you aren't living your best beach bum life, you can fake it 'til you make it with this lightweight tanning mist. It's made of pure coconut water, which is full of fatty acids, minerals, and vitamins to coat your skin in ultimate softness. And its scent will mentally transport you to the tropics. A quick spritz will give your skin full-coverage, without that annoying sticky residue.
HOT TIP: Be sure to use a scrub in the shower to exfoliate your body beforehand to shed dead skin cells and soften rough patches. The smoother the skin, the smoother the application process will be.
This Super-Cheap Bronzing Lotion
Australian Gold Instant Sunless Tanning Lotion, Rich Bronze Color with Fade Defy Technology
Australian Gold
amazon.com
$7.98
This one's for those who crave immediate results and don't have the time to wait all day for their tan to actually show up. This creamy bronzing lotion will instantly give you a glow-up. Imparting a radiant bronzed effect, your skin will feel sun-kissed and moisturized because of its hydrating ingredients. Suffering from dull skin? Ugh, the woes of winter. But thanks to the caffeine swirling around in this self-tanner, you'll get an energizing wake-up call, leaving you with lifted, supple, sunshine-y skin.
HOT TIP: It's best to start from the bottom and work your way up. With creamy lotions, apply a teaspoon of a squirt at a time in circular motions, beginning at your ankles up to your shoulders. End with your arms and your hands for a streak-free finish.
This SPF-Infused Self-Tanner Spray
Healthy Glow Sunless Tan SPF 40
Supergoop!
nordstrom.com
$38.00
In 2019, vow to avoid that fake tan look that took over the early 2000s at all costs. Opt for more subtle self-tanners that bring out your skin's inner-glow. On those especially sluggish days when you look like you'd rather stay in bed and you need a boost, lean on this tanning mist. It will enhance your skin's natural glow while protecting it from harmful UV rays with a hefty dose of SPF 40. Think of it as a mist that will give your face and body an extra pep in its step in the glow department.
HOT TIP: If you like the natural glow this mist leaves on your skin, but want more, don't be afraid to layer. On a lazy day in when you won't leave the house for a while, apply a couple of layers every two hours and let this marinate on your skin. Gradually, your glow will look more prominent.