Editors handpick every product that we feature. We may earn commission from the links on this page.
The Absolute Best Sunscreens to Wear At All Times
Because it's all about that base.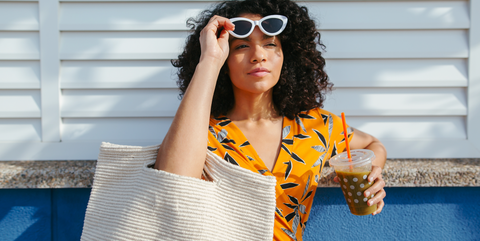 We get it—you hate sunscreen. It's too greasy, it's too thick, it breaks you out, and, most annoyingly, it turns your makeup into a patchy, shiny mess. At least, that's what you've been telling yourself since junior high. In reality, today's sunscreens are freaking awesome. They're lightweight, semi-matte, and non-chalky, and they look completely invisible under your foundation. And I know you already know this, but it wouldn't be right not to say that your skin deserves sun protection year-round, even when you're inside and not facing direct sunlight.

And to prove it to you, we cherry-picked the absolute best formulas to slather on every morning (every single morning, lest you become a skin-cancer statistic). These sunscreens can fight acne, brighten dark marks, fade scars, and, yes, even make your foundation look ridiculously smooth and natural. A lot has changed since your Britney Spears days. Instead of dreading applying SPF every morning (every morning!!), find an SPF product that actually makes you look forward to it. These products aren't just protection—they're skincare and makeup enhancers, too. Go forth and find your new favorite SPF product.
This content is created and maintained by a third party, and imported onto this page to help users provide their email addresses. You may be able to find more information about this and similar content at piano.io