Editors handpick every product that we feature. We may earn commission from the links on this page.
The 10 Best Hyaluronic Acid Serums Out There
Add one to your winter skin arsenal.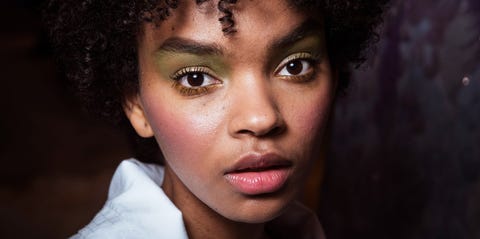 Francois G. Durand
Getty Images
If I had to choose one beauty pet peeve, it would be dry skin. For me, it manifests in flaking between my eyebrows (not cute), a lack of a beautiful glow (even less cute), and my skin looking dull and unhealthy (the opposite of cute). Normally, my moisturizer keeps my skin hydrated enough to keep these concerns at bay. But during the winter, cold air mixed with my apartment's overzealous radiator means I need to up my skincare game. That's where hyaluronic acid comes in–the ultimate skin hydrator. Hyaluronic acid lets your skin retain its moisture, which it can't do when the elements are so dehydrating. The benefits of hyaluronic acid go beyond hydration, too: Skin naturally loses moisture as we get older, too, so introducing an ingredient like hyaluronic acid can also plump the skin, reducing fine lines and sagging. The good news is that hyaluronic acid is a common ingredient in hydrating products, meaning you can find it at every price range imaginable. But because there are so many hyaluronic acid serums on the market, I hand-picked my favorites that target different issues—all while still giving your skin a dose of moisture.
This content is created and maintained by a third party, and imported onto this page to help users provide their email addresses. You may be able to find more information about this and similar content at piano.io