In Her Own Words: Evan Rachel Wood Reflects on Her Bisexuality and the Power of Perfume
The star gets real.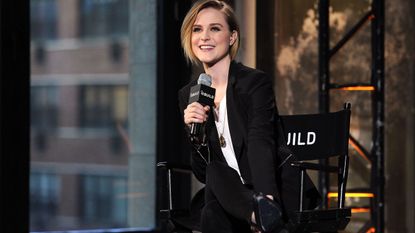 (Image credit: Getty Images)
I feel naked when I leave the house without perfume. I like having a signature scent so that even when you leave a piece of clothing with somebody, they can smell it and feel connected to you. I remember being in bed waiting for my parents to come home, and the door would open, air would rush in, and my mother's scent would drift to my room. It was the most comforting, lovely, beautiful thing. I also love when you're meeting somebody for the first time and you get that hint of fragrance and want more. Anything that ignites the senses ignites the imagination.
I'm sure my son knows Gucci Guilty very well. I've also been told I smell like a campfire. I always end up next to a fire pit or fireplace, so I probably smell a little burnt, but in a cozy way, like crisp leaves in the fall. My signature scent must be smoke mixed with Gucci Guilty.
The scent has always been for somebody who's confident and bold, and Gucci Guilty Eau, the [newer] fragrance, is about the art of seduction, romance, and anticipation. Love and sexuality are two different things: Love is a preference and depends on your environment, your past, and whom you meet. Sexuality is just whom you're attracted to and what turns you on.
Personally, I've been very open about my bisexuality because I was terrified growing up and felt very alone. There are misconceptions—a lot of people think that you're confused if you're bisexual. They want you to be either gay or straight. And there's bi-phobia in the straight community, as well as in the LGBT community, which breaks my heart. There's nothing more frustrating than people who fight against bigotry and closed-mindedness and then turn around and subject other people to the same things. Like fragrance, sexuality is just a really personal thing.
1. "I'm always battling acne, and this is my miracle product. My dermatologist told me I have small pores but really oily skin, so the surface gets dry and underneath it gets clogged; I have to exfoliate every day." ACURE Argan Stem Cell + Chlorella Growth Factor Brightening Facial Scrub, $10.
2. 4. "With short hair, you can get away with it being a little more damaged. You want that texture. I try to get my hair trimmed as often as possible, and I'll leave this conditioner on for five to 10 minutes." Bumbleandbumble Color Minded Conditioner, $34.
3. "When I'm not working, I use this. It's actually a treatment for your skin that reduces redness, puffiness, and pore size, but also gives a little glow and a sheer tint." STILA Sheer Color Tinted Moisturizer SPF 20 in Fair, $34.
4. "This has notes of lilac and lychee, which is one of my favorite fruits. I love the whole ritual of opening and peeling it. I love lychee martinis, too." GUCCI Guilty Eau Pour Femme Eau de Toilette, $99.
This article appears in the April issue of Marie Claire, on newsstands now.
Celebrity news, beauty, fashion advice, and fascinating features, delivered straight to your inbox!