7 Ways You're Using Your Beautyblender Wrong
From application to storage.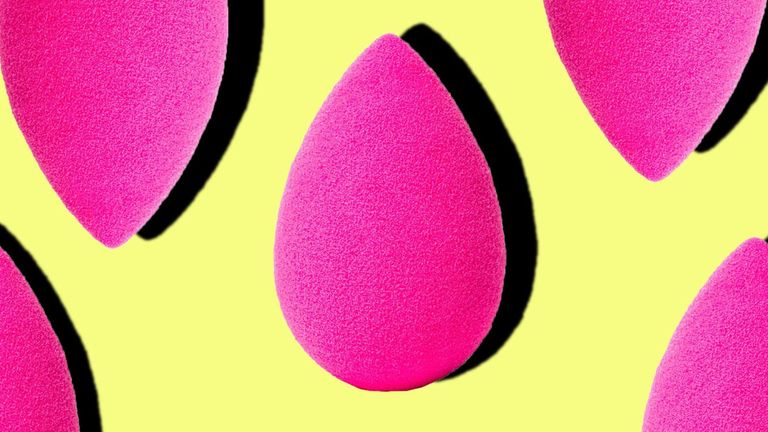 (Image credit: Design by Perri Tomkiewicz)
As far as Instagram is concerned, there hasn't been a product or tool more game-changing than the Beautyblender. No pro makeup kit, nor beat face is complete without the hot pink, egg-shaped makeup sponge. But as popular as it has become, there's a shocking amount of misuse when it comes to application, maintenance, and how it's stored.
To ensure we're using and tending to our Beautblender's properly, we looked to the brand's pro team lead artist Clarissa Luna to tell us exactly what we're doing wrong.
1. You're using it dry. Pro makeup artists are partial to a damp sponge—not just because it makes things go on smoother, but because it'll keep your precious product from being absorbed into the sponge. Before use, make sure it's completely wet then squeeze out all the excess water. You can also keep it moist by misting it with a water spray bottle.
2. You're dragging it across the skin. "Always bounce on your skin for better coverage and less makeup waste," says Luna. As opposed to swirling, stippling will blend and deposit product at the same time for a second-skin effect.
3. You're only using the base. "Applying makeup with the tip allows for more precision blending," she explains. Some hard-to-reach parts of the face include the under-eye area, inner corner of the eyes, and on/around the nose. You can also use the pointed tip when carving along the cheekbones with bronzer or blush.
4. You're only using it with liquids. Yes, you can use a Beautyblender to apply and blend powders for a silky finish. However, your should keep the sponge dry when you do so to avoid caking.
5. You're being too rough with your sponge. Beautyblenders are durable, but if you're starting to see it crack, it means you're being too abrasive when handling it—and probably when you're running it under the sink after use. "While cleaning it, be gentle and don't tug too hard or you risk ripping the material," cautions Luna.
6. You're not storing it properly. We are 100% guilty of tossing our wet sponge into our makeup bag as soon as we're done with it. Alas, this is doing us no favors in the hygiene or preservation department. "Your beautyblender should always be cleaned, dried, and stored in an open air environment," she explains. To cleanse it properly, use an anti-bacterial, fragrance-free dish soap with warm water.
7. You're not replacing it often enough. And this could make you break out. The golden time frame for a re-up? "We suggest replacing every three months for optimum performance," says Luna.
Follow Marie Claire on Facebook for the latest celeb news, beauty tips, fascinating reads, livestream video, and more.
I'm the associate web editor at Marie Claire. I love to while away the hours at coffee shops, hunt for vintage clothes, and bask in the rough-and-tumble beauty of NYC. I firmly believe that solitude can be a luxury if you've got the right soundtrack—that being the Rolling Stones, of course.