How to Apply Foundation Like a Pro
That glowing, second-skin look? Here's how to get it.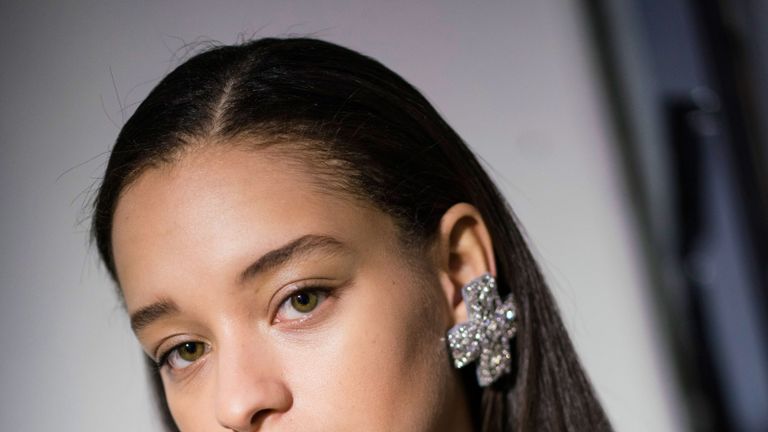 (Image credit: Francois Durand)
Let's be real—the ultimate goal of applying foundation is to make your face look like an ethereal, glowing slab of marble with nary a blemish nor scar. But the ultimate result, despite your best efforts, is usually a very visible, slightly chalky mask that screams, "Look! I tried to do a thing!" A sub-far foundation job doesn't have to be your forever, though.
In the quest for that I-woke-up-like-this, flawless foundation finish, I'm here to help you fine-tune your skills, because doing your makeup shouldn't be a feat shrouded in mystery. So to simplify the foundation process, I broke down the exact steps, products, and techniques that'll help you get the most natural-looking finish, every single time.
Step 1: Clean Your Face
Listen, I'm choosing to believe that all of you sufficiently remove your makeup and wash your face every night, so there should be no reason to really clean your face in the morning. But if you do have some leftover makeup (ugh), oil, or grime, lightly swab your skin with a cotton pad soaked in cleansing water to make sure you start your foundation routine with a clean, oil-free slate. Try one of these gentle formulas:
Step 2: Prep Your Skin
Foundation gets a bad rap for looking dry and flaky, but 99 percent of the time, it's actually due to user error (sorry, user). Even the heaviest of matte foundations can still look soft and natural, as long as you correctly prep and hydrate your skin with a good moisturizer.
After cleansing, massage a thin layer of moisturizer all over your face (avoiding the eyelids), letting the cream sink in for 5-10 minutes before applying your foundation. Not sure which lotion to choose? Try one specifically formulated for your skin type:
Step 3: Dab the Foundation On
Take that bottle of too-dark foundation that's been rolling around in your drawer since high school and throw it away. Right now. Then go buy a foundation that's creamy, medium-coverage, and actually matches your skin type and shade. If that sounds overwhelmingly difficult, try one of these cult-favorite foundations, first:
Add two pumps to your palm, then use a foundation brush (try the EcoTools Flat Brush) to dab the foundation onto your skin, starting at the center of the face and blending it outward. Don't worry about making it look perfect just yet—that part comes next.
Step 4: Blend Your Foundation
Here's where the second-skin magic comes in. Grab a damp makeup sponge (make sure you've already squeezed out any excess water into a paper towel), and gently dab, dab, dab—never smudge or swipe—the side of the sponge over your face to seamlessly melt the foundation into your skin. Use the pointed tip of the sponge to blend out the foundation around your nose and eyes.
Though my personal favorite is the magical Beautyblender, you can still get excellent results from other beauty sponges, like these:
Step 5: Top Off Your Foundation
If you're not feelin' your zits, acne scars, or redness, tap on a concealer with your ring finger, let it set for five minutes, then lightly bounce the tip of your sponge over the concealer to blend it out without smudging it off. Try a thicker, full-coverage formula, like one of these gems currently sitting on my vanity at home:
Step 6: Fine-Tune Your Foundation
To keep your foundation from slipping and sliding by noon, dust a translucent powder over just your T-zone (where all skin types get oily first) with a giant fluffy brush, like the Real Techniques Powder Brush.
Dip the brush in the powder (which powder, you ask? Already got you covered with four cult-favorite formulas, below), then tap off the excess and and swirl it over your forehead, nose, and chin in soft, concentric circles.
Step 7: Bask In the Results
Congratulations—you've officially mastered smooth, glowy, non-patchy foundation without throwing your phone at the wall. Please take a few (billion) selfies, then share your new wealth of knowledge with the world.