Dara Torres: A True Olympian
The five-time, 45-year-old Olympian is on a quest to become the oldest swimmer ever to compete in the games. Dara Torres reveals her path to London, her beauty priorities, and her post-competition plans.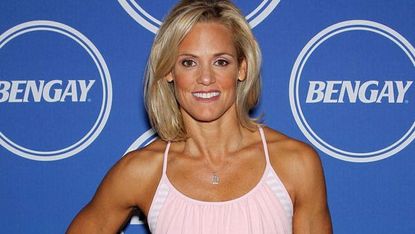 (Image credit: Archives)
It was the perfect image of hope: Dara Torres holding her daughter in one arm, her flowers in the other, and wearing a silver medal around her neck at the 2008 Beijing Games. When she dove back into the pool at age 41 — 24 years after her first Olympic appearance — she won America's hearts. Now 45, the 12-time medalist is fighting to compete in her sixth Olympics, and to become the oldest swimmer ever to participate in the games. As Marie Claire learned, she is as impressive as ever.
In 2008, your shocking comeback had the whole country pumped up and rooting for you. What motivated you to return to the Olympics?

It was peer pressure. I started swimming when I was pregnant, and just did it for fun. I went to a couple of meets, including the Masters World Championships where there were about 5,000 swimmers. So many of them came up to me and said, "you should represent us in the Olympics — us older people."
Is that the same reason you're competing in 2012?

This time around, I think it is more of a challenge. My age obviously is an issue, as is getting over reconstructive knee surgery. Having these little obstacles in my way makes it more fun.
Is it that you want to be the world's oldest successful Olympic swimmer, or is it more that you are so competitive and want to win again?

I think it is the challenge of staying in this sport so long, and trying to do something that no one else has done. That was the motivator, to be able to show that you don't put an age-limit on your dreams.
A lot of people say you are an inspiration. How do you respond to that?

I look at it as an honor. When people do come up to me and tell me that, and tell me their stories about how I've inspired them to do something they put off because they thought they were too old or they couldn't find the time, that inspires me to keep going. So, they are actually my inspirations.
Is your six-year-old daughter swimming yet?

She loves to swim. She is really into the girly stuff like dance and ice-skating. But I have her swimming, and she's on a pre-team and that goes to swim meets three times a year. She really seems to enjoy it.
You look amazing for your age. Clearly, that's partly because you are in such great shape. But what else do you do to take care of yourself? What is your beauty routine?

I'm in the sun almost every day, so I have to be resilient about taking care of my skin and my hair, and making sure I always stay hydrated. I use a great lotion called AmLactin that really helps with dry skin, and I always fluctuate between different shampoos. One of my favorite conditioners is Gwen's Blends. I also use BENGAY Zero Degrees after my workouts — after all, you can't look your best if you're sore and limping!
You're 6' tall. Did you always accept your height, or did you struggle to get comfortable with it?

It was hard growing up because I was always taller than all the boys, so I stood out a little bit. As I got older, I grew into being tall and I love it. It's funny: I used to be the tallest, but on our last Olympic team, there were a lot of tall girls out there. I'm proud to be tall — my whole family is.
How do you find clothes to flatter your long frame?

I love stuff that fits on my hips. I don't like wearing stuff higher up, I don't like the way it looks or feels.
Finally, you have the Olympic trials ahead of you in less than two months. Do you feel good about your chances?

I'm comfortable with whatever happens. If you had asked me that in '08, I'd be like, "no, I need to make the team." But I'm realistic. I am 45-years-old. My goal is to make it, but I've put in all the work and done everything I've needed to do, so now I'm just going to go out there and have fun.
I know it's hard to look beyond London, but do you have any big plans?

I don't have super-big plans. I just want to spend time with my daughter and be even more of a mom to her than I am now. And, take it easy.
Marie Claire email subscribers get intel on fashion and beauty trends, hot-off-the-press celebrity news, and more. Sign up here.