The History of Guyliner
What separates the men from the boys.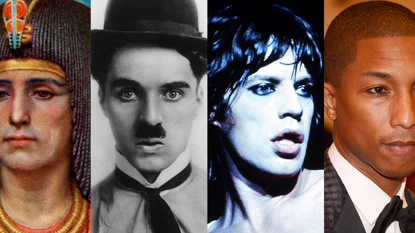 (Image credit: Getty Images)
As far as male grooming is concerned, there is but what one trend that separates the men from the boys: guyliner. No matter what kind—be it clean and classic or smudgy next-morning status—the look, much like the man wearing it, is a force to be reckoned with. Here, celebrate each and every male gaze gone rogue because let's face it, they're giving us gals a run for our money.
1. Seti I, 13th Century B.C.
Pharaoh Seti I, like all men of the ancient Egyptian upper class, would sport black kohl liner to protect his eyes from the sun. It was normal practice to accentuate the shape of the eye by extending the thick wings of the liner beyond the lids.
2. Charlie Chaplin, 1915
As part of the get-up for his most famous on-screen character "The Tramp," Chaplin would heavily line the rims of his eyes and blend for a smoky effect. He believed it had a comical, cartoon-like effect.
3. Rudolph Valentino, 1920
The Italian-American actor was known as the "Great Lover" of the 1920's thanks in no small part to his vampy eyeliner. The silent film heartthrob was as masterful with classic kohl pigment as he was at making the ladies swoon.
4. David Bowie, 1973
It's no secret—Bowie was mad for makeup, especially during his Diamond Dog days. Depending on the day or his persona,the gender-bending singer would emphasize his blue eyes with a subtle swipe of brown pencil along the lower lashline or a super-heavy application for the stage.
5. Mick Jagger, 1972
Jagger may have only rocked the look in the late '60s and early '70s, but he definitely knew his way around a smoky swoop. His slightly-effervescent cat eye is what our Saturday night dreams are made of.
6. Steven Tyler, 1976
We do love ourselves a good Steven Tyler beauty tip (have you seen those cheekbones?), so naturally we're in awe of the meticulously-perfect cat eye he worked in the '70s. These days, it's a little more morning-after.
7. Boy George, 1984
Boy George's harlequin aesthetic was certainly a game-changed for guyliner. He took the borrowed-from-the-girls look to new heights in the '80s with artfully-etched arrow flicks.
8. Keith Richards, 2004
We know Keith Richards and Johnny Depp are kindred spirits and they can both swipe on eyeliner with aplomb. Richards is all about the quick, I-don't-give-a-f**k scribbly lines.
9. Billie Joe Armstrong, 2004
With his devil-may-care approach to fully-lined eyes, Armstrong epitomizes smudgy punk rock eyeliner—especially when he uses it as a pick-up line for the ladies. "When you were at shows you could ask them, 'Do you have any eyeliner?' They'd be like, 'Yeah'. 'Well can you put it on me?' And they were like, 'Yeah, sure!'" he told kerrang! magazine.
10. Brandon Flowers, 2005
The Killers frontman has a mesmerizing pair of eyes and doesn't shy away from accentuating them. As he told Time Out, the first time he swiped it on was at a Cure concert when he was 13. Badass.
11. Pete Wentz, 2006
There's no denying it, Wentz was the face of guyliner during the early aughts, helping to bring it to the MTV-watching mainstream. In fact, he was so dedicated to the cause that he even posted a video how-to for his kohl-lined lash lines.
12. Jared Leto, 2006
Another guyliner advocate for the millennial set, the Thirty Seconds to Mars frontman spent much of the '00s hitting the stage with ultra-thick, blocked liner on his lower lash lines.
13. Russell Brand, 2008
These days Brand is going more au naturale, but there was a time that, much like his character Aldous Snow in Forgetting Sarah Marshall, he liked to groom himself with a disheveled bouffant and medium-size coat of liner just below the waterline.
14. Johnny Depp, 2010
A more subtle take on Captain Jack Sparrow's ultra-heavy, Kabuki-like liner, Depp has mastered the perfect next-morning smoky eye, smudging et al. His secret? It's just a matter of being Johnny Depp.
15. Pharrell, 2013
It wouldn't be the last time Pharrell hit the town with rimmed eyes, but he definitely made a statement when he arrived at the punk-themed Met Gala with his smoldering, artificially-enhanced stare.
16. Neil Patrick Harris, 2014
We imagine that NPH cut his teeth in the makeup department while starring on in Hedwig and the Angry Inch on Broadway, and he showed off his eyeliner prowess at the Met Gala taking an elegant, less-is-more approach.
Marie Claire email subscribers get intel on fashion and beauty trends, hot-off-the-press celebrity news, and more. Sign up here.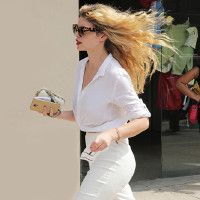 Lauren is the former beauty editor at Marie Claire. She love to while away the hours at coffee shops, hunt for vintage clothes, and bask in the rough-and-tumble beauty of NYC. She firmly believes that solitude can be a luxury if you've got the right soundtrack—that being the Rolling Stones, of course.