The Biggest Fragrance Trends for 2023, According to Experts
It's all about sustainability and switching up the status quo.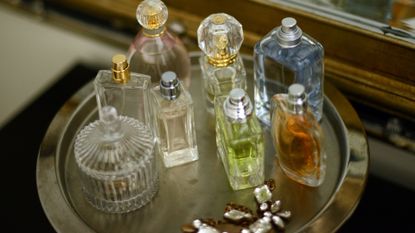 (Image credit: Getty)
Marie Claire Newsletter
Celebrity news, beauty, fashion advice, and fascinating features, delivered straight to your inbox!
Thank you for signing up to Marie Claire. You will receive a verification email shortly.
There was a problem. Please refresh the page and try again.
Fragrance is getting a bit of a makeover this year. Don't get us wrong, having a signature scent will always be in, but you'll notice that the fragrances hitting the shelves are starting to look ever-so-slightly different. Essential oils and light, aquatic blends have had a grip on the industry for a hot minute, but now brands across the board are diving head first into intense eau de parfums. Think: Longer staying power and rich flavor profiles that range from powerful fruity florals to all-encompassing musks.
The way in which we wear our favorite perfumes is also doing a bit of a pivot. Fragrance layering having a moment and brands are getting creative by infusing their iconic scents into body care and hair care that side-swipe the need for a physical perfume altogether. It's a new game for perfume houses—and if the first few weeks of the year are any indication, it's gearing up to be a transformative era for the industry.
To get the complete lowdown on what we can expect to see from fragrance over the next 12 months, we talked to trend trackers and fragrance aficionados. So set your signature scent aside and keep reading to get an idea of the biggest and best fragrance trends for 2023.
Bold Eau de Parfums
Expect intense and long-lasting fragrances to be at the forefront this year. "We are seeing a few of our favorite brands take a classic customer favorite and create a more enhanced or deeper vision in the form of an Eau de Parfum versus their Eau de Toilette version," says Nordstrom's National Beauty Director Autumne West. "This is a great upgrade for anyone looking to change up their already established go-to with a longer-wearing finish that doesn't overpower, but is a bit more noticeable."
Fruity Florals
With Spring just a few weeks away, expect to see light florals, tangy citruses, and fragrances that combine the two dominating the shelves. "I love the idea of the sophisticated fruity floral," says Ellis Brooklyn founder Bee Shapiro, citing Ellis Brooklyn SUN FRUIT eau de parfum as her personal favorite. "This category has been a fan favorite for a long time, but I think there are cool new iterations and formulations that give fruity florals a new sophistication." While the experts have clued us in to their favorites below, the options are literally endless. West explains that lime, orange, and bergamot steal the show on the citrus front. "For floral, think jasmine, peony, and a light rose that is not a heavy sweet or overly fragrant rose," she adds.
Scented Beauty Products
From strongly scented shower gels and body lotions to hair mists, everyone is starting to play with scent in a slightly nontraditional manner. Instead of spritzing an eau de parfum artfully on the wrists and neck, people are turning to beauty products that negate the need for a fragrance altogether. "I'll be utilizing my favorite scent through other beauty products in the form of shower gels, body lotions, and even pillow or hair mists that add a touch of unexpectedness," says West. Thankfully, fragrance-first brands like Diptyque, Parfums de Marly, Jo Malone, Byredo, and more have already hopped on board.
In a similar vein, Shapiro predicts a rise in body mists. But not the overwhelming, headache-inducing breed from your childhood. "Body mists are hot," she says. "I love the carefree nature of a classy body mist and there's room for this category to be chicer. Look out for more options in this type of fragrance wearing."
Functional Fragrance
Purposeful perfumes are on the rise—and it's easy to see why. "Scents like jasmine and lavender have been found to have calming properties and can help keep the mind at ease," says Penny Coy, Vice President of Merchandising at Ulta Beauty. It can double as a delightful scent and a mechanism to stay calm and centered throughout the day. Shop one of the below and spritz 'em on before bed.
Sustainable Scents
Sustainability isn't necessarily a trend, it's an evolution. And in 2023 you can expect to see some leaps and bounds from the fragrance industry. "Brands are continuing to work on transparency in this space, from ingredient sourcing, refillable bottles, and how fragrances are made to what they come in," says West. "Henry Rose is great with their sustainability and sourcing efforts, as well as La Perla for natural ingredients and refillable bottles, while Killian Paris launched a refillable perfume this year."
Fragrance Wardrobing
Call it fragrance layering, perfume wardrobing, or whatever your heart desires, but creating customized concoctions is the way to go. "We're seeing more and more that guests are ditching their 'signature scent' and instead trying all of the above in accordance with their mood or occasion. They're looking to test new scents, layer favorites together, and try scents from their favorite celebs in travel sizes they can take with them on the go," says Coy.
Nouveau Florals
Gourmand fragrances (think: edible notes like vanilla) aren't going anywhere, but you can expect to see nouveau florals competing for their popularity. "I'm very interested in nouveau florals," says Shapiro. "We've been on a gourmand kick for so long, that fresh takes on florals feel modern. I would look for new takes on tuberose, rose, and gardenia."
The Rise of Dupe Culture
Take it from TikTok: Dupes are in. Granted, a dupe will never, ever be an exact match to the OG, but some come pretty damn close—and they're selling out just as fast as their more expensive counterparts. "Dupes will continue to be strong, but the truth is they have always been around," says Shapiro. "I think the marketing of dupes is stronger and chic-er now though." Take Dossier for example. The brand quite literally specializes in recreating famous fragrances at a more affordable price point.
Musky Moments
"I'm seeing perfume talked about in much more personal ways and it's being worn for self pleasure," Shapiro observes. "It requires some time to explore what actually works on your skin, but I'd recommend exploring musks, as they're very close to the skin and give this intimate feel." Depending on the fragrance, this can range from sweet and creamy to spicy and earthy—it really depends on the blend. If you want to achieve the same intimate vibe without the musk, try a pheromone-adjusting perfume, which will enhance your natural scent.
Warm Vanillas
"Vanilla has always been a popular fragrance ingredient, but as a foundational classic, we'll continue to see this note make its way into an array or scent profiles," says Coy. You can really lean into the sweet factor or give it a sophisticated spin by seeking out fragrances that add musks, cocoas, and woody notes into the mix.
Meet the Experts
Bee Shapiro is the longtime New York Times beauty columnist and founder of Ellis Brooklyn, a clean luxury fragrance and body care brand currently carried at Sephora, Ulta, Credo, Revolve and more. She is also the author of "Skin Deep: Women on Skin Care, Makeup, and Looking Their Best," a compilation of her best-read columns.
Autumne West is the national beauty director at Nordstrom and has 18 years of experience working in the industry.
Penny Coy was named Vice President of Merchandising in February 2017 and now leads the Skincare, Suncare, Fragrance & Bath categories. Previously, Penny served in multiple merchandising leadership roles and categories throughout her eleven years at Ulta Beauty. Prior to joining Ulta Beauty Penny acquired retail experience in a variety of buying, sourcing/ product development, and planning roles for department store and specialty retailers. Penny is also a board member for The Fragrance Foundation and a member of Leading Women Executives.
Celebrity news, beauty, fashion advice, and fascinating features, delivered straight to your inbox!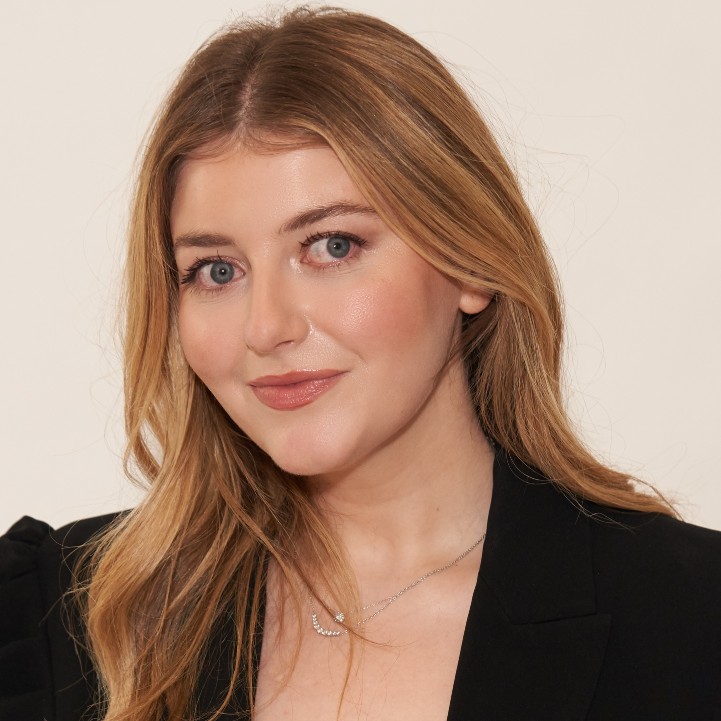 Samantha Holender is the Beauty Editor at Marie Claire, where she reports on the best new launches, dives into the science behind skincare, and keeps up with the latest trends in the beauty space. She has previously written for Us Weekly, Popsugar, Makeup.com, Skincare.com, and Philadelphia Wedding. Follow her on Instagram @samholender.