Marie Claire Editors Describe Their Favorite Fragrances of All Time
Stop and smell the florals.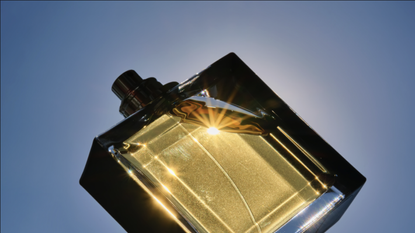 (Image credit: Getty)
I don't know about you, but I refuse to leave the house without wearing perfume. In fact, even when I'm working from home or spending an evening in, I love wearing my favorite mood-boosting scents. Smelling good makes me feel good―a sentiment that's backed by science. According to a study published in the academic research journal Scientia Pharmaceutia, scent can positively impact mood, cognition, behavior, and work performance. Furthermore, another study in Frontiers in Systems Neuroscience tells us that scent could potentially be used as a means of treating stress and psychological distress.
The moral of the story is that scent is important, so it may be worthwhile to invest (and even splurge) on fragrances that makes you feel your best. Perfumes new and old can make you feel sexy, relaxed, energized, focused―the world is your oyster! So scroll on to check out our editor-approved fragrances that get us through the day.
Finding the Best Fragrance for You
Fragrance is a highly personal category, dependent upon your preferences, emotional responses, and even your skin type. For that reason, professional perfumer Alexandra Monet says that when shopping for your next favorite fragrance, it's best to throw away the rulebook and do what's best for you.
"A fragrance that you feel comfortable with and that you feel like yourself is really what is important," she insists.
Another myth she wants to dispell? The idea that some fragrances are for mature wearers while others are for young ones.
"I don't believe in there being notes that are for specific ages," she says. "I recommend wearing a scent on your skin first to see how it wears on you, because there is no rule when it comes to fragrances."
The Best Fragrances of All-Time
Best Mood-Boosting Fragrance
Coach Dreams Eau de Parfum Spray
This is one of my everyday perfumes―a light, youthful scent that combines bitter orange, refreshing cactus flower, gardenia, and Joshua Tree. This combination evokes playfulness through its florals without being too sweet or headache inducing. Meanwhile, it has a warm base of ambroxan and soft woods. These elements add a depth and complexity to the fragrance that set it apart from other floral options and make it work year round. Plus, the scent lasts all day, and I never need to make more than two to three spritzes.
Pros: long-lasting; editor-approved; more affordable than most fragrances; a little goes a long way
Cons: some found the scent too strong
Customer Review: "You have to make sure to only use about 2 squirts though or you'll be putting to much on. It lasts all day long, and through to the next if you spritz it into your hair. So the scent lasts. I'm not a bug perfume wearer, but this one is one I wear now regularly." -Walmart
Best Long-Lasting Fragrance
Maison Francis Kurkdjian Baccarat Rouge 540 Eau de Parfum
"There is truly no better smell than Baccarat Rouge 540 Eau de parfum—and I will die on that hill. Cedarwood, saffron, and jasmine are the primary notes, but the end scent is so complex it simply gives off a warm, intoxicating smell. I get stopped time and again every time I spritz this perfume. Plus, it lasts all day long; a few sprays is all you need." -Samantha Holender, Beauty Editor
Pros: editor-approved; long-lasting; a little goes a long way
Cons: some users felt it didn't last long enough
Customer Review: "This fragrance is truly a gem, with its complex and multi-faceted aroma. It perfectly blends the warm and sweet notes of saffron and amberwood, along with fresh and floral hints of jasmine and lily-of-the-valley. The result is a sophisticated and alluring fragrance that is suitable for special occasions or a night out." -Saks Fifth Avenue
Best Light and Bright Fragrance
Ellis Brooklyn WEST Eau De Parfum
"I'm not one to experiment much with fragrances, but ever since I got my hands (wrists, neck, etc.) on Ellis Brooklyn's West perfume, I've been hooked. The light-and-bright scent blends several citrusy fragrances (think blood orange, lemon, basil) with more sweet and smoky notes, creating a tangy-yet-balanced smell that's distinct but not overpowering. The perfume is described as being summery, but I find myself spritzing it on all year long." -Lucia Tonelli, Social Media Editor
Pros: editor-approved; works for any season; not too strong; layerable scent
Cons: some users felt it had a chemical scent
Customer Review: " It's very fresh smelling and just lifts your mood. Cool and warm all at once. Citrusy and sweet but not cloying. Totally wearable all the time." -Ellis Brooklyn
Best Musky Fragrance
If, like me, you love to read, then consider this Byredo fragrance, which allows you to wear your favorite hobby on your sleeve. Byredo's Bibliothèque is formulated to recall the scent of libraries and old, treasured books. With heart notes of leather accord and violent and base notes of birch woods, patchouli, and vanilla, it brings on visions of leather bound volumes lined perfectly along floor-to-ceiling wooden shelves. Meanwhile, its top notes of plum and cinnamon balance out the fragrance, bringing a feminine edge to the otherwise musky scent.
Pros: editor-approved; long-lasting; nostalgic
Cons: too musky too for some
Customer Review: "Fortunately on my skin, it smells amazing. Not like a library, but more like a book. Grandma had an old notebook, covered in skin with papers turned brown inside, that sort of book. It gives the scent an old fashioned vibe, fortified by the fact that the peach note here reminds me of that in the original Yvresse. To me this one is evocative, comforting, casually classy without being dressy." -Fragrantica
Best Musky Fragrance
PHLUR Somebody Wood Eau de Parfum
"I've long been a fan of PHLUR's range of scents, but the brand's newest drop is one of my favorites—if not my favorite. With notes of lemon, vanilla, sandalwood, and musk, it's at once bright and warm. The sweetness of the vanilla is cut with spicy musk and bright lemon, leaving you with a last-all-day type of scent that works for day or night." - Julia Marzovilla, E-Commerce Writer
Pros: editor-approved; balanced scent; versatile; long-lasting
Cons: some users found that the base notes lasted longer than the top notes
Customer Review: "This is a beautiful mix of vanilla, sandalwood and amber. When i wear this i get an insane amount of compliments. lasts a good 5-6 hours on skin and all day and night on clothes." -Sephora
Best Vanilla Fragrance
The 7 Virtues Vanilla Woods Eau de Parfum
"When it comes to fragrance, I'm all about warm and cozy scents. I love the Vanilla Woods perfume by The 7 Virtues for its soothing vanilla and amber notes. You don't need much for a long-lasting scent, so I especially love using the rollerball version so I can control how much perfume I apply. Plus, it's great to throw in your purse for on the go." -Brooke Knappenberger, Editorial Fellow
Pros: editor-approved; sweet; layerable fragrance
Cons: some users said it had a chemical scent
Customer Review: "I absolutely love this scent, especially for fall and winter! It is wonderfully warm and delicious smelling and makes me feel particularly cozy this time of year. The first time I wore it around my boyfriend he immediately commented on how much he loved it and couldn't stop mentioning it all night! Definitely recommend if you like warm, yummy, vanilla scents." -Sephora
Best Vacation-in-a-Bottle Fragrance
Tom Ford Neroli Portofino Eau de Parfum
"Tom Ford's Neroli Portofino Acqua is like a vacation to the Italian Riviera in a bottle, so if you've got no trips to Portofino in the near future, this Tom Ford fragrance is for you. It's fresh, citrusy, and subtly reminiscent of sunscreen, with some floral and amber notes that make it perfect for the transition into fall. It's the first time a free sample bottle of perfume has compelled me to buy the full-sized version." -LT
Pros: unisex; editor-approved; balanced
Cons: some users say it doesn't last long
Customer Review: "It has a light, citrus, non overpowering scent perfect for warmer climates!" -Neiman Marcus
Le Labo Bergamote 22 Eau de Parfum
"I've always dreamed of having a signature scent—a perfume that, with one whiff, makes you think, 'Oh, without a doubt, that's Emma!' And after many months of sniffing and searching, I've found it: Le Labo's Bergamote 22. It's undoubtedly pricy, but Beragmote 22 has become my daily, must-spritz luxury. It smells fresh and floral but is balanced with deeper, almost smoky undertones of amber, musk, and vetiver. Plus, the fragrance offers enormous lasting power, too: two pumps are all you need for it to last all day." -Emma Childs, Fashion Features Editor
Pros: editor-approved; balanced; works for all seasons
Cons: some users find it too grassy
Customer Review: "Bergamot is a compelling, mysterious scent. Anywhere I go wearing this scent, people wonder what it is. It's my new signature scent for summer, and I've bought many a bottle for my friends." -Nordstrom
"Since Dioriviera launched a few months ago, it's been my go-to, can't-live-without fragrance. It's light and fresh thanks to the inclusion of fig, but oxidizes on my skin in a way that transcends seasons. I'm pretty generous with the amount of product I spray—always one on my wrists, neck, hair, and clothing—yet it never feels overwhelming or too intense. I'm continuously stopped on the street; it's that good." -SH
Pros: editor-approved; versatile; light; long-lasting; subtle
Cons: expensive
Customer Review: "I love this scent. It's packaged beautifully. It smells like a luxurious vacation. I purchased a bag at the Dior pop up in Capri and they sprayed this all over my purchase and for the past 3 months I have been hunting it down. I am so glad I did. I get so many compliments when I wear this scent." -Dior
Best Warm Fragrance
Byredo Vanille Antique Extrait de Parfum
"Let it be known that I have never been someone who likes vanilla-scented perfumes. They're normally too sweet and remind me of something I might have worn as a teen rather than as an adult. Enter: Byredo's Vanille Antique: a heady, warm scent that lingers all day. I wore it as one of my favorite summer scents in 2022, but I can't wait to wear it during the colder months. It's sweet and just a touch spicy, a true office-friendly vanilla-forward scent that won't leave me with a headache." -JM
Pros: versatile; balanced; editor-approved
Cons: small bottle
Customer Review: "The juicy plum, sweet vanilla and warm amber give the impression of a warm plum crumble made with brown sugar and vanilla ice cream. This is a classy Autumn/Winter perfume leaning gourmand. Delicious!" -Frangrantica