Ugh: Men Make More Money Than Women Even in Nursing
You know, a field that has long been dominated by women.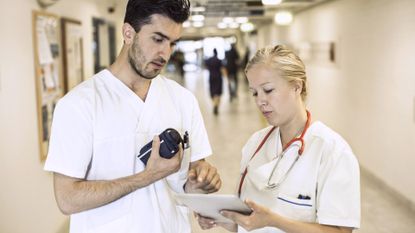 (Image credit: Getty Images)
Less than 10 percent of nurses are male. But they make an average of $5,100 more per year than their female counterparts, according to a new study in the Journal of the American Medical Association.
"Fifty years after the Equal Pay Act, the male-female salary gap has narrowed in many occupations," the study's authors write. "Yet pay inequality persists for certain occupations, including medicine and nursing."
The pay gap between male and female nurses varied by specialty. Male cardiology nurses, for example, make an average of $6,000 a year more than female cardiology nurses, and male nurses working in chronic care made $3,800 more per year.
The gap was largest between nurse anesthetists—men made a whopping $17,290 more in a single year than their female colleagues. Nurse in that specialty are also much more likely to be men than nurses generally—men make up 40 percent of nurse anesthetists.
Lead author of the new study and assistant professor of social behavioral sciences at the School of Nursing of the University of California, San Francisco, Ulrike Muench told The New York Times, "You may think women have caught up or even might be ahead of men [in nursing], but we find that's not the case."
You should also check out:
This Is What It's Like to Be a Latina Reproductive Rights Activist
81 Gloria Steinem Quotes to Celebrate Her 81st Birthday
Celebrity news, beauty, fashion advice, and fascinating features, delivered straight to your inbox!