Why 2018 Is the Year of the Alpha Female
These four women prove the revolution is long overdue.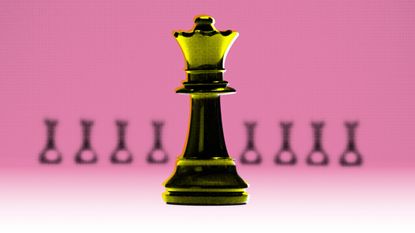 (Image credit: iStock)
When LaToya Cantrell is sworn in as the mayor of New Orleans next May, she'll be the first woman to lead the city since its founding by the French Mississippi Company in 1718. Yes, that's three centuries. As Cantrell put it to MarieClaire.com: "300 years? Come on, it's time."
It is time. This year for women was a spark. A march. A chorus of voices breaking the silence.
"Women are starting to roar," Cantrell says. "I think this wave of women being elected to leadership is giving them a voice and empowering them, in that they do not have to be afraid anymore. That's why we see these women raising the issue of sexual harassment; they're no longer living in fear."
Let's begin the new year, then, with a reminder of the trailblazing women among us. Women are taking over the C-suite, sitting in the director's chair, running for office—and winning—and changing the conversation. From inspiring trailblazers like filmmaker Dee Rees and writer and comedian Ashley Nicole Black to startup founder Jordana Kier and mayor-elect Cantrell, there's a lot to be optimistic about in 2018.
"I think we really are in a moment," says Ashley Nicole Black, an Emmy-awarding winning writer for TBS's Full Frontal With Samantha Bee, and frequent correspondent on the show known for its inclusion of women and people of color in the writing room. "We're only going to speak up more, only demand more, and move toward equity and equality."
Black knows what it takes to succeed as a woman in the notoriously male-dominated world of comedy. "Often, when you talk about there being less representation of women and people of color in comedy, the response is: Do we need more training? Should we start a class for women to learn jokes?" says Black. "That's never been the problem. Women don't need extra help being funny."
The problem was that women didn't get on stage to begin with, says Black, who came up through Chicago's comedy scene, because men controlled access. So Black and a friend created their own showcase—with a lineup of all female comedians—promoted it, and invited every agent in town to the show. "That was how I got my first agent, and first TV job," says Black. "But look at the extra work we had to do to get the same opportunity that every man is handed. Women are going to do it, but it's a lot of work."
That sense of creating your own opportunity where none exists is familiar to Dee Rees. The filmmaker's latest work, Mudbound, was recently released on Netflix and is earning nominations and critical raves as awards season heats up. "That's the whole thing," says Rees, who both writes and directs. "No one is going to invite you in. You have to start your own game and bring your own ball." For Rees, starting her own game also means surrounding herself with an all-star team. "You have to get artists who want to work with you," she says. "You basically have to create your own world. That's why I go back to writing. If you can write, you have the currency. You can use that to create worlds and attract other artists."
Rees says she came to her career as an artist "from the long way around." She detoured through post-college marketing jobs before enrolling in film school at NYU. Fourteen years later, and despite her success, Rees is nonetheless cognizant of the persistent inequities of her industry. "You only have to look at the stats," says Rees, whose other works include the films Pariah and Bessie. "You can count women directors on two hands."
"I've walked on sets and production assistants have directed me to extras. As if that's the only place he can imagine I'm going," she says. "There's a presumption of incompetence until proven otherwise. We're fighting film by film, episode by episode, story by story."
Increasingly, women are also fighting election by election. More women are running for elected office at every level than at any other time in U.S. history.
When asked why we're hearing women's voices more and more in politics, Cantrell, a Democrat, responds: "With the current federal leadership, there's more focus on what we can do locally. If we don't, who else will?"
Cantrell honed her own leadership skills as a community activist after Hurricane Katrina. She helped save her heavily-damaged, working class neighborhood of Broadmoor from being turned into a drainage park, and became known as a disaster recovery thought leader. "I came to this," she says of her historic election, "from grassroots leadership, being on the ground. You want to give people that spirit of hope, but also create results. So it's bigger than just being the first. It is wanting to elevate people's lives in ways we've not seen in our city."
One of Cantrell's aims as mayor is to ensure that women have greater representation on boards and committees. As she points out, the presence of women in leadership is essential to proper representation. "Women haven't been at the table for policy and decision making, but we've been subjected to the policy making," she says.

As a co-founder of LOLA, a subscription-model tampon and pad company, Jordana Kier can relate to the importance of having women's voices at the table. When she and co-founder Alex Friedman raised capital for their startup, which launched in 2015, the two women were meeting with mostly male investors. "We would be in a restaurant and dip a tampon in water to show him how the product worked," says Kier.
Kier and Friedman use their experiences as women to understand the customer, innovate their products, build the brand—and lead a company where 15 of 16 employees are women. "Having mostly women who are building and growing with you, for the customers and us, makes it more personal," says Kier. "That's been incredibly rewarding."
Nonetheless, Kier shies away from trendy labels such as "girl boss," which are often slapped on young women in business. Although she says she appreciates the sentiment behind the label, "I hope we can move to a place where we don't have to qualify with our gender," says Kier. "Would you think of calling somebody a boy boss?"
Or as Rees succinctly summarizes the situation: "When this is not a magazine story title, then we've gotten there."
Until we get there — and we will —women leaders are mindful of how they can lift up other women. It might be setting an example for the next generation, such as Cantrell's nine-year-old daughter. "I'm demonstrating to her that we can change the world by being who we are and being great at it," says Cantrell. "It really does come from within."
Or it might be inspiring women to realize their dreams, right now. "Whatever amazing thing you see someone doing, you can absolutely do it," says Black. "The space is being opened for you. You don't have to sit back and watch."