Harvard Business School Takes on Fashion and Beauty: Meet the Mogul Grads Who Are Changing the Game
The secret's out.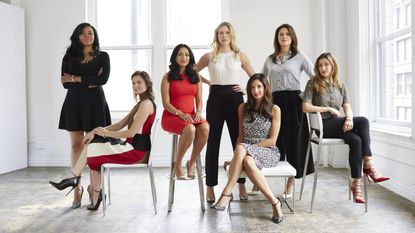 (Image credit: John Huba)
It was a chilly Monday in December 2008, and Jennifer Hyman and Jennifer Fleiss, classmates at Harvard Business School, were meeting for one of their frequent lunch-hour brainstorming sessions to bounce business ideas off each other while they dug into their salads. Hyman had recently returned to Cambridge, Massachusetts, from Thanksgiving break in New York City, to visit her sister Becky, who had just shelled out $2,000 for a beaded gown for a friend's wedding. "It put her into credit-card debt and was way more expensive than her rent," Hyman recalls. The sisters joked about renting out the dresses in Becky's closet so that she could pay off her bills. Hyman thought it was interesting enough to share with Fleiss. "We thought, What if we had our own dream closet where we could access all of this amazing designer clothing that we'd both grown up loving and being obsessed with, and what if that was available for rent?" Hyman recalls. "It was a very loose idea. We never thought anything would actually come of it."
On a whim, the two classmates cold-e-mailed Diane von Furstenberg for advice. (The pair guessed her e-mail address.) To their surprise, she responded—in hot-pink, 28-point bubble font—inviting them to meet the following day. So on Tuesday, the pair climbed into Hyman's Ford Explorer and drove the four hours or so from Boston to New York, pit-stopping at a salon for blowouts. "We walked into DVF, and I introduced myself as the cofounder of Rent the Runway," Hyman says.
Nearly seven years and $126 million in funding later, Rent the Runway (RTR) remains one of the fashion world's most renowned startups, with an estimated value of roughly $600 million. For Harvard Business School (HBS), though, RTR represents much more than just another success story. Hyman and Fleiss and their iconic startup have become a billboard for a school that is fast becoming the epicenter of an entrepreneurial revolution in fashion and beauty. In addition to RTR, HBS (ranked second only to Stanford Graduate School of Business by U.S. News & World Report in 2015) has churned out some of those industries' biggest disrupters: Alexis Maybank and Alexandra Wilkis Wilson (both '04), founders of the fashion flash-sale pioneer Gilt Groupe; Hayley Barna and Katia Beauchamp (both '10), the duo whose monthly beauty-goody subscription service, Birchbox, launched an army of copycats; and Katrina Lake ('11), founder of Stitch Fix, an online personal-styling and shopping service that's been dubbed the "Pandora of fashion."
"I was inspired by all of them," says Olga Vidisheva ('11), founder of Shoptiques, an online marketplace for small boutiques. "I thought, They can do that, so I can definitely do this, too."
"These successful women before me, building new and novel businesses, helped me feel more confident," adds Lake.
Vidisheva is among a number of ambitious HBS graduates hell-bent on becoming the next big thing, à la RTR. In the past eight years, HBS has spawned at least 18 fashion and beauty startups, nearly all led by women and targeting women, and which have raised an estimated $600 million in aggregate. They include Vixxenn, a distributor of hair extensions; Tinker Tailor, a design-it-yourself clothing company; Glamsquad, for at-home makeup, hair, and manicure services; and Mink, a 3-D printer for makeup that promises to "irrevocably alter the way women shop for cosmetics."
HBS didn't always enjoy a reputation as a bastion for female fashion entrepreneurs. In 2013, The New York Times ran a controversial piece by Jodi Kantor exposing long-held frustrations by female students who'd felt overlooked and undervalued at the school. The feature also detailed efforts by Harvard University president Drew Gilpin Faust—the first woman to hold the title—and Nitin Nohria, the HBS dean she appointed, to redress the institutionalized gender rifts that saw women easily compete with men for prized admission to the school but flounder once they got there. Their correctives included hiring more female faculty; enlisting coaches to work with women reluctant to raise their hands in class; providing professors daily reports about whom they called on (to spotlight subtle gender biases); decreasing the emphasis on "case method," a teaching approach that graded students on individual class participation; and ramping up "field method," which factors in real-life problem solving in groups. In other words, you no longer had to be the loudest, most aggressive voice in the room to necessarily succeed at HBS. "I think it's a friendlier place," says Marcela Sapone ('14), who along with classmate Jess Beck cofounded Alfred, the on-demand "butler service" that last year won the ultra-prestigious TechCrunch Disrupt startup competition in San Francisco. "Every day, professors get reports on their gender balance, if they've called on this many men versus this many women. [HBS] made a really big push for it."
Ask around campus and second-year HBS candidates will likely point you to a handful of professors who provide low- key but formative mentorship to female moguls-in-the-making. Among them: Anita Elberse, who specializes in media and entertainment marketing and is one of the youngest female professors to be tenured at HBS; Youngme Moon, head of the MBA program, who won plaudits for sending over 1,800 HBS students a candid five-page response to the Times article ("Is it possible for a place to be both magical and deeply imperfect, at the same time?"); and Frances Frei, a leadership expert who coauthored the customer service bible Uncommon Service: How to Win by Putting Customers at the Core of Your Business. "Women come to me disproportionately," Frei confesses. "I really encourage them to go with their passion, where they see a nagging pain point."
HBS also boasts a small, influential group of patrons who've helped launch the startups of several graduates, including Hollywood power agent Ari Emanuel, who also owns IMG, the agency that runs New York Fashion Week. Emanuel is now an investor in Shoptiques. "He started from modest beginnings and he's had the guts, talent, and acumen to build a huge business from nothing," Vidisheva says of Emanuel. "I love that he wants Shoptiques to be a multibillion-dollar company."
Chris Burch, Tory Burch's ex and cofounder, led a $10 million investment in BaubleBar, while Ben Lerer, cofounder of Thrillist Media Group and a managing partner at Lerer Hippeau Ventures, has invested in Birchbox, BaubleBar, and Glamsquad. "Fashion and beauty are spaces that are ripe for disruption," says Lerer.
HBS' proximity to New York City—the heart of the beauty and fashion industries—has been a boon for its female entrepreneurs, who say it's easier to launch a business in New York, build a critical mass, and then fly out to Silicon Valley for funding than it is to initially launch a company out West. "If you're a female founder, you go to Harvard Business School," declares Sapone, the Alfred cofounder. "Then you move to New York because women can't get funded in Silicon Valley for beauty and style."
Women run only 10 percent of all venture-capital-backed startups, but of those founded by recent HBS graduates, 25 percent are female-led, according to HBS professor Tom Eisenmann of the Rock Center for Entrepreneurship. Still, it's a slog. That's because venture capitalists (VCs) have historically overlooked startups targeting women customers. "Fantasy sports is easier to fund than fashion, because it represents something that a lot of the guys on Sand Hill Road [the stretch where the valley's top VCs are headquartered] grew up with," says Ed Zimmerman, a lawyer who also runs FirstGrowthVC, a Manhattan-based accelerator program that provides mentoring and funding contacts for "high-potential" startups. FirstGrowthVC has incubated several HBS-led startups, like Birchbox, BaubleBar, and Keaton Row (see sidebar at left).
Sexism runs so deep in Silicon Valley that RTR's Hyman says when she pitched VCs as recently as last year, seeking a fourth round of funding, a partner from a top-tier firm stopped her midway through her presentation to ask for the definition of the word accessory. "I didn't even know how to respond," Hyman said. "If this guy doesn't even know what an accessory is, how is he going to understand what my business is even about, and why it matters?"
In 2012, when Manicube, the manicure-at-work service founded by HBS graduates Elizabeth R. Whitman ('09) and Katina Mountanos ('08), was looking to grow its business among corporate clients, Gilt was the first to say yes. And when Amy Jain and Daniella Yacobovsky (both '10) quit their corporate jobs and moved to New York to start BaubleBar in 2011, they met regularly with RTR's founders and bummed space from Alexa von Tobel, an HBS dropout who founded LearnVest, a personal-finance site for Millennials. (In March, LearnVest sold to Northwestern Mutual for $250 million.) "They were willing to sit down with us if we had questions about anything," Jain says. "It was comforting."
Not that all the support is informal. Last year, Barna, Beauchamp, Lake, and Maybank all joined the Female Founders Fund, whose mission is to help fund female-led startups. One of their first investments? Manicube. Says Whitman, "Three years into our business, we still seek advice and mentorship from these amazing, badass women."
Tatcha The geisha-inspired Japanese beauty brand founded by Victoria Tsai ('06) is sold in Sephora and Barneys New York. "Not a week goes by when I'm not tapping the HBS network," Tsai says.
Material Wrld Former HBS '10 classmates Jie Zheng and Rie Yano launched their luxury consignment site with funding from Great Oaks Venture Capital (Warby Parker, Bonobos) and designer Steven Alan.
Keaton Row Cheryl Han ('11) and Elenor Mak ('07) launched this site, which pairs fashion stylists with busy working women in need of wardrobe guidance. In December 2014, Keaton Row raised nearly $9 million in funding.
Mink Imagine printing your own eyeshadow at home. That's the groundbreaking premise behind Mink, a $300 desktop 3-D printer for custom cosmetics, founded by Grace Choi ('13).
BIKYNI The former chief operating officer of fashion label Reformation, Jude Al-Khalil ('10), launched this online mix-and-match swimsuit site dubbed "the Warby Parker for bikinis."
Peach and Lily According to Fast Company, a quarter of all customers of this Korean-sourced beauty product site founded by former consultant Alicia Yoon ('10) repeat purchases within 90 days—an industry record.
This article appears in the September issue of Marie Claire, on newsstands now
Celebrity news, beauty, fashion advice, and fascinating features, delivered straight to your inbox!