Young, Black, and Female in the All-White Sport of Fencing
In a very white, very male-dominated sport.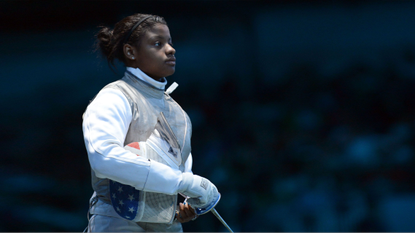 (Image credit: Marie Claire)
A version of this piece originally appeared on The Well, Jopwell's editorial hub.
When I first started taking fencing lessons at 9 years old, I had no idea that fencing was a white sport.
Virtually all my peers and mentors were Black, and nothing about that seemed abnormal at the Peter Westbrook Foundation (PWF)–a nonprofit that teaches fencing to kids from underserved New York City communities and funds scholarships to the Fencers Club in Manhattan, where many of the world's most elite fencers train.
I grew up in Flatlands, Brooklyn—23 train stops and a bus ride away from the Fencers Club. But the trek didn't stop my mother, an immigrant from the tiny Caribbean island of St. Vincent, from signing me and my sister up for lessons.
Now I'm conscious of—and grateful for—the opportunity her decision created for me: I've fenced in college, in the 2012 Olympics, and in more than 30 countries. The sport has completely changed my life in ways that run deeper than meeting the President, attending the ESPYs, or appearing in the pages of mainstream magazines. It has helped me develop a strong sense of discipline, character, and ambition. PWF turned out to be a godsend.
It wasn't until I joined the Fencer's Club's after-school program that I first started noticing that there were very few fencers who looked like I did, or who lived in Flatlands, for that matter. But I started winning competitions, and I quickly got used to being among very few fellow Black fencers at tournaments.
Fencing challenged me to grapple with a lot of topics I didn't quite have the vocabulary for until college—things like social stratification and code-switching (changing the way you express yourself in language to align with present company).
My fencing teammates exposed me to a world of privilege and to what it meant to "have." Many went to prestigious private schools that are funnels to Ivy League universities. I'd hear about Latin classes, violin teachers, and SAT prep in the locker room from the time we were 12. Foils, epees, and sabres were the only sort of "weapons" people were referencing. To many, there was nothing unusual about inviting teammates to their houses in the Hamptons or vacationing across the world. To me, it all seemed extraordinary.
My mom is a strong and well-educated woman—a lawyer for the city government. She always emphasized the importance of my sister and me finding productive ways to spend our time and helped us seek out opportunities to do so. Unfortunately, not all of our peers in Brooklyn were blessed with the privilege of having an available parent who could steer them towards enriching activities and help unlock their passions. Nor were resources readily handy for everyone to take advantage of.
While I grew up feeling safe and supported, I have witnessed shootings, and I know a number of people who have been killed or involved in crimes. On the train home from practice in Manhattan, I would always notice the mass exodus of white commuters halfway through the one-hour ride (I'd stand in front of them so I could take their seats when they got off).
I treasured both worlds for different reasons. I remember getting a pair of UGG boots before they became mainstream because they were so popular among my teammates. At the time, I may have been the only person in my middle school who had even heard of UGGs, which made me feel as though I were in on some exclusive secret.
Back home, my neighborhood friends and I debated the best jerk chicken spots and rode in dollar vans on Flatbush. We went to bashments (basement parties) and roamed around Kings Plaza. No one asked me how my hair had suddenly gotten so long.
As complex as this terrain was to navigate, fencing has opened so many doors. It has raised the expectations I have for myself, along with my standards of satisfaction and happiness. I've learned to aim incredibly high.
A lot is possible—and sometimes only possible—when you're equipped with the resources, opportunities, and encouragement to be successful. We can't continue live in a country where a high-aptitude Black child has to be the beneficiary of an amazing (but all too rare) nonprofit program to become successful. Having the opportunity to become great at something shouldn't be the exception—it should be the rule.
You can follow Nzingha Prescod on Twitter and her #RoadToRio on Instagram.
Follow Marie Claire on Facebook for the latest celeb news, beauty tips, fascinating reads, livestream video, and more.
Celebrity news, beauty, fashion advice, and fascinating features, delivered straight to your inbox!