Can Women Make Virtual Reality Mainstream?
The female bosses behind the new Oculus Go headset are on the front lines of a technological revolution.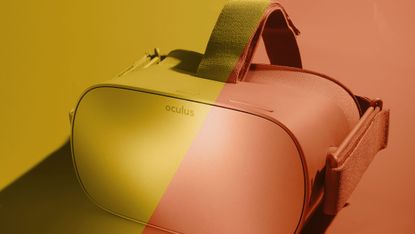 (Image credit: ALLIE HOLLOWAY)
The phrase "virtual reality" elicits images of Matrix-like worlds composed of lines of code, clunky headsets with prohibitively expensive price tags, and hoodie-clad men gaming or watching porn. No wonder a 2017 Nielsen report found that only 31 percent of women, compared with 69 percent of men, planned to purchase a VR device in the future.
So how can VR companies win over women? Hire them. At Oculus, the virtual-reality arm of Facebook, a group of women from both the software and hardware sides spent more than a year working to build a new headset that appeals to both genders. The result is the Oculus Go, which launched in early May to reviews claiming that the affordably priced product—it costs $199—would make VR mainstream. As key decision makers, the women shook up the status quo by rethinking the physical headset (it's cordless, lined with the same fabric found in bra straps, and a dove gray rather than Oculus's signature stark black) and the social experience. (The Venues and Spaces apps allow users to hang out, cheer on sports teams, or watch movies with friends who are physically in different locations.)
Charmaine Hung, a technical product manager at Oculus, says early prototypes of the Go were frustrating. Her hands were too small to reach the grips on the controller, her hair was too slick for the glossy straps, and her mascara kept mucking up the lens. "It looked gross, like one of those foundation sponges," she says. Male members of her team told her, "We know this is a problem for you, but we don't think it is for other people." So Hung, 28, approached hundreds of women on Facebook's vast Menlo Park, California, campus and asked them to try on the device. "It was pretty goofy," she recalls. "We would put a post out on Facebook, like, 'Hey, do you have time? Come get your head scanned and help the future Oculus product.'" She charted how the headset fit employees' heads, taking measurements of not only their faces but also how big their hair was when they wore braids, ponytails, and topknots. Using the data she collected, which showed that the headset's strap material and lens positioning needed tweaking, Hung changed the men's minds.
That type of feedback is exactly why Caitlin Kalinowski, Facebook's head of product design engineering, says her main contribution to the Oculus Go was convening a diverse team, including Hung. Early on, she saw a designer in their Seattle office try on a prototype; his eyes were too wide and his face too small for the product. If the headset was being built by a team whose members looked the same, she realized, it might not work for people of different ethnicities and genders. Kalinowski, 37, also encouraged a big social play. "Feeling like you are with other people, even if you can't be, is extremely powerful," she says. "This is a fundamental match between women and VR."
Enter Rachel Franklin, head of social VR at Facebook. After designing high-profile games, including the Sims, Franklin, 47, joined Facebook in 2016 to perfect Oculus avatars. Many of the headset's virtual experiences require you to generate one, and she wanted to make the options as inclusive as possible. "We created bouncy curls, Afros, tight curls," she says. Franklin thought of her children—she is Caucasian and her husband is African-American—and a coworker with alopecia (and therefore no hair or eyebrows) when crafting the virtual personas. "People need to have a 'digital me' to feel part of the experience."
Reina Shah, who is part of the entertainment team at Oculus, complements Franklin's team by leading the company's efforts to come up with content experiences. She partners with creatives to bring movies, sporting events, concerts, TV shows, news programming, and 360 degree pictures to the platform. "Women are realizing that there are things to do with this headset that appeal to them," she says; she's already received requests for VR cooking shows and meditation rooms. Shah, 31, touts the headset's power to bridge generations. At a recent family gathering, she put a Go headset on her 80-year-old grandmother, who explored the ocean as if she were scuba diving, then on her 20-year-old cousin, who danced to a Chainsmokers concert, singing along and screaming about how close she was to the singers. "She was losing it," Shah says with a laugh. Between herself, her grandmother, and her cousin, there were three generations of women under one roof using virtual reality. "My grandmother literally doesn't know what social media is, but now she understands virtual reality," says Shah. "How cool is that?"
Though the company doesn't share its sales metrics, preorders of the Go headset in the U.S. sold out in hours—and a reported 30,000 of the Mi VR Standalone, the Chinese version of the Go, were sold on the product's launch day in China. It's too early to tell if the women's efforts expanded the company's female audience. Oculus also sits in the murky shadow of parent company Facebook's seemingly endless privacy issues. (Franklin says, "We have a responsibility to respect and protect people's data, and we keep that in mind when we're building all our social-VR products," then pointed me to Facebook's data policy, which states that collected data is used to improve products, help advertisers make more effective ads, and promote social good.) Still, there are early signs their strategy may be working. Days after the Go launched, Hung received a text from a friend; it was a picture of a woman wearing an Oculus Go headset, midday, while taking the BART, San Francisco's transit system. "I'd made my friends try it, but this was different," she says. "I couldn't believe a woman was using it, a random stranger, on public transportation." And the women of Oculus are excited to be along for the ride.
This article originally appeared in the August 2018 issue of Marie Claire, on newsstands now.
RELATED STORY
Celebrity news, beauty, fashion advice, and fascinating features, delivered straight to your inbox!