Meet the Woman Driving Change in the Auto Industry
Pamela Fletcher talks about her rise as one of few high-ranking female executives in the male-dominated car business.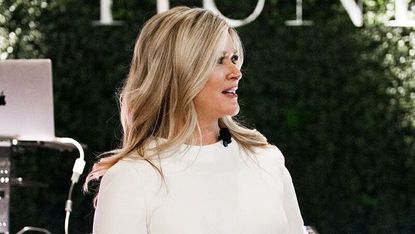 (Image credit: Courtesy of Create + Cultivate)
Pamela Fletcher is quite literally changing our world. As VP of Global Electric Vehicle Programs at General Motors, she oversaw the development of the Chevrolet Bolt EV, a fully electric car capable of going 238 miles on a single charge. Best of all? It sells for $37,500, making it "not just some elite thing," she says, but rather, "something that's available to the masses." And she's not stopping there: Under her leadership, the company plans to launch more than 20 all-electric vehicles worldwide by 2023.
With that resume, it's easy to see why Create and Cultivate included Fletcher on their annual Create & Cultivate 100 list, honoring women visionary women across 10 different industries. Chevrolet, who sponsored the event, flew me out to Los Angeles to get to know Fletcher in person. Here, she discusses how she got her start, how the industry has evolved, and how her style has evolved as the industry achieved more gender parity.
Marie Claire: How did you end up in the auto industry?
Pamela Fletcher: My dad raced cars when I was a kid and I got totally into it. I had terrific parents who never made me feel like, oh, girls shouldn't do this or that. They were supportive of whatever I was interested in. So I would be in the garage with my dad, learning every tool and how to use it and how all of the parts worked. I was very unintimidated and unafraid to ask questions, learn more, and get comfortable around cars. And I think that's key—we need to make our girls, and our boys, unafraid. So I went to college knowing I wanted to work in the automotive industry. What I learned over time was, I like cars, but I really love the ever-changing technology.
MC: I imagine in those early days, both in your engineering courses in college and when you first entered the industry, you were one of few women. What was that like?
PF: When I went to college, I met some great ladies, many of whom are now high-ranking leaders in the auto industry. It was a small group, but I love my girl clique. There's a certain type of person who would even go to college to work in the auto industry, so most of us had a real passion or interest around what we were doing and that united us. The fun thing is, we all have super demanding jobs now and can only get together so often, but the second we do, we understand each other's chaos.
MC: How has the industry evolved over time?
PF: One of the things I missed out on was, I thought it was most important to be head down working hard and I didn't appreciate the value of the network. And that's huge. Coaching and mentoring is not wasted time. It's not just socializing—that's how work gets done. I would say, today, that yes there is a lot more looking out for one another and sponsoring of other women to get them into roles they would probably be great in, but may not be given the chance otherwise. So I've definitely seen a big increase in that, which is really refreshing.
My personal example is, back when I was starting out, I never wanted to stand out. Early in my career I didn't really wear dresses, skirts, or heels to work. Nobody told me to do that—it was just something I imposed upon myself because I thought that's what it took. But I loved that stuff! So, now, in this day and age, I wear what I want to wear. Some days it's gender neutral and some days it's pretty girly. That need to "fit in" doesn't feel as prevalent as it once was.
MC: And what about on the consumer side? It seems like car companies are paying more attention to female buyers, realizing that women drive a lot of the purchasing power in their families. How has the industry changed to welcome women as consumers?
PF: Women are now purchasing just over half of all cars, so they have a huge voice in our industry. You may have seen some of the ads that Chevrolet runs—there's a lot of women in them, and that's not by accident.
RELATED STORIES
MC: I wanted to talk a bit about General Motors CEO Mary Barra. It's a powerful statement to have a woman at the head of a car company. What do you make of her leadership style and the tone it sets for the company?
PF: She's totally rocking it! Every time I'm around her, the question she asks or the way she characterizes it, I feel like, "Why didn't I think of that?" She always knows what to say and how to say it. That kind of stretches me to continue to work on my own leadership.
She is a very inclusive person and always approaches things with openness and willingness to hear all points of view. She really sets the tone at the company for all of us to make sure we hear all points of view and listen to people. Because in the end, you'll make better decisions if you do that. I think we have a great environment because of that example that she sets.
Celebrity news, beauty, fashion advice, and fascinating features, delivered straight to your inbox!
Kayla Webley Adler is the Deputy Editor of ELLE magazine. She edits cover stories, profiles, and narrative features on politics, culture, crime, and social trends. Previously, she worked as the Features Director at Marie Claire magazine and as a Staff Writer at TIME magazine.