Theresia Gouw and Sukhinder Singh Cassidy Discuss Their Friendship at Marie Claire's Power Trip Conference
It was an important and candid conversation.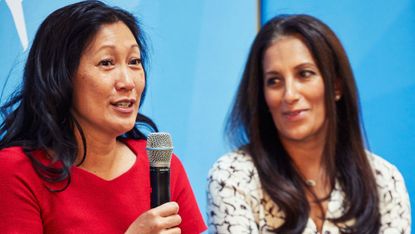 (Image credit: Katie Thompson)
Theresia Gouw, co-founder of Aspect Ventures, and Sukhinder Singh Cassidy, president of StubHub, are the definition of friendship goals. The power duo started working together in 1999, and have been building each other up—as well as other women in Silicon Valley—ever since. The two spoke candidly about what it's like to work with a close friend in a conversation with CNN's Kate Bolduan at Marie Claire's Power Trip conference, an exclusive two-day event in San Francisco.
How Gouw and Singh Cassidy met isn't unusual for women in tech. Gouw was working in venture capital at Accel, and Singh Cassidy, then the co-founder of software company Yodlee, was looking for an investment. "We noticed each other as the only women in the room. Not just that day, but in that whole year," says Gouw.
Accel Partners ended up investing in Yodlee, and thus "began the work friendship," explains Gouw.
Their paths would cross again during Singh Cassidy's stint at Google.
"When I was at Google many years later, Theresia started pitching me for whatever I was doing next," recalls Singh Cassidy. "When it came time for me to leave Google, I went to Accel because of Theresia. She invested in my next company."
Despite the trope that working with close friends can get tricky, both women maintain that their partnership has actually been beneficial for business.
"I think that there are some huge benefits to going into business with somebody you've known for a long time," says Gouw. "You have that level of trust within one another. It allows you to have a much more honest, deeper discussion around problems."
Singh Cassidy agrees—especially in the cutthroat world of Silicon Valley, she says, female friendship in the industry is key to success. "I think that the Valley can be very transactional," she says. "The benefit of having a relationship is, even at tough moments, it causes you to be more candid and respectful."
Even when trying out new things, the two continued to lean on each other. When Singh Cassidy left Accel for a job at Polyvore and it didn't work out, Gouw still showed unwavering support. "I took a job that she didn't agree with. I took a job that was funded by another VC," says Singh Cassidy. "Six months later, I was back crying on her shoulder. I appreciated the candid perspective."
The pair are united in a common goal: To create more and better opportunities for women in tech and venture capital, two predominately male-run industries (Gouw is also a founding member of All Raise, a nonprofit driven to create more opportunities for women and people of color in venture capital). With only 3 percent of all venture capital going to female-founded companies, and considering the bro culture that controls much of the tech industry, it's voices and partnerships like Gouw's and Singh Cassidy's that are needed to change the narrative.
RELATED STORIES
Celebrity news, beauty, fashion advice, and fascinating features, delivered straight to your inbox!
Megan DiTrolio is the editor of features and special projects at Marie Claire, where she oversees all career coverage and writes and edits stories on women's issues, politics, cultural trends, and more. In addition to editing feature stories, she programs Marie Claire's annual Power Trip conference and Marie Claire's Getting Down To Business Instagram Live franchise.