Sharon Stone on Being a Mom to Sons in a Post-MeToo World
"Don't let anyone tell you different."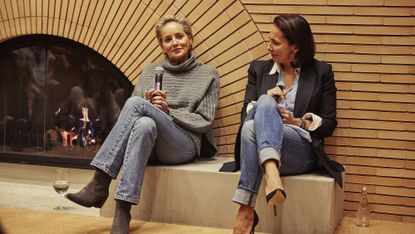 (Image credit: Katie Thompson)
On Monday, Sharon Stone was joined by Anne Fulenwider for a conversation at Marie Claire's annual invite-only Power Trip event, a networking conference for women in business, at a panel titled Power Your Legacy: Following Your Instincts to Kill It in Hollywood. The two chatted about everything from motherhood after #MeToo to politics and Stone's tireless work in HIV/AIDS activism.
Stone began by talking about her latest project, a create-your-own-murder-mystery called Mosaic with Steven Soderbergh, as well as her new secret Netflix project with Meryl Streep and Martin Scorcese. Literally, it's so secret all we know is that it's a docu-drama that's not about Stone, but not not about Stone, as she's a character. "I'm gonna blow it if I keep talking. It is about one of my favorite people, and someone who is one of your favorite people, so it's gonna be good." I have a lot of favorite people, Sharon! Give me a hint or two.

Fulenwider cited a quote of Stone's from her piece in The Hollywood Reporter in 2014 about aging in Hollywood, and how it's not of concern for Stone. Touching on the #MeToo movement, Stone responded: "There's a sort of madness in this moment that is both the kind of thrill and glee and overwhelming sensation that this is happening, finally, and also the horror that you have to deal with."
But she's not entirely sold—Stone told Fulenwider she believes these situations aren't necessarily meant for the court of public opinion. "Until we have due process, we don't have anything," she said. "The shaming, the losing your job, the leaving with a big bonus–he didn't get his bonus!" Stone's voice dripped with sarcasm. "Well, you know what? Maybe that's good, but maybe it wasn't even true, because we didn't have due process. Not every single one of these guys are guilty, and some of these crimes were 30, 35 years ago."
"Who knew what anyone was supposed to do?" Stone continued. "And who had anyone to talk to–including the men? The men have been raised to do different things. What are we going to do, go back and arrest people for smoking on an airplane? We have to, at some point, start the educational process of 'you don't smoke on the airplane.'"
Stone then recalled watching Anita Hill testify about Clarence Thomas on television in 1991. At the time, she was working as a waitress, she said, and had "no recourse" for the sexual harassment she faced. "If you told anybody, they were like, 'Be a good sport,'" Stone explained. But of the recent hearings regarding similar allegations against Brett Kavanaugh, Stone said: "I feel you can't have people judging these things who are not judges. I don't feel that they got the same kind of look at it that the Anita Hill hearings did." Ultimately, she adds: "Whether or not he has done these things, he doesn't seem stable enough to be a Supreme Court judge."
When asked about her three sons and how she's broaching the topic of sexual assault and misconduct with them, Stone says she tries to be as open and honest as possible. "I talk to them about all of it. In fact, I told them I've been molested, I tell them everything." And how do they react? "They want to hear and want to know and want to understand, and I explain to them what boundaries are and that no means fucking no." PREACH, SHARON.
Nearly 30 years ago, Stone began working for greater HIV/AIDS awareness in the Dominican Republic, at the height of its AIDS crisis. When it comes to raising money for the cause, Stone is a force to be reckoned with, often because she lacks one thing: shame. "No one can embarrass me when I'm trying to raise money for AIDS. I don't really shut up." Stone also runs a charity with her sister, Kelly, called Planet Hope to help homeless mothers and their children.
When asked about who should run for president, Stone was enthused but skeptical about Texas' Beto O'Rourke, who is running for Senate against Ted Cruz, and she does think voting is a great way to bring about change. But she doesn't think it's the only way:
I'm not really positive politics is the way forward. I think we've reached a tipping point in politics in general, and I think that women can lead in a million ways where politics can become actually less important. I think there are other things, other kinds of positions that we can create in the world that don't even exist right now. And I think we have to decide what these positions are going to be. And I think we have voices that haven't even thought about being heard yet. I think we are just emerging in a new way.
But what she's really over is the gaslighting and misleading of women. Women are powerful beings, with the ability to change the world. "We are an unbelievable force of mystery and divinity and power," Stone says.
She references what she calls "the knowing self," i.e. listening to your gut when it tells you something. And coming from Sharon Stone, the person whose photo is next to chutzpah in the dictionary, this means something.
"We have to use the knowing self differently," she said. "This idea that we think this person is this or that, well, that's great, we're thinkers. But [women] are knowers. And we have to look at people and not second guess what we know. Because what we know to be true is true, and what we have been taught through our lives is that's not so. Because we're 'crazy'. Because we're 'hysterical'. Because we're 'women.' Jesus Christ, go sit down. I've had enough of that bullshit, and so should every single one of us. What we know to be true is true, don't let anyone tell you different. And that is not political, that's bigger than politics."
She winds the whole thing down with what can best be described as a call to arms:
"It's not wrong to be a woman, it's not wrong for men to be men. It's wrong not to have boundaries, it's wrong not to be intelligent, it's wrong not to use your knowing self. You have to. Use your knowing self and get things done. You don't have to be a politician, you have to be in your knowing self. Do what you need to get done."
RELATED STORY
Marie Claire email subscribers get intel on fashion and beauty trends, hot-off-the-press celebrity news, and more. Sign up here.
Amanda Mitchell is a writer and podcaster with bylines at Marie Claire, OprahMag, Allure, Byrdie, Stylecaster, Bon Appetit, and more. Her work exists at the apex of beauty, pop culture, and absurdity. A human Funfetti cake, she watches too much television, and her favorite season is awards season. You can read more of her work at amandaelizabethmitchell.com or follow her on Instagram and Twitter @lochnessmanda.