The Career Advice That Changed the Way We Think About Company Culture
ADAY's Meg He and Nina Faulhaber talk diversity, mentorship, and working as a pair.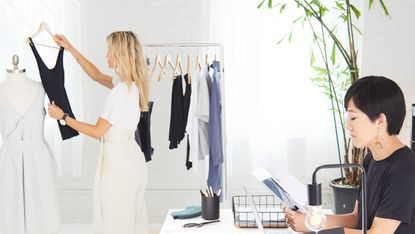 (Image credit: Taea Thale)
ADAY co-founders Nina Faulhaber and Meg He understand the value of teamwork—it's what's helped them build the business from a seven-piece collection of versatile wardrobe basics into the growing, mission-driven brand it is today.
Four years in, the company is entering a new stage: expanding its team, exploring physical retail, and investing in new product categories. Throughout it all, though, Faulhaber and He are determined to keep the brand's values—sustainability, functionality, the idea of "doing more with less"—central to everything they do, which means ensuring the rest of the team is as committed to them as they are.
The pair met with Natalia Oberti Noguera, founder and CEO of Pipeline Angels, and left with strategies for keeping the company's culture intact as it scales. Here's what they took away from the conversation.
On mentorship
He: "It's always super cool to me speaking with women who are investors and entrepreneurs. Natalia just has such a wide-ranging perspective and works with so many different people and has an incredibly diverse background. We really saw her as being able to add another lens onto our relationship—to shine light onto areas where it was hard for us to see clearly or for us to talk about."
Faulhaber: "The day we had our mentorship session was really interesting. We were deciding between investors, having board conversations—it was very much one of those crazy days—professionally, work-wise, emotionally, all of that.
"So we came into it in a very raw state, and having that mentorship and accessibility, and the session being at The Wing, where we immediately felt such a mutually-supportive situation and community—it turned into a really productive conversation for that reason, because it was so real."
On building long-term company culture
Faulhaber: "As founders, we can usually get people really excited when we interview someone or when we're on a panel or when a customer comes into the office, because they hear the story from us directly.
"But now, we have a lot of people on the team who have started carrying that culture. So when we get panel invitations it's not necessarily Meg or me—oftentimes it's Kelsey who does marketing or Millie who does our designs or Eden who does our production—and they've been able really to step into that culture carrier role in such a strong way. We love that."
He: "That's also true to the context of sustainability. It's not just about us—it's also about how can we be sustainable as a team with time and resources. If everyone has the ability to be able to spread that message, then we're not bottlenecked."
On the importance of diversity
He: "We also talked about diversity, especially in hiring, and how we only have our background to look at. So it's often difficult—or impossible, really—for any of us to truly, fully identify with anyone else's background.
"We talked about the space that we need to—and ought to—hold for other folks and how culture can be the underlying foundation for that. We want to allow people to integrate, but have processes that will help them—and us—continue to grow the culture."
Worn throughout: Meg - The Frankie Shop blazer, ADAY top, Proenza Schouler skirt, Zara shoes, Nina - ADAY top, The Frankie Shop pants, ASOS shoes, Leigh Miller hoops
Celebrity news, beauty, fashion advice, and fascinating features, delivered straight to your inbox!