How a Cancer Diagnosis Led to Me Launching My Own Business
It took a health scare for Blair Hansen to ditch her glamorous life as an elite art dealer in New York City, move to Washington state, and start glassware company Asp & Hand.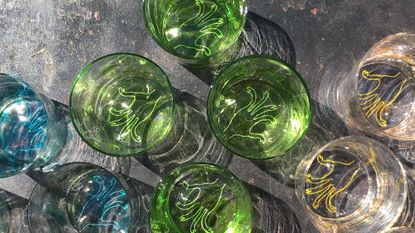 (Image credit: Courtesy of Asp & Hand )
In 2001, the art market was exploding. I had just graduated from Stanford, where I studied studio art. My fantasy of becoming an artist felt out of reach—I didn't understand at all how to begin—so I moved to New York City to work in a gallery instead. My first job was answering phones at the Gagosian, the biggest gallery in the world. I soon wanted more in-the-muck experience, so I left to become a dealer at a smaller gallery in Chinatown in 2004.
Those early art fairs felt like working on the floor of the New York Stock Exchange. It was madness; the artists and the galleries were making a lot of money. It was all a crazy party. You're thrown into the world of the one percent, offering clients artworks that cost more than many homes. I sold out a booth at the Armory Art Show in 2008, even as the world economy was crumbling. I'm from New England and went to boarding school, so it wasn't my first time around this rarefied world—but it was never my comfort zone.
In some ways, those days were so full. I was managing a thrilling, wild group of artists, but many were struggling with addiction. My social scene was also always art-related, so these artists were some of my closest friends. It was excruciating trying to sell their work to patrons—often tone-deaf Wall Street bros—while witnessing the very real toll life was taking on them. By the time I landed a job at Hauser & Wirth gallery in 2009, I was pretty depressed. I was supposed to be this crackerjack salesperson, but that just wasn't waking me up in the morning. I just couldn't fake it anymore, and I was losing my identity.
In 2010, while on a work trip to Los Angeles when I was working at Hauser & Wirth gallery, I became reacquainted with my now-husband Eli at a mutual friend's party. (He's an artist, and I had featured his work in a show two years prior.) It was a whirlwind romance; we were engaged within a month of dating, and Eli moved in with me in New York. Then, shortly after we announced our engagement, Eli was diagnosed with Hodgkin's lymphoma.
Eli's diagnosis was incomprehensible. Not only because we were 31 at the time and a cancer diagnosis is by definition destabilizing, but because we had been safely packed inside our bubble of new love. Threats to Eli's life had no place in that bubble.
His insurance was in his home state, Washington, so Eli moved back there for treatment. Initially, I tried to continue to work in New York and regularly visit him. But because we were going to marry, I held no ambiguity about where I belonged. Eli's spirit was so steady and solid; I felt even more deeply in love as he donned a wardrobe of hospital gowns. I knew I was miserable in the art world, but I wouldn't have found the guts to leave if Eli hadn't gotten sick. As soon as I quit, though, I felt relieved that I no longer had to pretend to be the salesperson I wasn't. So, I moved to Washington to be with Eli.
Once Eli was in remission in 2011, we got married and began looking for jobs. When artist Dan Colen offered us both work at his studio (Eli made glass sculptures and I was the studio director), we moved to New York's Hudson Valley. We settled in and had two girls. Then, in 2016, I was diagnosed with squamous cell carcinoma. I had surgery and radiation, and spent six months recovering in bed, heavily sedated.
I was on a liquid diet of Ensure and water because the tumor was where my mouth and throat joined. I was often alone during treatment, so I started drawing glass designs from bed thinking we would gift them at Christmas. Eli prototyped my designs: some glasses had rough nobs all over, some had drips down the side, and others featured the droplet-like shape we use most today. This shape was particularly comforting to me—it felt like the glass was reaching out and touching me back. These cups Eli and I made together became my lifeline, and because I had connected with them in a much more profound way than expected, it was not a huge leap to imagine putting these objects at the center of our lives. They helped me feel better.
The Hudson Valley is very much related to the New York City scene, and by this point we knew we weren't city folk. So, in April of 2017, we packed up the kids, then two and four, and drove back to Washington to start our business, Asp & Hand. We named the business after the asp snake, a revered animal in the time of the Pharaohs, the age to which glass art traces its origin. At first, we sold to friends and family on Shopify and Instagram. Our products gained popularity by word of mouth and with the help of our friends back in New York City, who helped promote them at pop-up markets. Now, we've hand-blown about 10,000 pieces and ship world-wide.
When you get diagnosed with cancer, you learn to stay in the present, which is the ethos of Asp & Hand. The bits on our glasses have been called 'consciousness points' because they nudge you, bringing you back into the moment. I don't miss the art world. I don't miss the parties. I don't miss the rich hedge fund guy who came on to you before putting you down, buying art from you as a status symbol. I don't want to be a dealer anymore. All I want is to buy a little house in Bellingham, Washington and make glassware. With grit, luck, and a leap of faith, we're on our way now– living our values in each, present moment.
Megan DiTrolio is the editor of features and special projects at Marie Claire, where she oversees all career coverage and writes and edits stories on women's issues, politics, cultural trends, and more. In addition to editing feature stories, she programs Marie Claire's annual Power Trip conference and Marie Claire's Getting Down To Business Instagram Live franchise.