You Can't Pick Produce on Zoom
...but you can organize. Activist and former farm worker Flor Martinez on how she's working for marginalized communities, the forgotten essential workers, during COVID-19.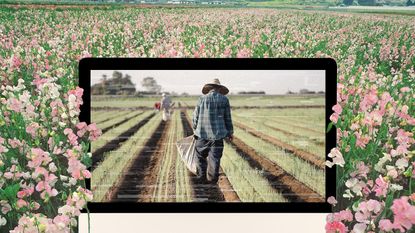 (Image credit: Morgan McMullen)
I've been an immigrant rights activist since 2010. I've organized protests against ICE detention centers, helped young folks secure DACA, and worked to provide undocumented immigrants with housing, legal, and financial help. I do this work to serve and lift up a community I am part of. Growing up undocumented (I received DACA in 2013), I know too well the struggle of needing support but having to hide in the shadows—in a system that relies on your work but fails to acknowledge you.

While the pandemic and the wildfires raged through California, where I live, this summer, I was devastated to see the suffering in my community. But I got the chance to become even more involved in my activist work. And it all started with a video.
One day my sister showed me a social media post of farm workers near Salinas, California, picking grapes at a vineyard. This region is often referred to as "America's salad bowl" because of all the fruits and vegetables that are grown here. Behind them, a roaring wildfire was sending giant clouds of smoke into the sky. All they had were bandanas to protect them.
But they carried on with their work, almost like nothing was happening. Because most farm laborers are undocumented, working jobs with low wages and no benefits, they can't afford to take a day off. These undocumented workers don't get stimulus checks or unemployment, either. Despite a deadly pandemic and climate catastrophe, we rely on them to show up every day, rely on them to risk their own lives to feed us. They are America's essential workers, too. And we've failed to show up for them.
Looking at that post was like looking in the mirror. When I was 15, I worked with my parents and sister picking grapes at various farms in Northern California. My days were often nine hours long and it wasn't uncommon to end the shift dehydrated with muscle pains from craning my body to cut the fruit off the vines. We often worked when it was scorching hot. Any gear we needed, we had to get ourselves: gloves, hats, bandanas to protect from pesticide dust, even clippers to do the work. I never saw the money I made; it went straight to whatever my parents needed for our family: food, rent, clothes.
When I saw the video, it hurt. I ranted to my family all day about it. At one point, my sister said, "Look at you. You're still talking about it!" The video sparked so much emotion in me, that I wanted to do something more than just share it on social media. I wanted to do something to turn all that anger into positive change.

Over the next few days, I went out to a few different fields and asked workers, "What can I do for you?" I was already thinking about getting them masks to help protect against the smoke and also the coronavirus, but I thought that maybe they would want money or gear like gloves.
Their response was totally different: They wanted backpacks and school supplies for their kids. When asked what could be done for their own protection, they put their health aside to pursue their kids' education. Even when they had the chance to lift up their circumstances, they chose to—again—put another's life ahead of their own.
I set up a GoFundMe page in August, with a goal set at $5,000. Within minutes, donations started pouring in. So far, it's collected $200,000, and another $300,000 came in on Venmo. I was completely shocked at the outpouring of support and generosity, especially during a time when people's finances might have been shaken by the pandemic.
Half of the money is going toward masks, and half is going toward educational tools, including basic supplies and internet hotspots. At the beginning, I was just showing up at a field with my partner or family to hand out supplies. The first day, the workers ran towards the backpacks, as though, instead of folders and pencils, they were filled with expensive laptops. That's how much they needed the items inside. I was so moved by this that I ended up crying on the side of the field.
I decided to organize larger distributions all throughout Northern California. At each one, we've given out thousands of backpacks filled with notebooks, folders, markers, rulers, and pencils. We're also signing up people for Internet hotspots from T-Mobile. Many students are still doing remote learning, but vast numbers of them don't have access to the Internet.

So far, we've already given out 8,000 masks and 12,000 backpacks, and 110 families have signed up for hotspots. We plan on continuing until our funds run out. And we keep getting donations. Eventually, I want to set up locations where people could come at their convenience to get these supplies along with other resources they may need.
The pandemic upended my work life, but I feel like it was a blessing. In addition to my activist work, I also run an events company. Due to COVID, a lot of my events were canceled or postponed and that freed up some of my time. This was hard financially, but it allowed me to focus on serving my community. And this activism is my calling.

Because my family was undocumented, growing up I was always told to be in the shadows: Blend in, don't get in trouble, don't do anything different. Becoming a DACA recipient pushed me to become an activist and organize for the people who don't have a voice or the power to enact change. I always tell Dreamers (people impacted by DACA) that we have to use our voice for our parents and friends who still live in fear. Because if not us, who? If not now, when? Farm workers are essential. It's time to step up and serve them, like they've served us time and time again.
RELATED STORIES
Celebrity news, beauty, fashion advice, and fascinating features, delivered straight to your inbox!
Magdalena Puniewska is a writer, editor, and fact-checker based in New York.